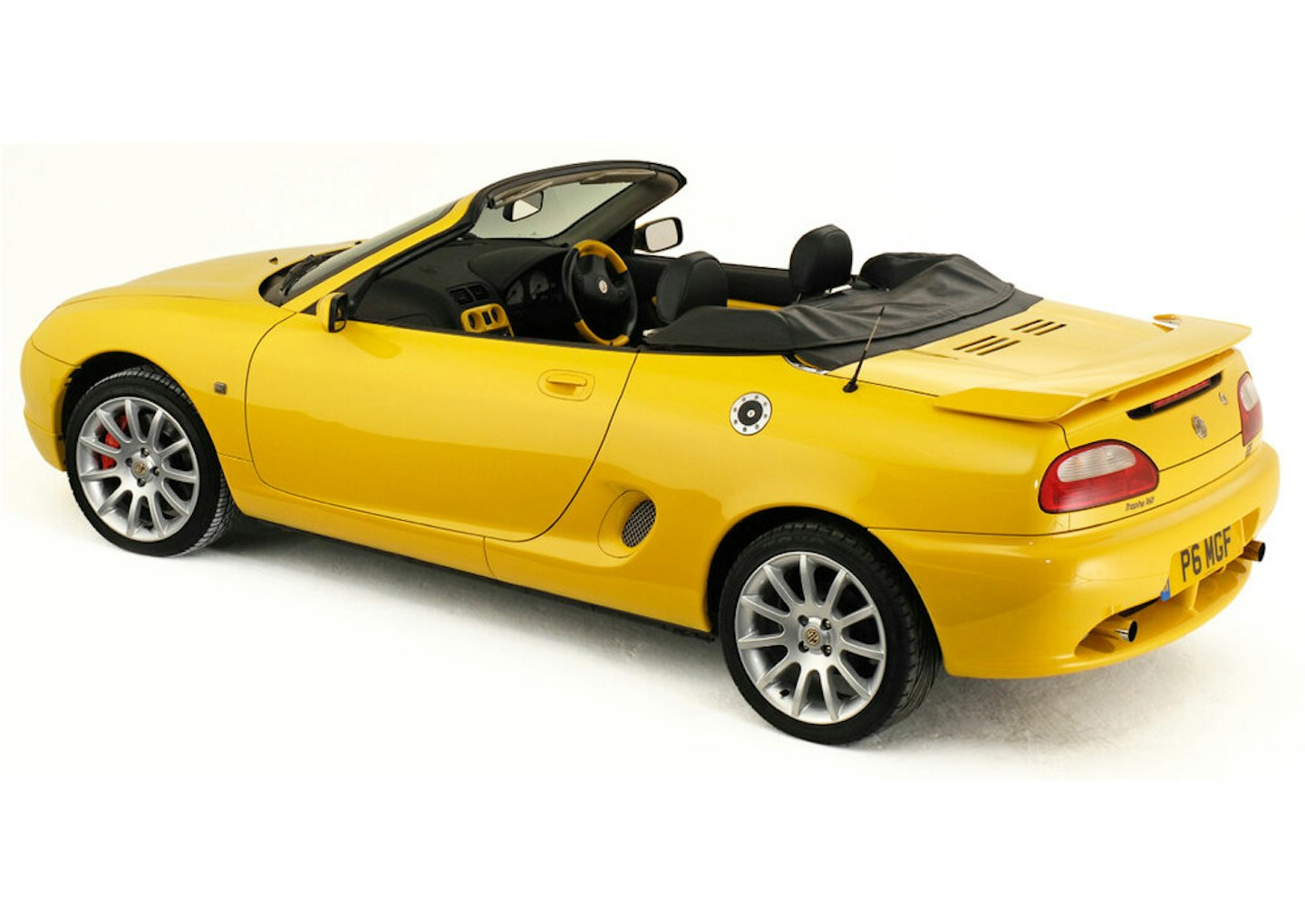 WHAT TO PAY
Project: £2000-£8000 Runner: £3000-£12,000 Good: £4000-£15,000
TECH SPEC
Engine 1796cc/4-cyl/OHC Power 120bhp@5500rpm Torque 122lbft@3000rpm Gearbox 5-speed manual 0-60mph 8.5sec Top speed 120mph Fuel economy 38mpg Length 3.91m Width 1.63m
When the MGB went out of production in 1980, MG knew that it needed something new. The fixed-head EX-E concept car debuted in 1985 and this would provide much of the design direction for a new sports car – which wouldn't arrive for another decade. It was worth the wait though, as the MGF was an absolute cracker.
WHY YOU WANT ONE
When it comes to affordable fun, the MGF is the master. Brilliant to drive, there's also a roomy cabin and a very usable boot. The 1.8-litre engine provides respectable performance and it balances this with excellent economy; it's not hard to achieve 40mpg on a run. Upgrades are easy. There's a raft of parts available to increase power and beef up the chassis – plus there's a stack of specialists out there who can build something that will be seriously quick while also being dependable. Yes – you can rack up big mileages in one, as long as it's well looked after. Even better, you can do a lot of the work yourself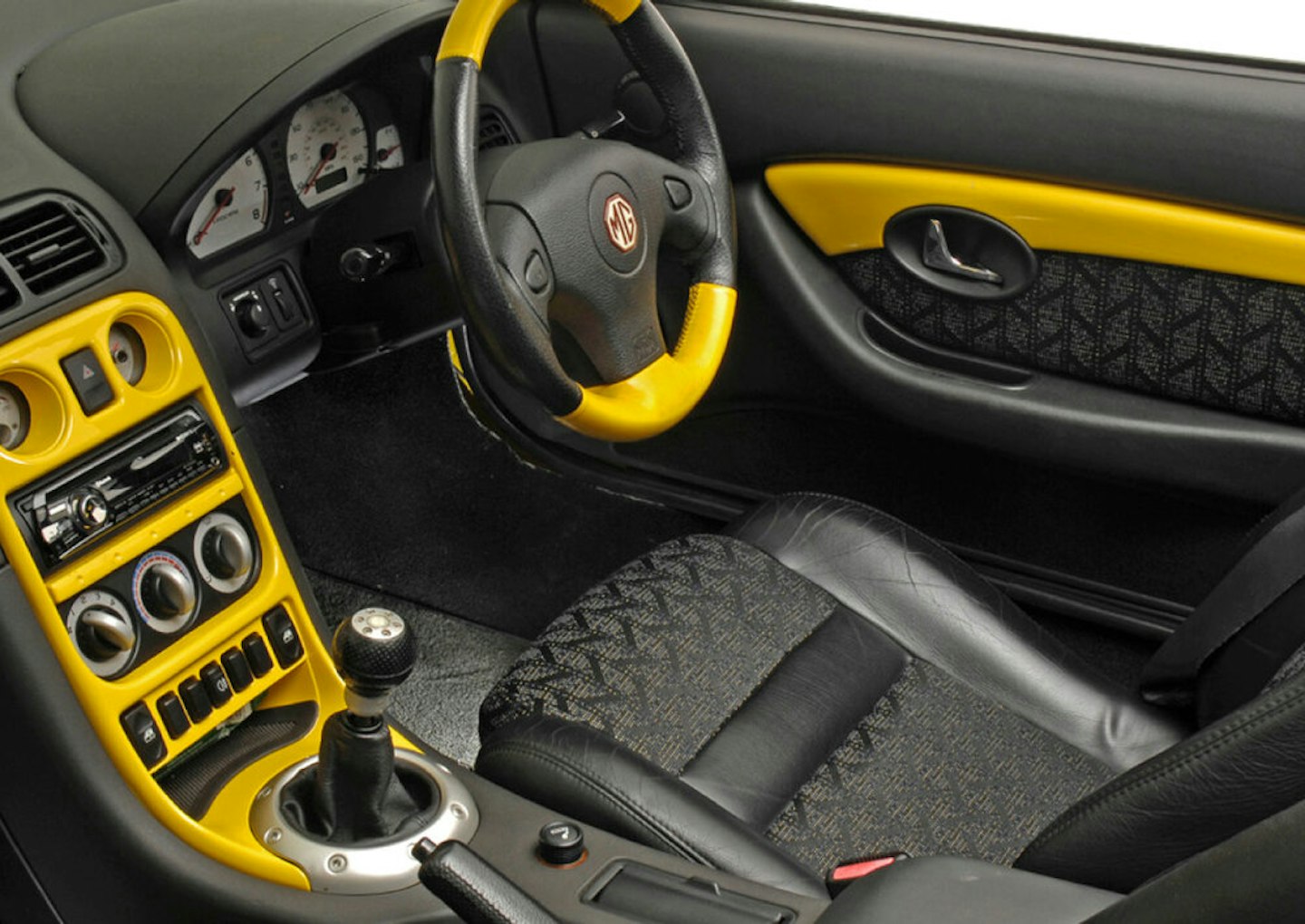 WHY NOW IS THE TIME TO BUY
Next year the MGF celebrates its 25th birthday and within the past decade values have bottomed out with many of the worst cars being broken. A lot of parts are now back in production, which is helping to keep these cars alive, so the average condition of survivors is improving, but there are still plenty of dogs about. There are also plenty of used parts available, which helps to cut running costs further. Most importantly, MGFs are still cheap. Spend £1000 and you can get a half decent car; double your budget to £2000 and you're much less likely to buy a problem. It's possible to spend up to £10k on one, but it will probably be the best in the world. You're much better off spending up to £4000 on a really cherished 'F that's done around 60,000 miles. The good news is, it won't go down in value unless you abuse it.
WHICH ONE?
The MGF range was pretty simple. Most cars came with a 1.8-litre K-Series engine either with or without variable valve timing control. Cars with it were known as VVC models. The TF replaced the 'F in January 2002; in March 2001 a 111bhp 1.6-litre entry-level F was introduced along with a rangetopping 159bhp Trophy 160. The 1.8 is usefully pokey (120bhp, or 145bhp in VVC form), while the 159bhp Trophy 160 is perkier again. Although the VVC engine is more complicated than the regular unit, it shouldn't be any less reliable and it doesn't need any extra maintenance, aside from an extra £30 on the cambelt change. Most MGFs have a five-speed manual gearbox, but some came with a CVT automatic transmission instead. They're not especially sought after because while they're easy enough to drive, they're not much fun; as the car accelerates the engine speed stays constant so it feels like there's a slipping clutch. There were plenty of special editions - these most likely to become collectible are the 75th Anniversary and the Trophy 160; budget £3000-£5000 for a really nice example.
CAN YOU MAKE IT BETTER?
Warning: making changes can reduce comfort, reliability and usability levels, so tread carefully. Converting from Hydragas to steel springs can sharpen up the handling, but early conversions could stress the bodyshell in a way that it wasn't designed for; the Trophy's bodyshell was strengthened from the outset however. Current kits seem to be much better but switching from Hydragas changes the way the car drives, so again, don't be too eager to switch. Why not just buy a TF? Brake fade can be a problem on track days, big brake kits are available for £700 for the discs, callipers and pads. You might also want to improve the cooling, with aluminium radiators for around £100; the same goes for the air-con radiator. Some owners fit stainless steel rad supply pipes, and you can also consider fitting a low coolant level warning light and buzzer. It's an easy DIY fitment and costs £168. Other than that there are lots of ways that you can personalise your F, including chrome roll hoops, fitting a wind deflector or some new seats, maybe with leather trim and heating elements. Aftermarket alloy wheels are also available, but a PCD of 3.75in means that your choices are limited. Swapping the plastic rear window for a glass item brings a heating element. A hard top is available for around £250.
TIPS AND MYTHS
The head gasket is a weak spot, but cherished cars can rack up over 150,000 miles. The key is to ensure the coolant level is correct; the powerplant's small coolant capacity doesn't help. Fixing a blown head gasket costs around £500-£600 (or £250 if you do it yourself), with improved gaskets now available to reduce problems in the future. Many potential buyers think that poor parts availability is an issue, but the only part that you can't get new is the Hydragas suspension units – although used and reconditioned ones are available. You can buy whatever body panels you need and all mechanical items are available. Perhaps the biggest myth is that these cars are unloved. Values are rising and early cars in really original spec are very collectible. The club scene around the MGF is also vibrant – go buy now