Words: Nigel Boothman Pictures: Jonathan Jacob
James and his cherished Metro -
Gerty, as G766 CKF is known, very nearly went for scrap. The fact that she survived is down to a plea from her late owner, Margaret Cribb. Mrs Cribb bought the Metro City in 1995 as her first car and used it until some serious rust problems caused a SORN declaration in 2007. Her husband, James, suggested it was time to face reality and send the badly corroded little hatchback off to the crusher. But Marg had grown attached to the car, even more so than the rest of the family had, so she begged him to hang onto it with a view to eventually tidying it up.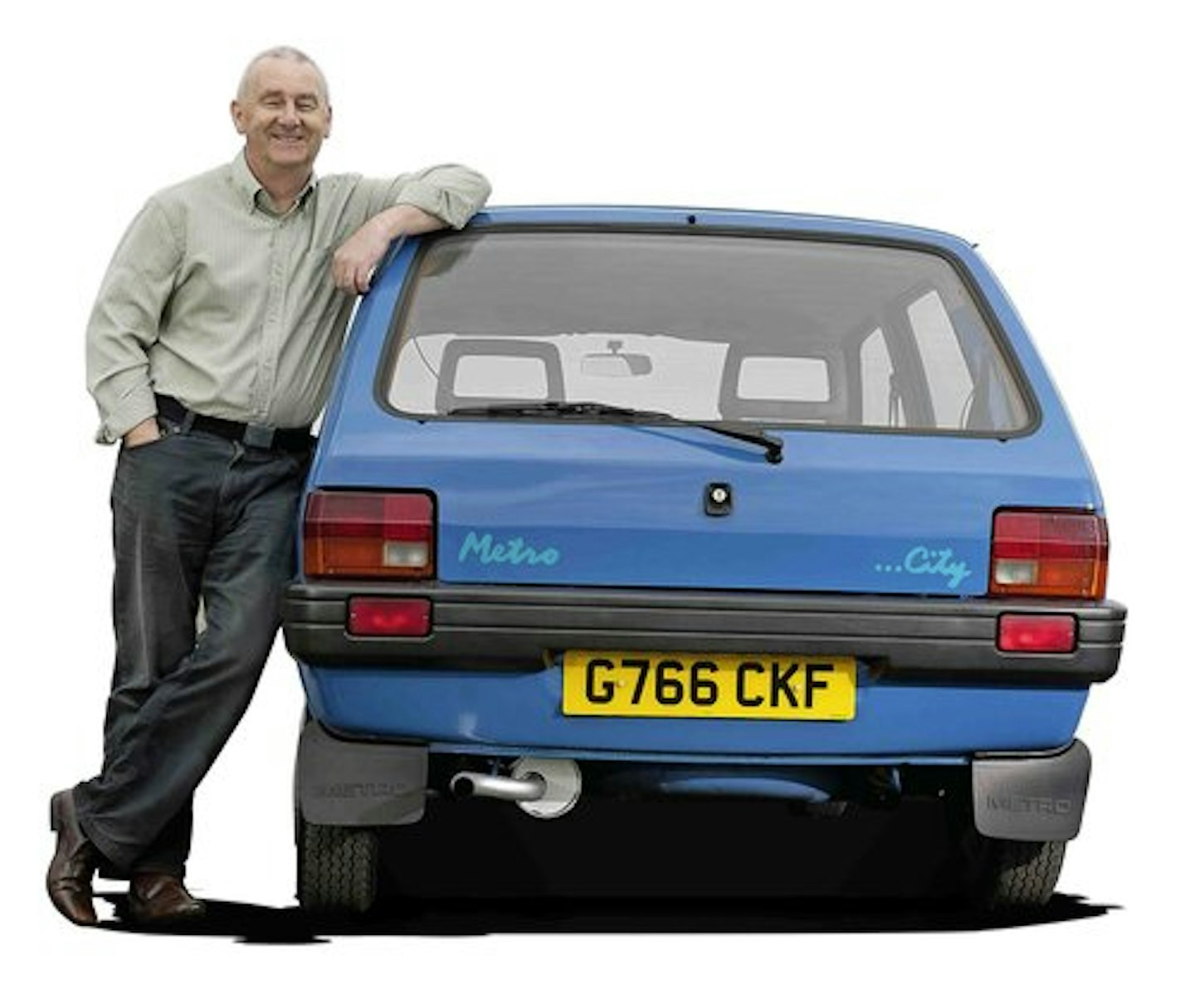 Sadly Marg fell ill soon after and passed away in August 2008 aged only 53, leaving James and their three daughters, Jane, Clare and Laura. While trying to come to terms with this terrible loss, James remembers walking around the side of the house one evening and seeing the Metro laid up in its parking space. 'It made me think of Marg so much that I wanted to kick it, but I didn't. Something changed, and instead I thought "right, I'll do this. I'll fix it."'
James had never restored a car before and had no experience of welding, panel beating, paint preparation or anything else he was going to need. What he did have was the right attitude ('If someone else can do it, so can I') and a useful book. That book was Practical Classics on Morris Minor Restoration. Right magazine, wrong car.
This turned out not to matter all that much, as James explains: 'A lot of the techniques explained in the book apply to any restoration where you're dealing with rusty steel, cutting, welding, forming repair sections and so on…it came in very handy.'
James set to work busily and stripped the car bare. The more he dug into the structure, the more alarmed he became by the state of Gerty's underparts: 'The seatbelt mounts were almost coming off in my hand. I was horrified to think of our girls riding about with only these to rely on.'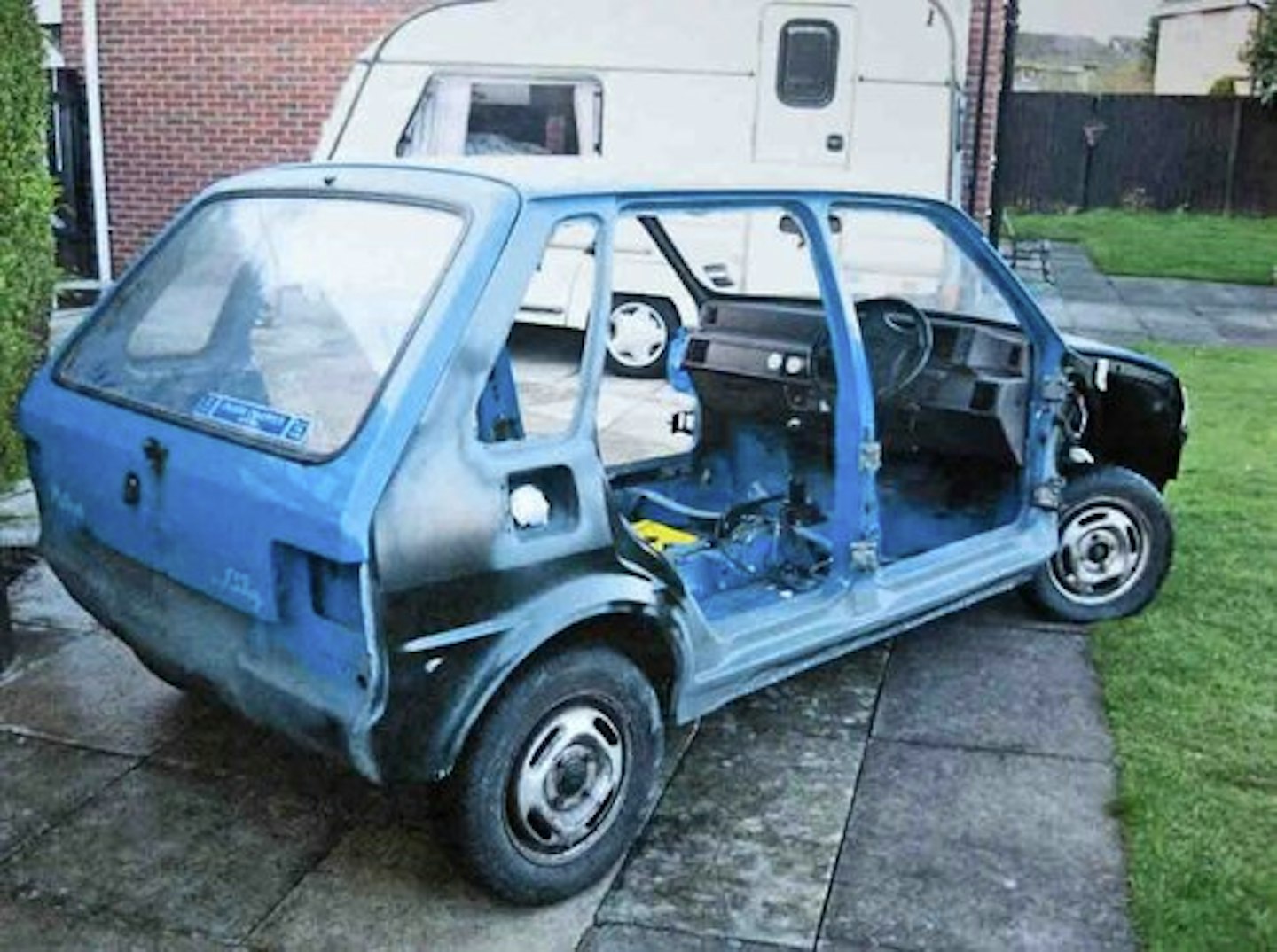 A great deal of rust was cut away, leaving the car free of sills, rear panel, front wings, bits of the boot, chassis members under the floor and a very large piece of the rear quarter. 'The offside was much worse than the nearside,' says James. 'I had to re-make the rear inner wing on the offside from seven individual pieces as I couldn't get a complete repair panel.'
James took a practical and cost-effective approach to making repair sections, chopping up sound bits of old panels such as a bonnet, along with good metal salvaged from the old doors. He has an engineering background and was comfortable trying new techniques, including metal folding with a bench vice and some lengths of angle-iron.
Happily, not everything had to be made from scratch. James found four good doors from a breaker's yard before the Metro was ever taken off the road and long before he knew how bad the underside was getting. And one benefit of restoring an under-appreciated car like the Metro soon became apparent as James phoned around ex-Rover dealers and parts suppliers. 'I asked one company in Plymouth for some inner wheelarches and the man said they had a pair, but they were covered in an eighth of an inch of dust as he reckoned they'd been on the shelf for 20 years.' He also bought a complete rear quarter panel from a source on eBay who appeared reluctant to let it go for the low sale price James secured. After a bit of dispute and delay, the panel eventually turned up, and just as well. 'When I cut off that great area of metal and saw what a huge hole I'd made in the car, I did wonder what on Earth I'd done,' says James. 'It was a scary moment.'
If this sounds unfeasibly brave for a first-time body restoration, we should also mention the setbacks. James is human, and is happy to admit to a few mistakes. 'I did get things wrong. I'd make something poorly or do a bit of welding, mess it up, cut it off the car and do it again.'
Get Practical Classics magazine delivered to your door every month with a subscription!
SUBSCRIBE HERE
James is also candid about the role the restoration had in keeping him occupied following the loss of his wife. He had support from other areas too, with all three daughters egging him on and a lot of coffee mugs passed his way by his elder brother, Richard. 'My brother won't mind me saying he's clueless about cars,' says James. 'But he came round and sat with me and offered a lot of encouragement, suggesting when to stop and think a bit, or when to plough on with it.'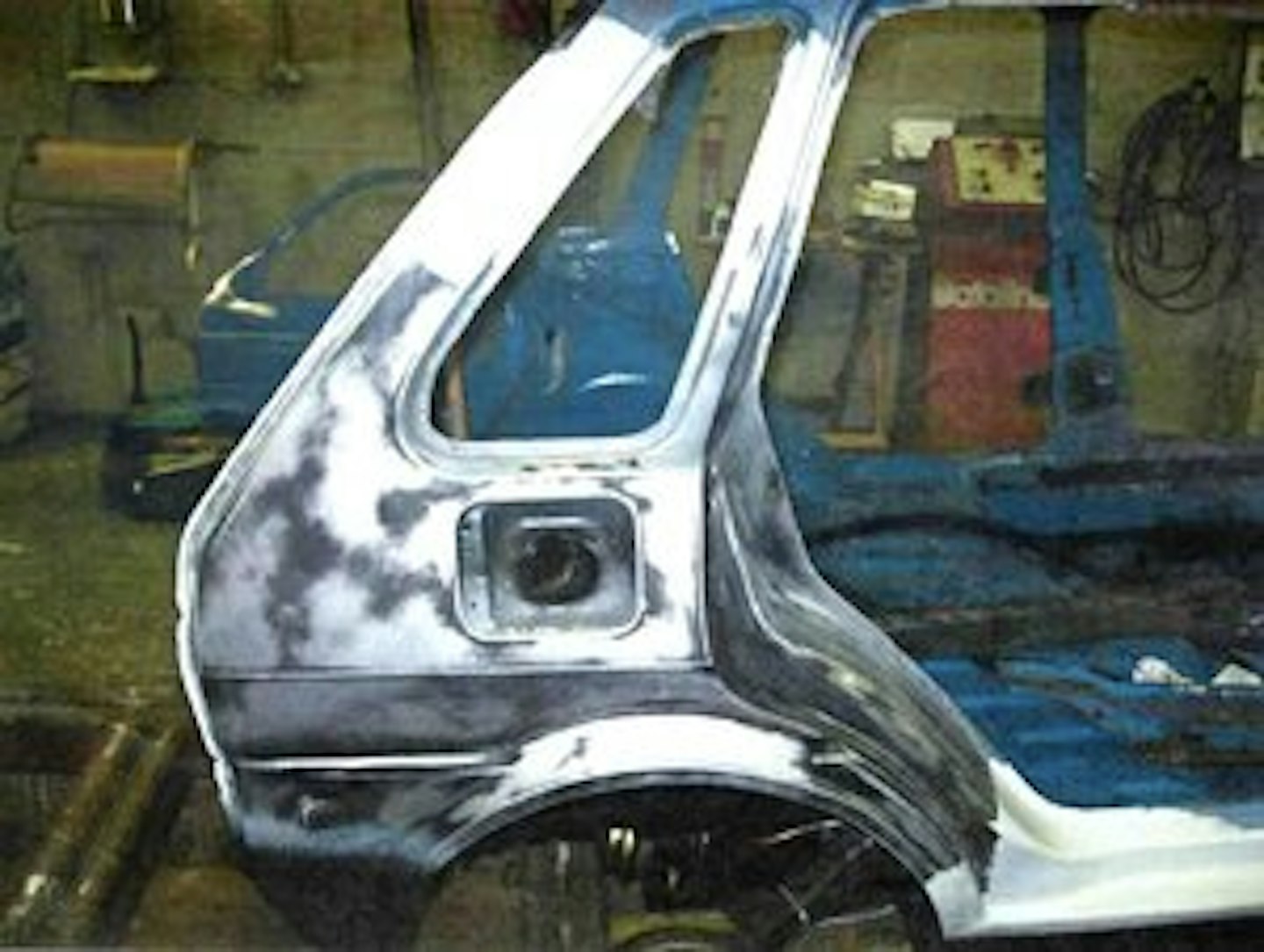 With the shell nearing the point where it would need paint, James turned his attention to the many other aspects required to make the Metro last another 25 years. High on the list were the front and rear subframe assemblies, which had escaped terminal tinworm but which ate up a lot of ready cash during the replacement of CV joints, swivels, ball joints and so on. 'I used proper Rover parts where I could,' says James. 'It was expensive but I'd rather it was right.'
After the subframes themselves were sandblasted and painted (with underseal on the rear subframe, which James didn't like the look of so the front one is glossy black), James could turn his attention to the Hydragas units.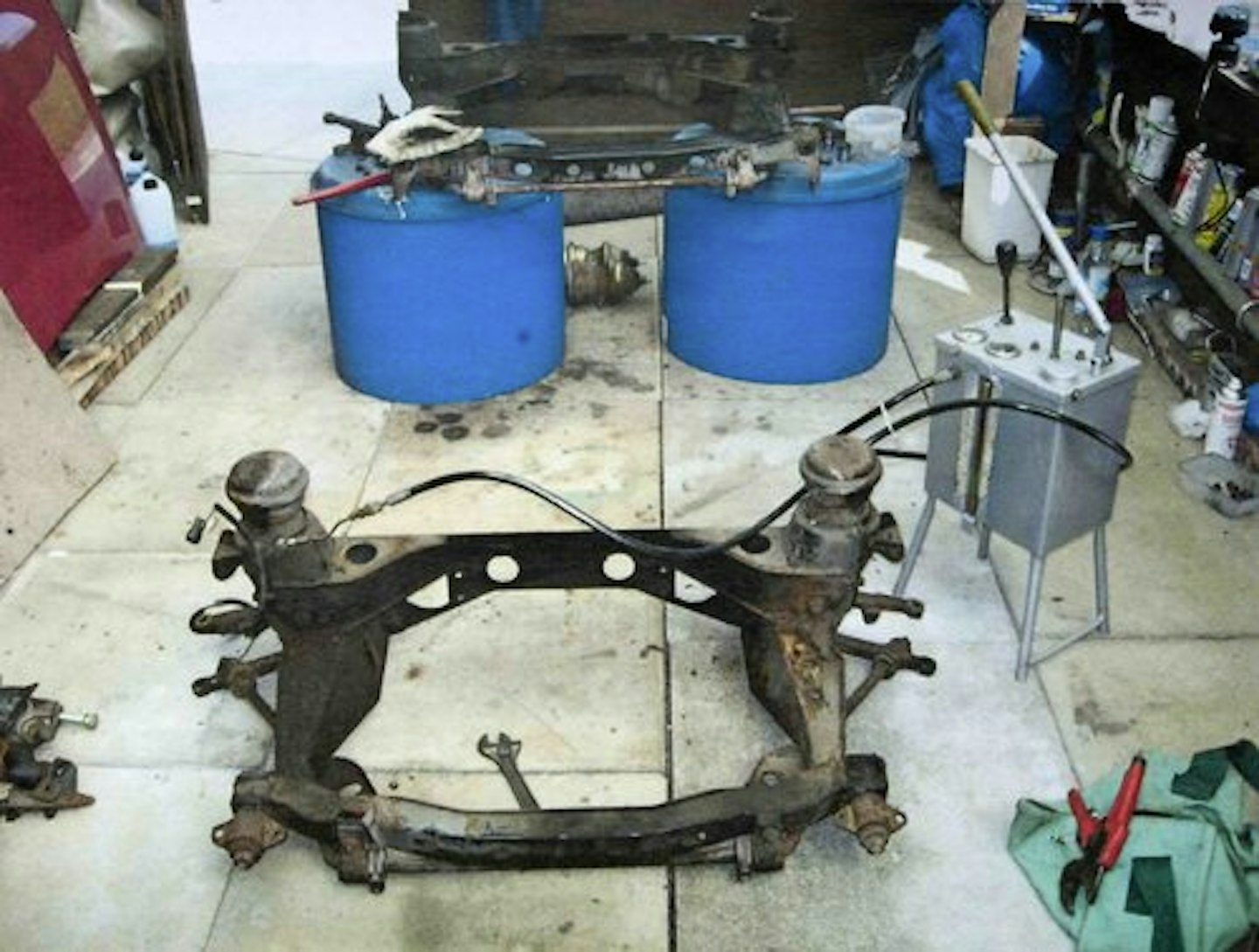 This ingenious cul-de-sac of British automobile design certainly strengthens the Metro's classic credentials. Alex Moulton's system uses compressed gas and hydraulic fluid to do the job of conventional springs, only with pre-pressurised nitrogen spheres rather than a Citroenian engine-driven pump to keep the pressure up. James found four new Hydragas units on eBay for £80 each, which beats the £200-plus they usually cost new. But he also needed a pump to set the pressure.'I acquired this big old hand-operated pump and it wasn't working,' says James. 'So I took it to bits and rebuilt it and it works well, creating up to 200 psi.'
James now offers the pump to owners of fellow Hydragas cars, not least through the Metro Owners' Club forum. This site was a huge help throughout the restoration and James was often glad of both experienced advice and leads on parts supply from forum members. He ended up replacing just about every bush, bearing and cable plus new brakes all round, a new steering rack, a new fuel tank and numerous small electrical items. He prefers not to think about the total bill.
Enjoying the read? Why not buy a full issue of Practical Classics magazine! Because nothing beats paper right?
BUY LATEST ISSUE
Another engine was bought to replace the 117,000-mile A+ under Gerty's bonnet, but in the end James decided to keep things original. 'I sent the engine for remanufacture at a specialist in Crewe, so it's as good as new inside. I dressed the outside up with some chrome nuts on the cylinder head bolts.'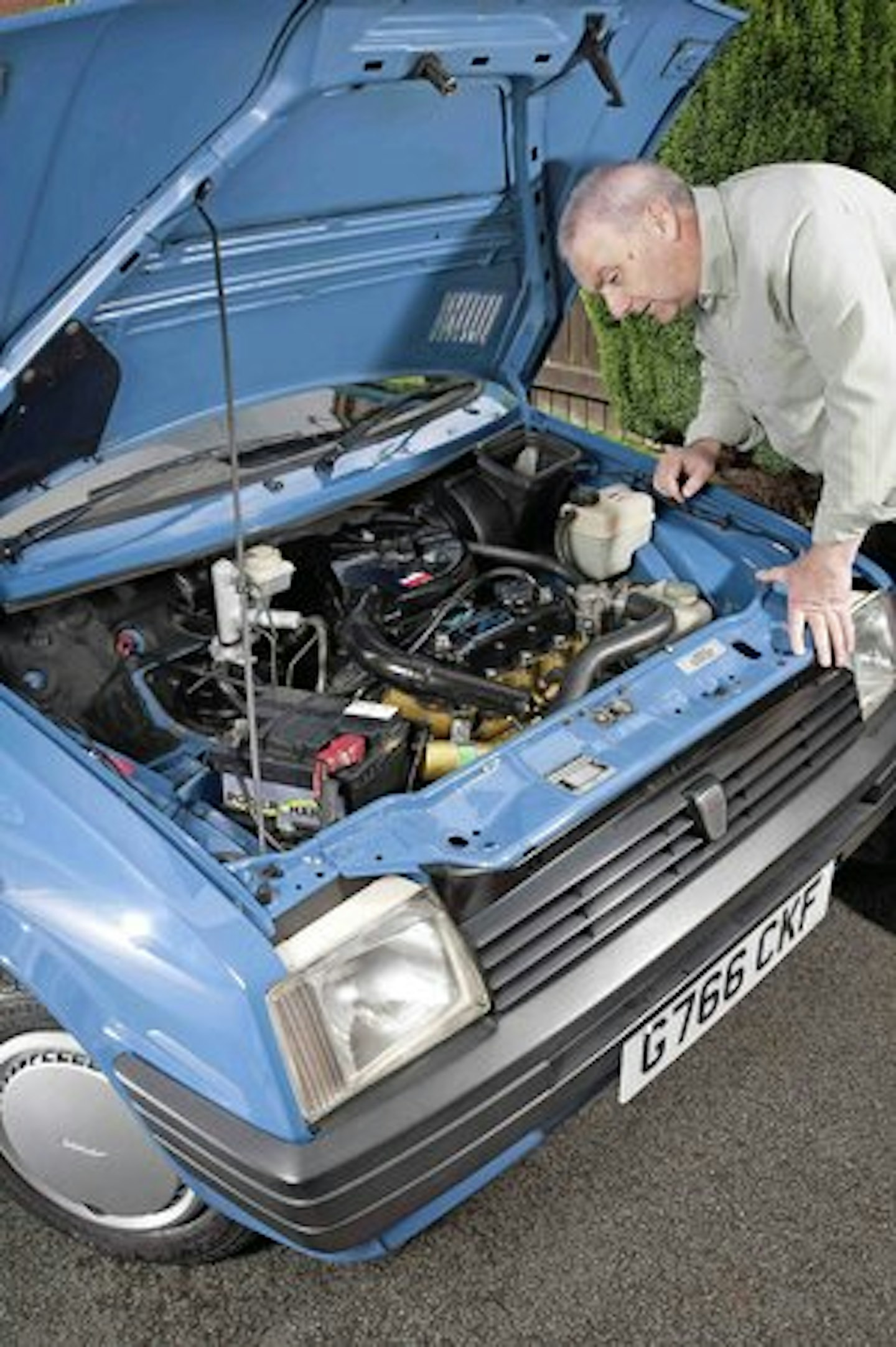 Handing over the rebuilding of an engine is probably a good decision for your very first restoration, but James was determined to have a go at the paint. He prepared the shell as carefully as he could and was looking into the next steps when his daughters intervened and persuaded him to hand the job over to a local painter. Perhaps they'd seen the colossal effort that had gone into getting the car that far, and guessed at the disappointment an amateur, first-time respray might produce.
Gerty came back from Winsford Body Shop on May 31st 2011 in a new suit of Henley Blue. By this time, James's willpower for finishing the car was sky-high, and he refitted the drivetrain, subframes, interior and exterior trim to have it ready for an MoT in August of the same year. Seven litres of Waxoyl found their way into and onto the vulnerable bits of the shell and the Metro was suddenly on the road. 'I was reluctant to drive the car at first,' says James. 'It was just so sad that Marg wasn't here to see it. But I'm starting to realise I really achieved something.'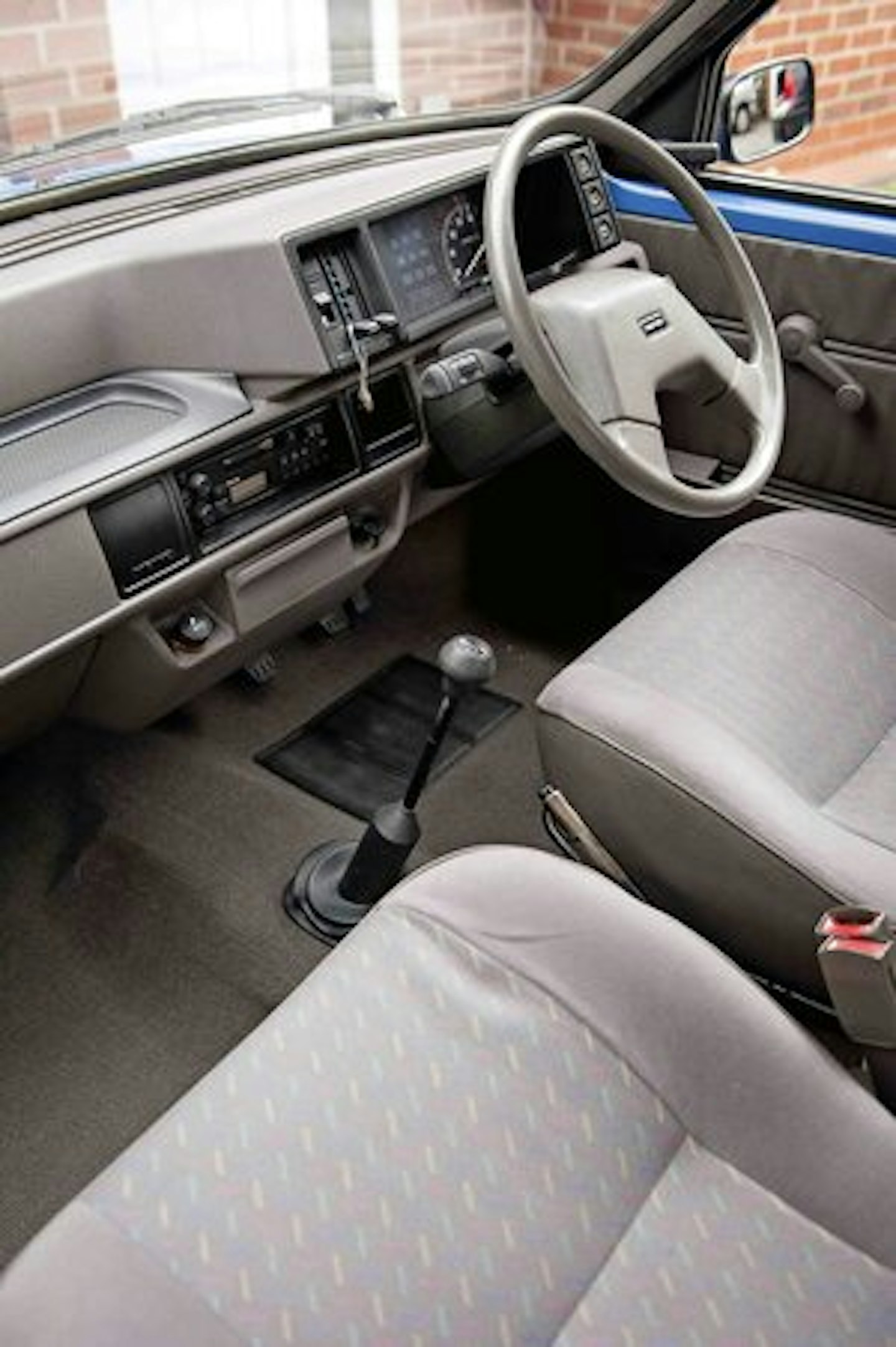 Residents of Cheshire will now see Gerty scuttling along the roads between Winsford and Runcorn on sunny days, as James enjoys using her for commuting to work. In fact, he enjoys driving the car so much that they sometimes head out together for a quick 20 miles on a summer evening.
It took a tragic loss to kick-start the restoration of this apparently unremarkable little Metro, but to see it in its completed state is to realise it's now anything but unremarkable. From the millions that were made, there are fewer condition 1 examples left than there are concours-standard Ferraris. But cars like this are arguably more important. They may not be so widely admired but as James Cribb knows, park a time-machine like this in a showfield and watch the crowds assemble for a dose of nostalgia. If you've got a chance to save a bit of our domestic history, go for it. You won't be sorry.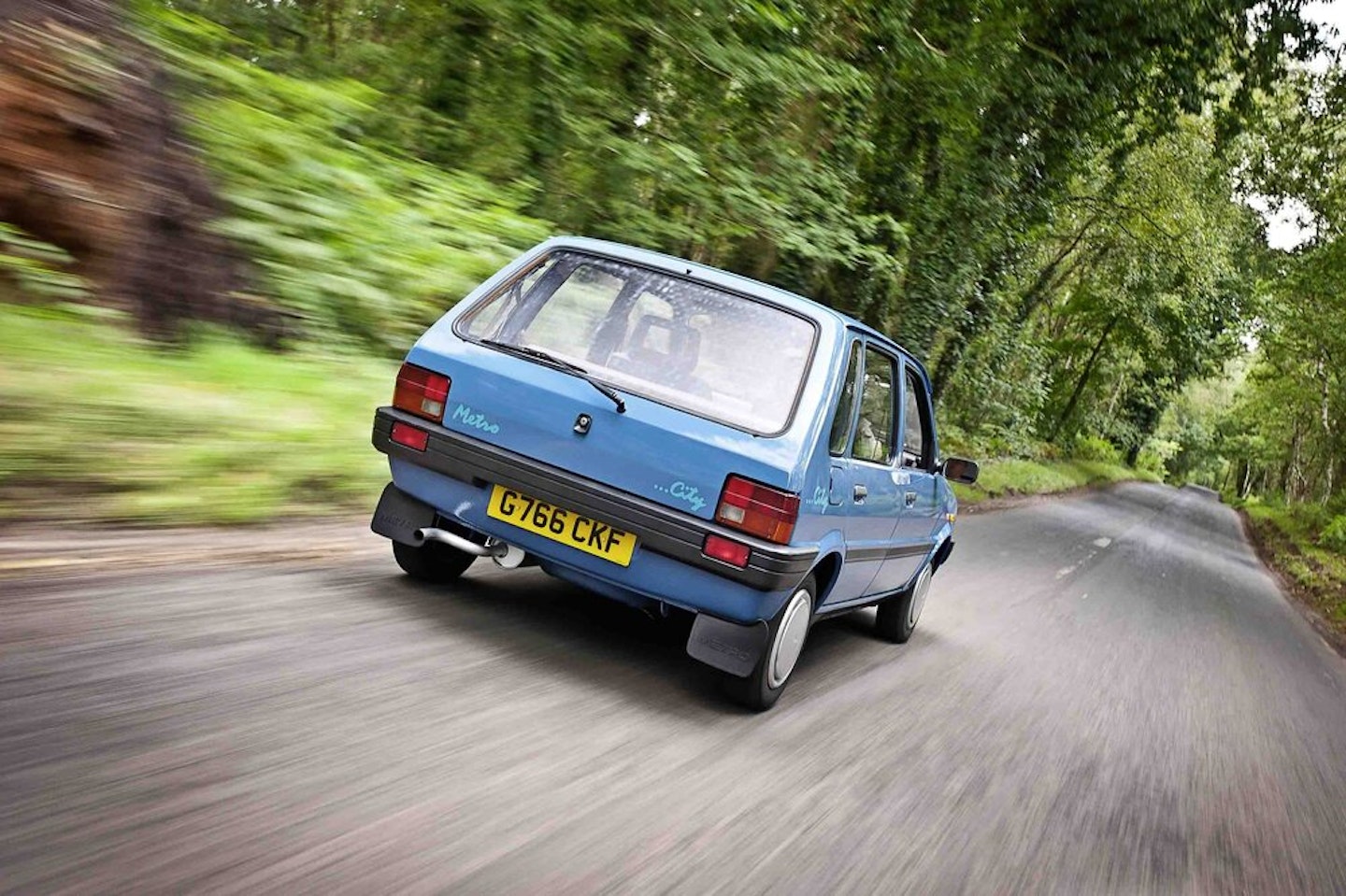 HATS OFF TO JAMES! IF YOU LIKE HIS STORY, YOU'LL LOVE THE MANY RESTORATION STORIES EACH MONTH IN PRACTICAL CLASSICS MAGAZINE. CHECK OUT THE LINK BELOW.