A broad South Yorkshire voice booms across the car park at the Elsecar Heritage Railway station. 'They were reet good, them!' belts the stranger, pointing at the gleaming golden paintwork of our Hillman Avenger. The middle-aged gent's enthusiastic outburst continues as he approaches: 'Mine was a dark orangey brown colour with a vinyl roof. If I'd bothered to pay extra, I'd have got the brushed nylon seats but I had a wife and baby to feed.'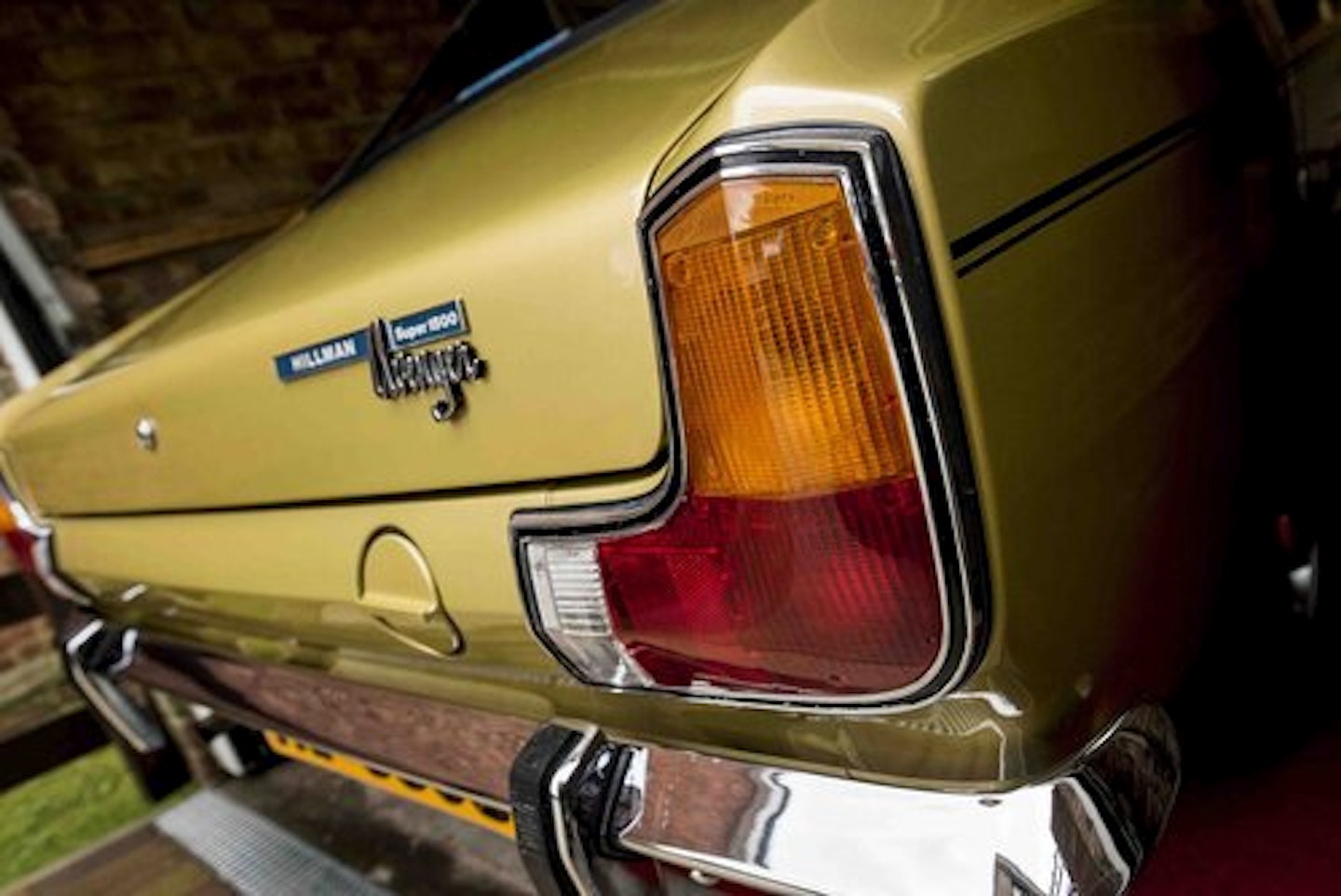 Introducing himself as a volunteer at the Heritage Railway, Michael greets us with warm handshake and peers through all the car windows before declaring to owner Howard Hargate, that it was one of the best vehicles he'd ever owned. 'It was a shame when we got rid. We moved house but it wouldn't fit in the garage so I replaced it with a Sunbeam. That were basically a chopped Avenger, weren't it?' Howard nods and the strangers begin a conversation bursting with affectionate memories of this most underrated of British saloons.
Get Practical Classics magazine delivered to your door every month with a subscription!
FOND MEMORIES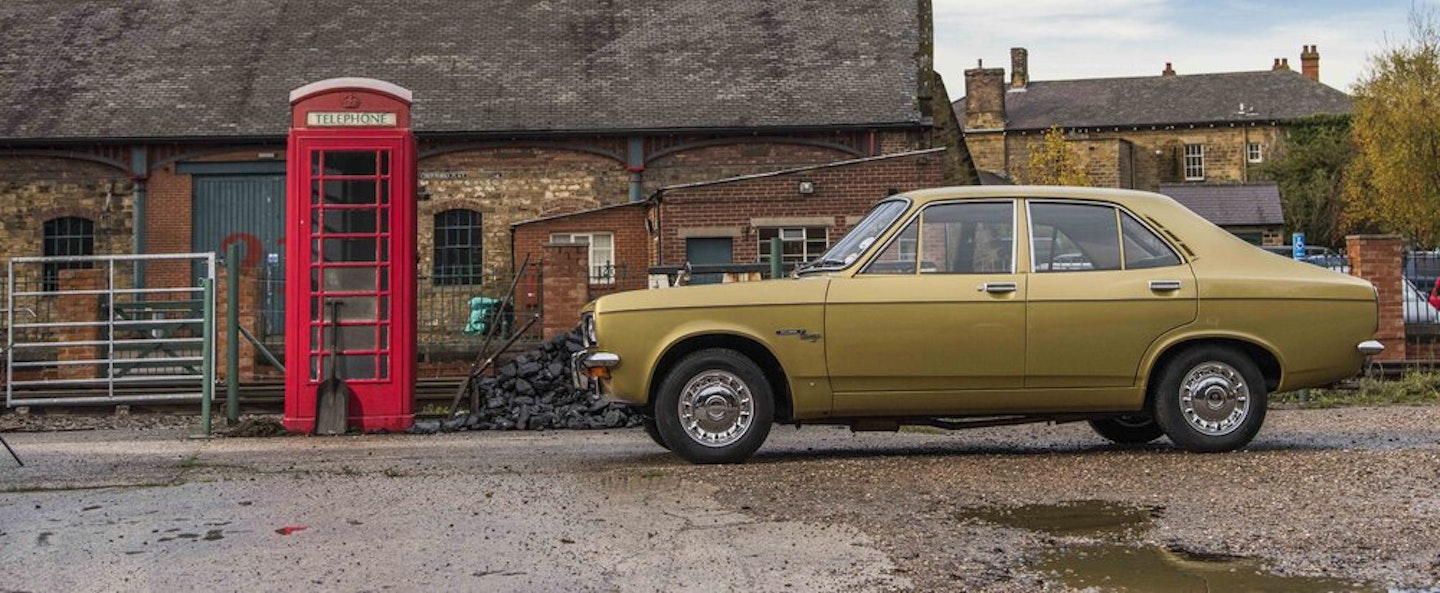 I step back and listen, enjoying the stories as the chatter quickly escalates into rich nostalgia and shared experiences of life in South Yorkshire, each element punctuated with great bursts of laughter. It is the soundtrack of a million car shows and car parks. The wistful chatter about old vehicles like this one is powerful and priceless. They are real cars and we can all relate to their intended purposes: From school runs and family holidays to motorway business blasts. Cars like this helped to make Britain function properly.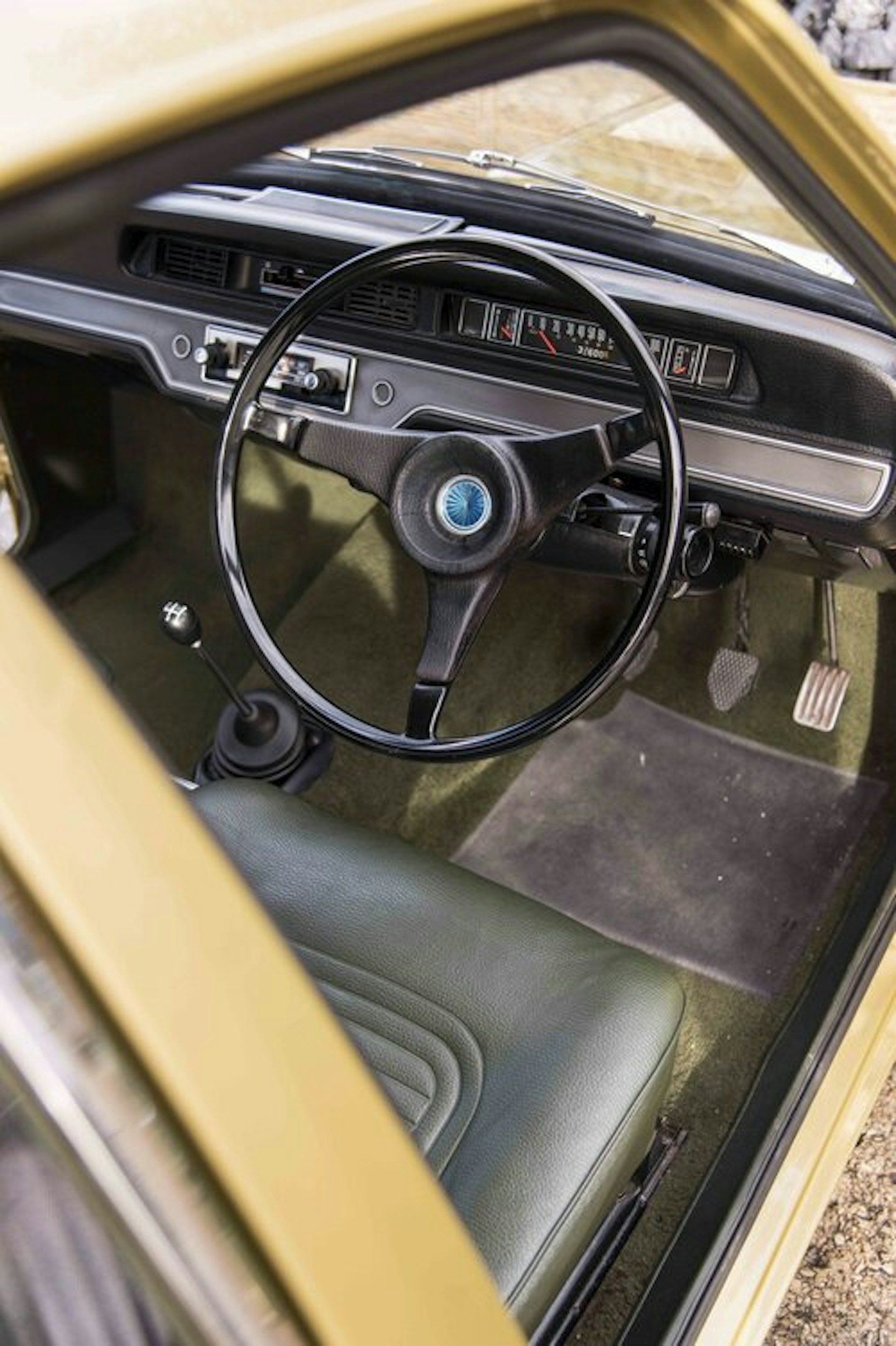 'Everyone remembers the Cortina and the Marina but the Avenger is the great forgotten classic' says Howard. 'They were really popular and well liked at the time yet not many people appreciate them now.' However, judging by the reaction we're getting, they sure remember them. 'People see it at shows and go crazy. You can see them grinning a mile off as they come over and tell me they used to have one and love it'.
The Avenger was the first car Howard ever worked on, as a 15 year old apprentice in the service department of JC Snell in Barnsley - the local Chrysler dealership. 'They even sent me to the engine plant in Coventry for a week, so I could see how they were put together'. Evidently, that kind of thing really helps when you're carrying out a restoration, with Howard's knowledge of Avengers resulting in the acquisition and restoration of the perfect example.
AZTEC AVENGER
'My mum passed away in 2012 and left me a little bit of money so it was my wife, Julie, who suggested I should buy something special for myself.' No MGB or TR6 for Howard, though: 'No other car even entered my head. I knew exactly what I wanted. It had to be an Avenger.' Having begun his Avenger love affair many years ago in a Super 1500, Howard was determined to find a top notch GLS. 'The one with the velour seats and a bit of wood grain on the dash!' However, he settled for his 35,000 mile Aztec Gold Super which he found in Ireland. The first owner had cherished his Avenger from 1971 to 2005. 'It was shipped over and arrived on a wet Wednesday night on the back of a car transporter. It was dark and wet and horrible but the car started first time and I was able to drive it.'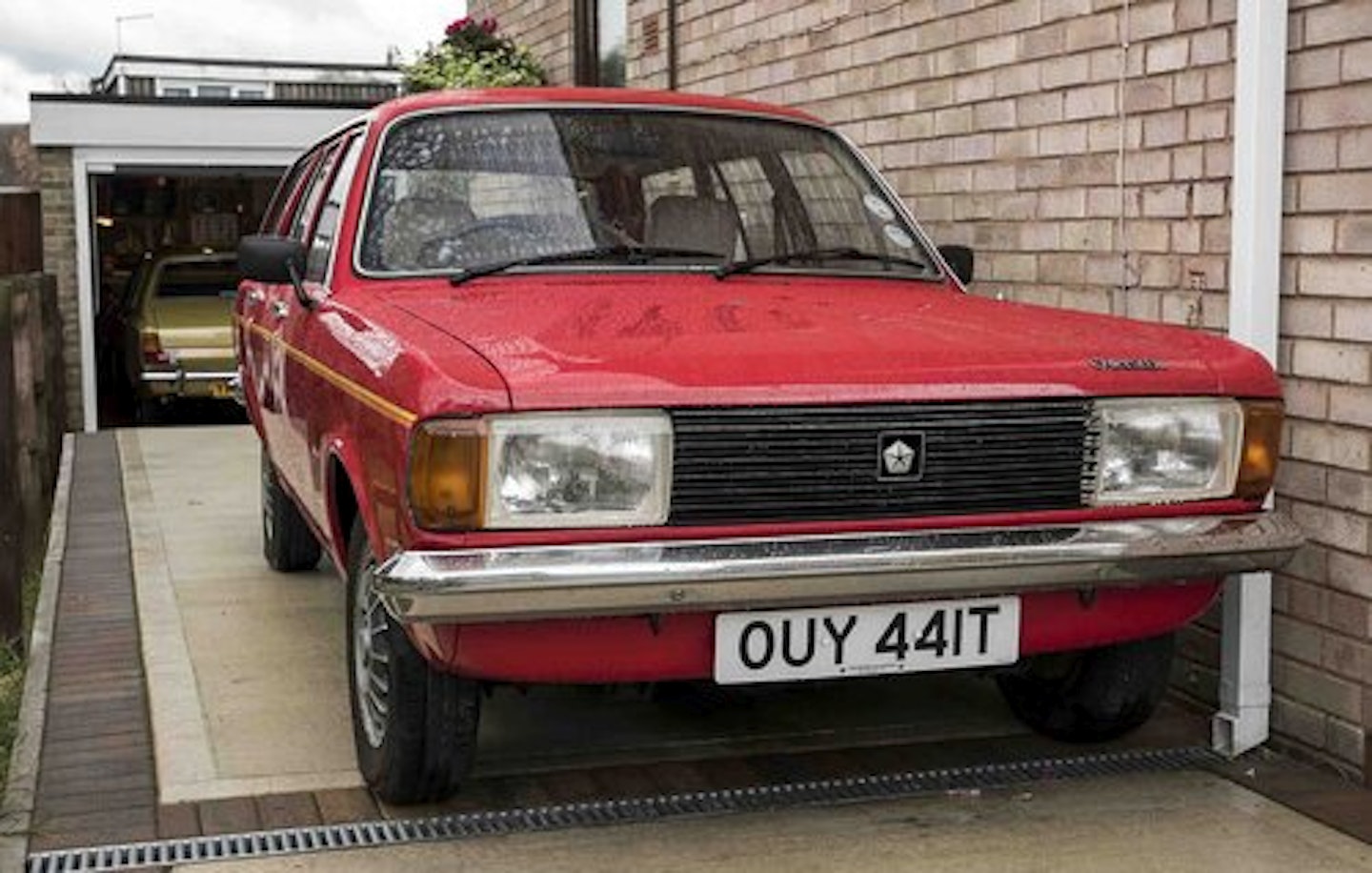 The weather wasn't kind to Howard on the journey home. 'It was a truly terrible night. The car was all steamed up and the single speed wipers were going at full speed!' Once back inside his garage, he discovered the Avenger was in need of work. 'The more I looked, the more rust bubbles I found. The front wings were shot, the back of the sills were bad, the rear arch was on its way and there were some generally poor repairs about the place.'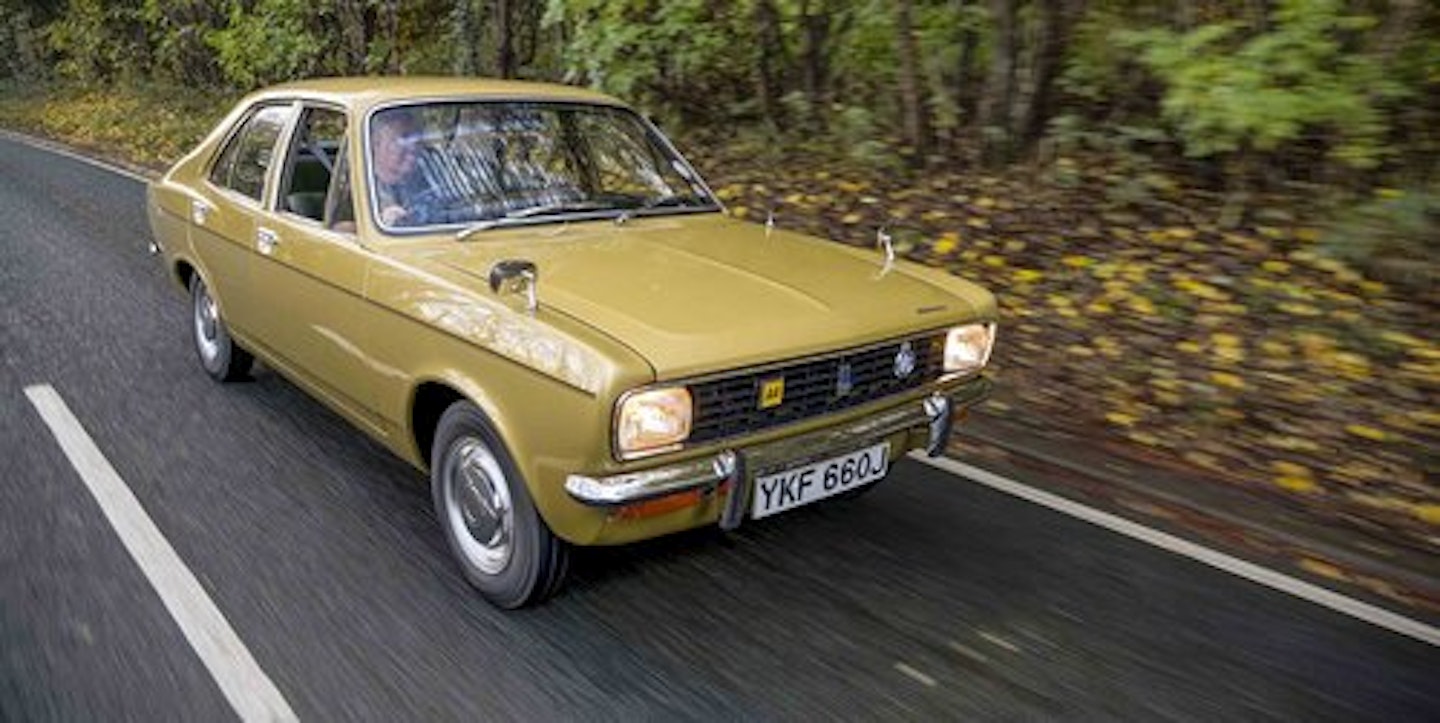 WORLD CAR
Like many cars of the era, the Hillman Avenger had a fabulous talent for rusting quite spectacularly. Yet the Avenger formed part of an ambitious programme for its maker. This was an early example of 'the world car' – aimed at markets across the planet in various guises. Built in Ryton, Linwood, Iran and New Zealand, it was sold in South Africa, South America, the US and Canada. Because of this, there was a need to accommodate locally produced engines so the Avenger had a simple mechanical layout. It was lighter and cheaper to produce than the Hunter (Arrow) and with a smaller amount of sheet metal, fewer welds were needed during production. Stuff like that really mattered with a car intended to take on the world.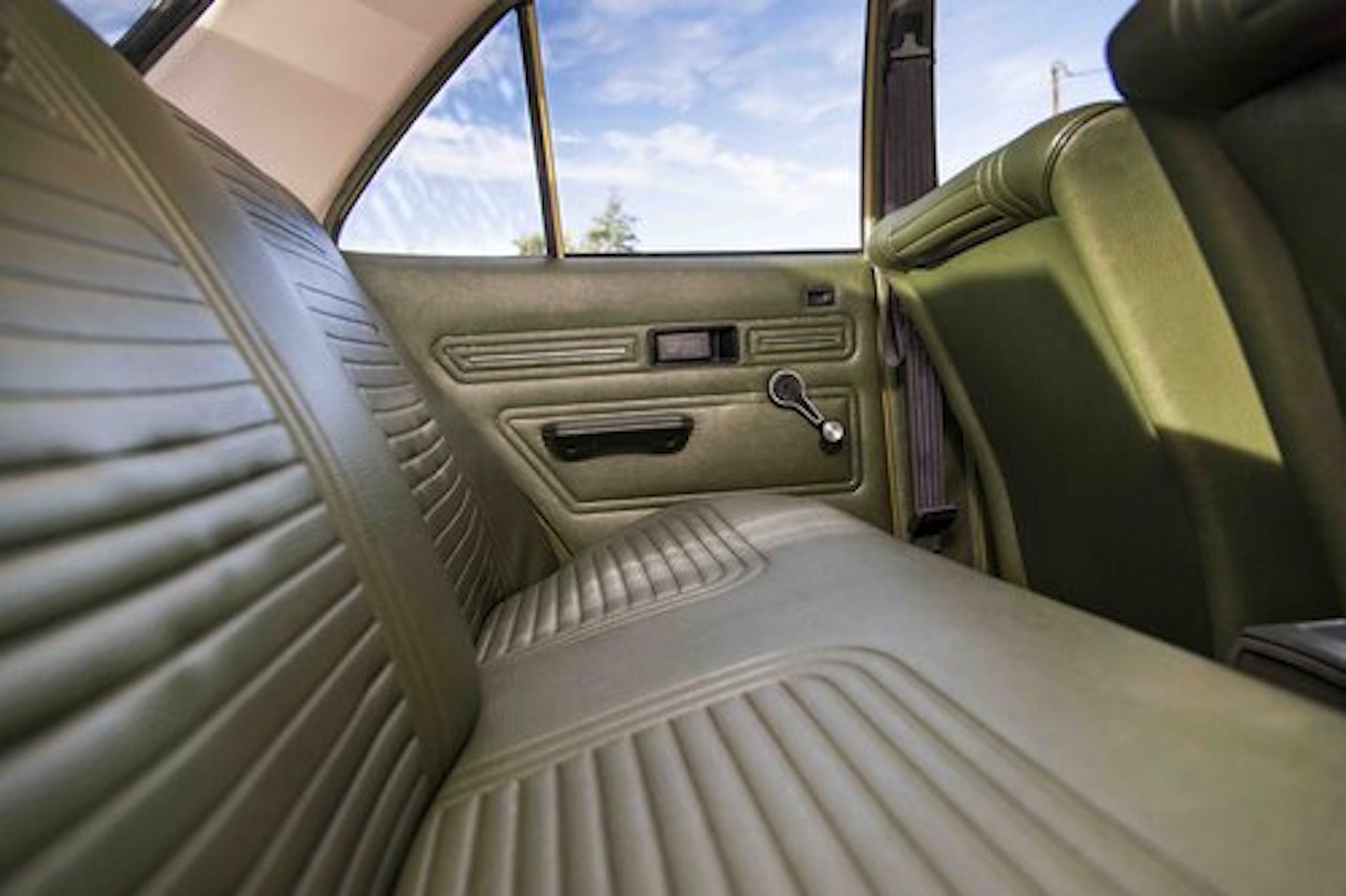 As was quite usual for the era, costs were tight and this crept into the product line in bemusing ways. 'During the first two years of production, they put the Avenger badge only on the nearside of the car, where pedestrians could see it and identify it' laughs Howard. 'Costs wouldn't permit them to put the badge on both sides.'
However, there were flourishes of brilliance in the design – particularly for a mainstream 70s saloon. More advanced than anything leaf-sprung, the Avenger's four-link rear suspension and front anti-roll bars gave it a composed driving edge over rivals, whilst fashion consultants had been brought in by Chrysler to help the colour and trim studio predict material trends. Launched a year before in 1969, the rival Maxi might have been smarter in concept, it looked a bit stumpy alongside the swanky flanks of the Avenger – the last car to be developed by Rootes before Chrysler took over. 'I've had a Mk3 Cortina, an 1800 and a Marina but they just weren't the same' says Howard. 'The Avenger is just so much fun to drive. The engine is basic but they do go very well.'
Enjoying the read? Why not buy a full issue of Practical Classics magazine! Because nothing beats paper right?
THE BIG REVIVAL
That all-iron overhead valve unit needed to come out of Howard's car though. He stripped and decoked it, refurbished the carb and then gave it new valve seals, a new head gasket and painted the block. 'I did the engine bay while I had the chance too – cleaned it up like new.' Stripping the car down in his garage at home wasn't easy. 'It's just a normal household garage so I can just about do what I need to do!'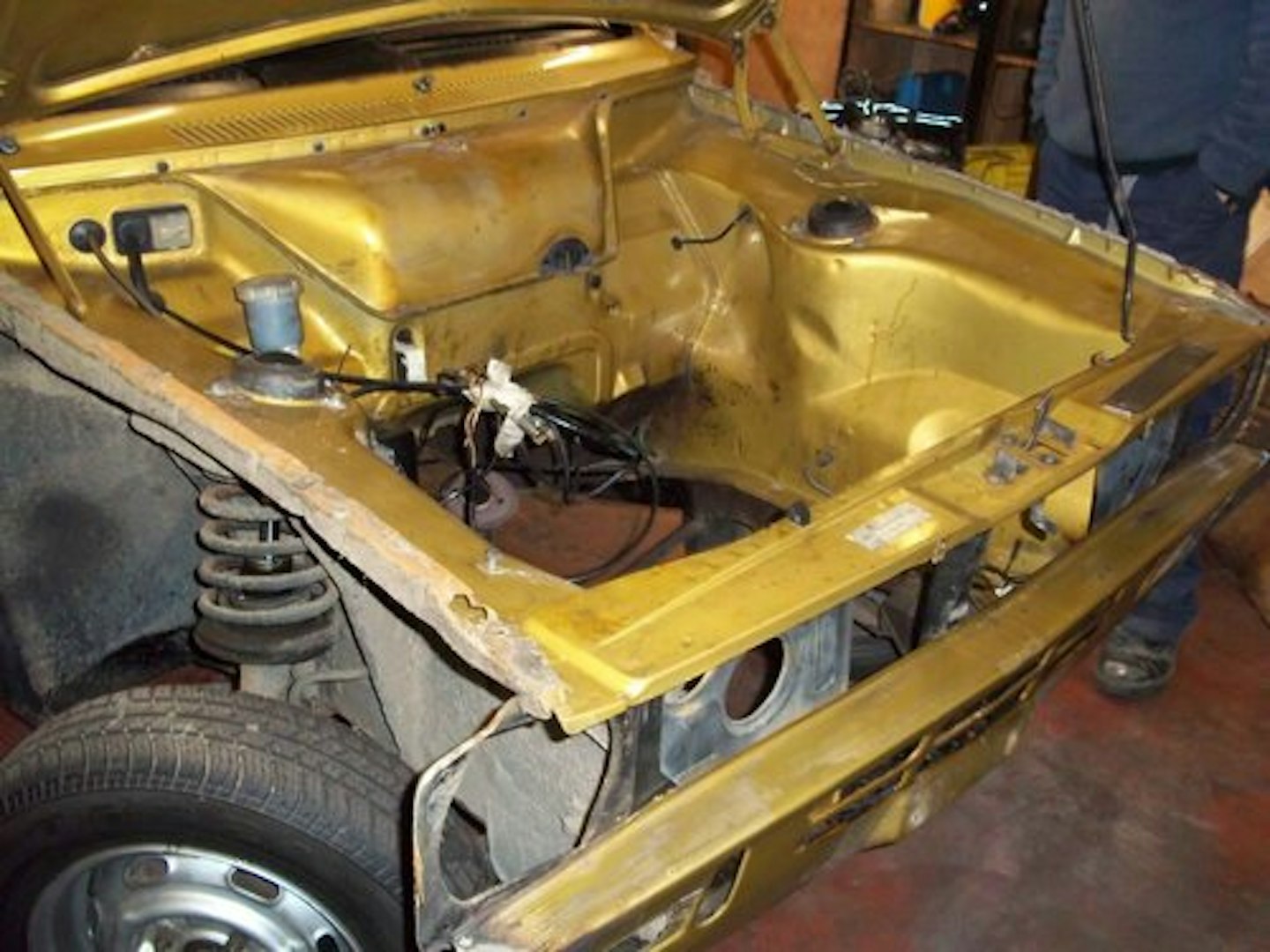 Luckily, Howard got permission to do the rest of the job at a spare workshop, owned by his employers. It gave him some much-needed space. 'The refurbishment was supposed to take a few months but it ended up taking six!' Following extensive work on the Avenger's bodywork and the fierce slaying of the rust, it was respray time. 'I wanted it perfect and I just didn't have the talent' admits Howard. So he took it to a specialist. 'I felt bad as I kept badgering the lad to get the car back. But when I look at the job he's done – it's just incredible. I showed the car at the NEC in 2013 and a bloke commented on the car, saying it's the best respray he's seen in 30 years of being in the motor trade.'
The paint job is indeed very impressive, even under these grey drizzly South Yorkshire skies. It's a car with hidden depths and deserves much greater recognition. 'My favourite detail is the hockey-stick rear light units. It's a shame when they lost those in 1976. The new rear lights they installed leaked water into the electrics, which you never had with these original models.'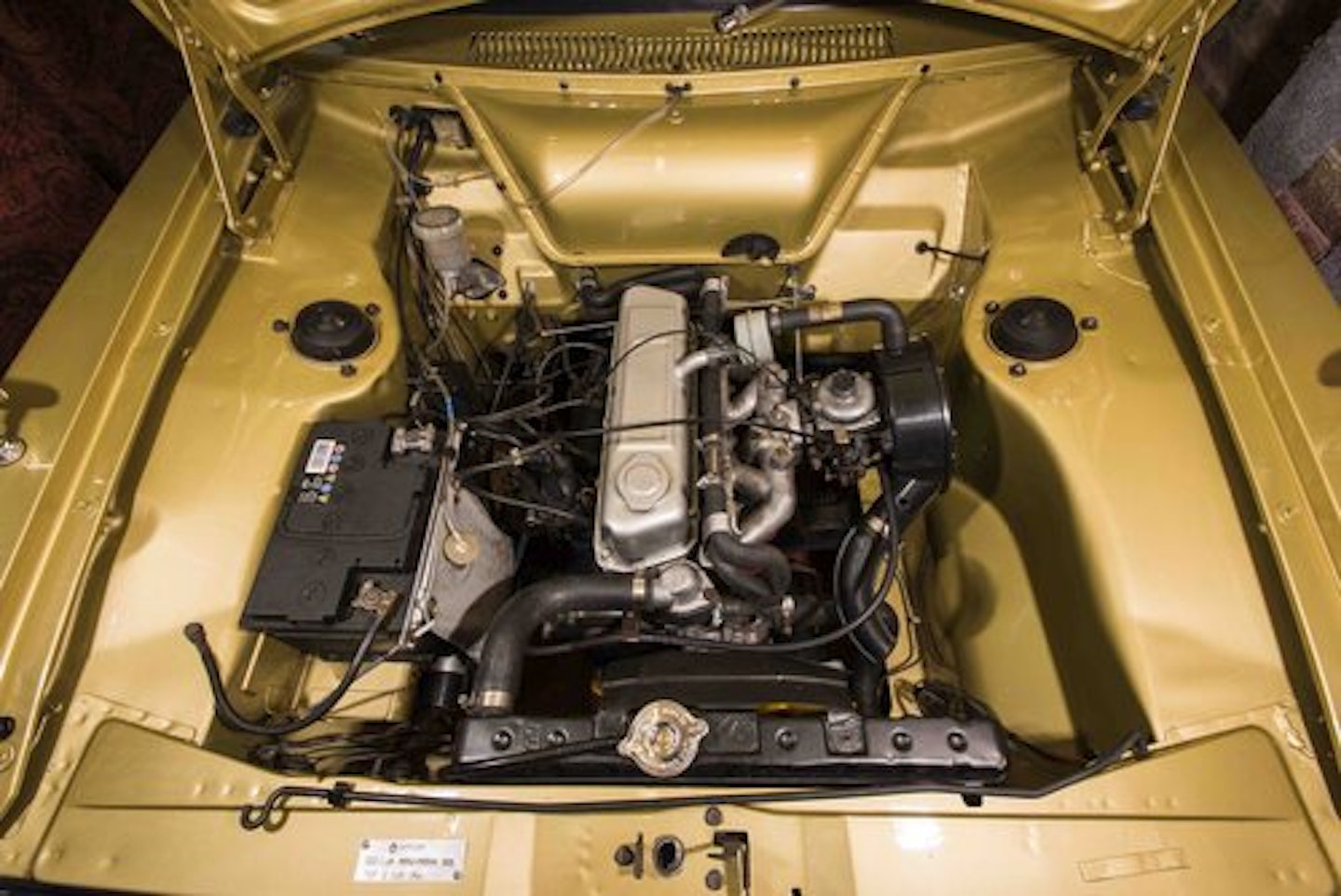 BADGE ENGINEERING
Perhaps it's for that reason the Avenger fell off the radar so quickly. As well as the taming of that distinctive styling, the later model suffered from a bit of an identity crisis, when it was rebadged as a Chrysler in 1976 and then rebadged again in 1979 as a Talbot (when Chrysler dumped their European division onto Peugeot Citroen PSA a year earlier). The Avenger finally died when PSA closed the Linwood factory in '81.
Amid all the kerfuffle with Talbot, Howard decided on a change of career in 1984, when he became a driving instructor for the ambulance service. 'The Avenger bug never went away though. I ended up owning five of them.' This includes Howard's daily driver, a red Avenger Estate and, of course, this beautiful Aztec saloon.
The sun makes a brief appearance as we say our goodbyes and as if to signal the end of the day, a steam train whistle sounds nearby. Elsecar is a volunteer run line built to serve the local coalfields and ironworks. It's easy for some of us to forget we're standing in the heart of one of Britain's biggest former engine rooms. Furthermore, here in the presence of one of Britain's most important – yet underrated – saloon cars of the 1970s.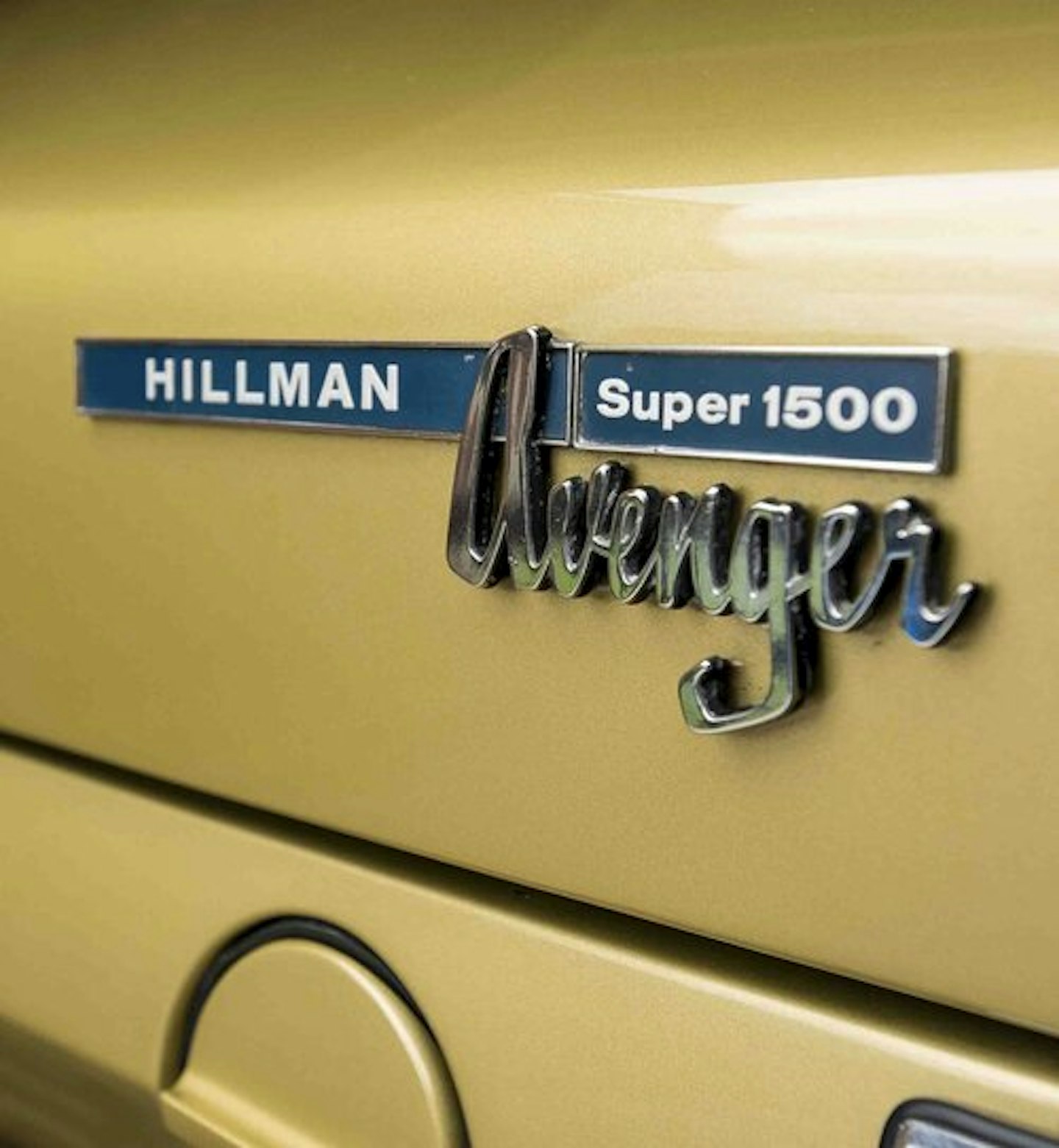 HATS OFF TO HOWARD! IF YOU LIKE HIS STORY, YOU'LL LOVE THE MANY RESTORATION STORIES EACH MONTH IN PRACTICAL CLASSICS MAGAZINE. CHECK OUT THE LINK BELOW.