Words: James Walshe Pictures: Matt Howell
Tobias' mates look on at what can only be described as their 'genius friend'.
Tobias Press wasn't a normal teen. 'I was chuffed when I got a rollover jig for my fifteenth birthday'. When his mates were told about the long evenings of grinding and butt-welding, some were perturbed and others predictably amused. Friend Beth Baker was among the first to find out. 'I had no idea what he did at home. He was always known at school for his swimming talent but we didn't expect anything like this. It was amazing. One day he drove up to the school gates and we were like: Look! Look at the Mini Tobias has made!'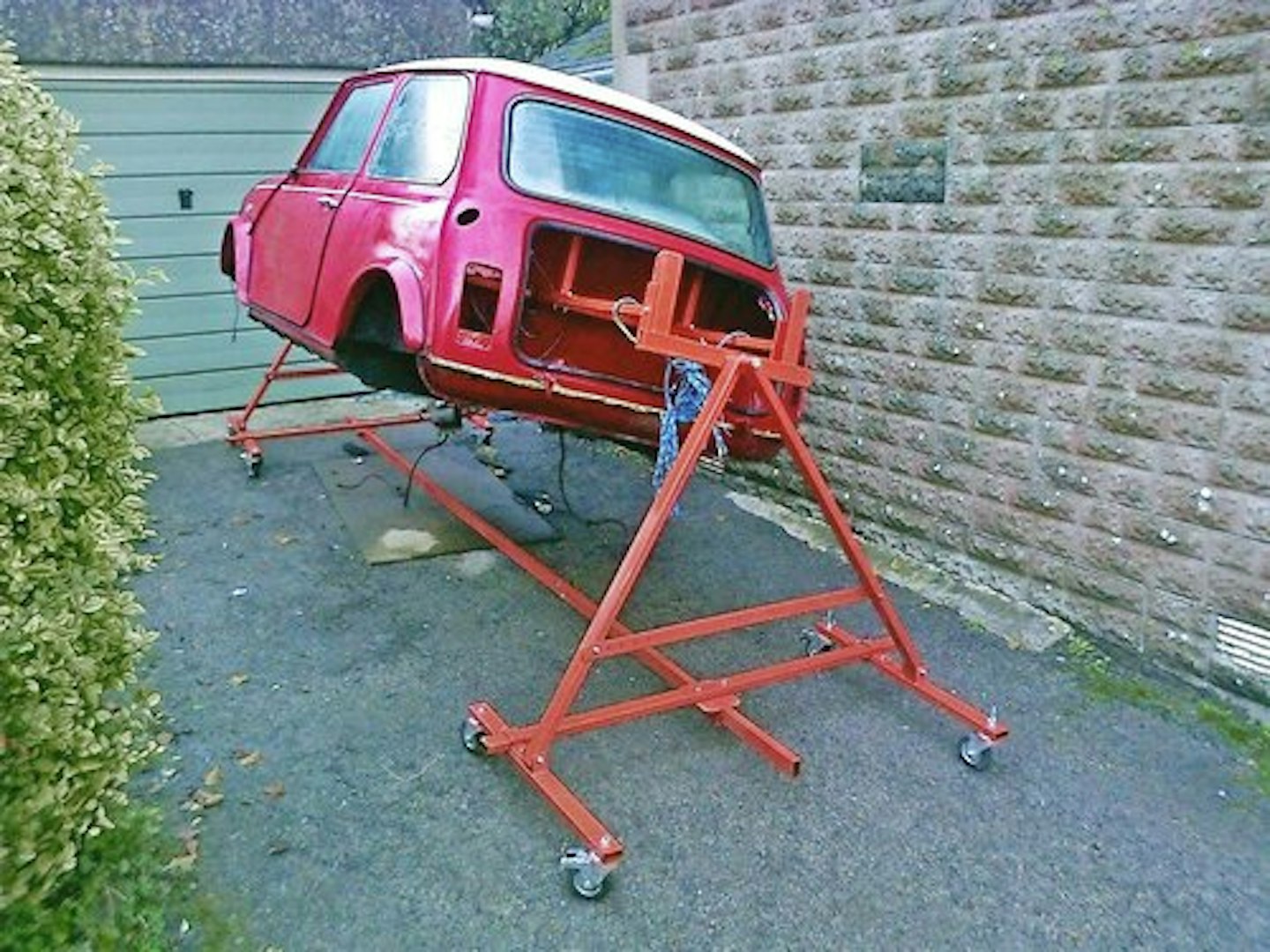 The Mini when it first arrived. It was rough.
Parked in the playground, the car attracted a crowd of friends and legendary status followed. Wasn't he seen as a bit of a nerd? 'God no, he's a legend!' says friend Rhodri Moss. Tobias admits he may have missed out on a fair few teenage parties. 'I know all about what happens at those' he tells me. 'But I don't regret anything. I still managed a bit of a social life but from the age of 14, I was happy to spend my evenings juggling homework with car restoration!'
I ask the assembled pals what they would have been doing at the time. Beth reckons she was mostly watching TV while new arrival Tom Sturdy reckons he and Rhodri were probably playing rugby or X-Box. 'We weren't really that aware of what he was doing at home' says Tom. 'But he was among the first of us to get a car and it's amazing to think he made it all happen himself. The rest of us mostly share our parents modern cars.'
Tobias took an interest in cars aged around 13 and was particularly taken by the original Mini. 'I began helping my dad maintain his car and thenspotted a Mini on the road and fell for it. I bought a book about Minis and then spent hours online looking at cars for sale.' The more Tobias looked, the more he wanted to restore his own. 'Six months later, dad and I bid for one and with his help won it for £1650. It was a red Cooper with an MOT and located not far away from here, in Bath.'
On the face of it, the car wasn't too bad but of course, we've heard that one before. 'It really didn't look too bad but the closer we looked, the worse things got.' The boot floor was in a state and there was evidence of previous accident damage and poor repairs front and rear so it was decided the Mini would need a bit more than just a lick of paint. 'I jacked the car up and found the sills had three sheets of metal sandwiched together with a load of filler. The big strip-down commenced soon after.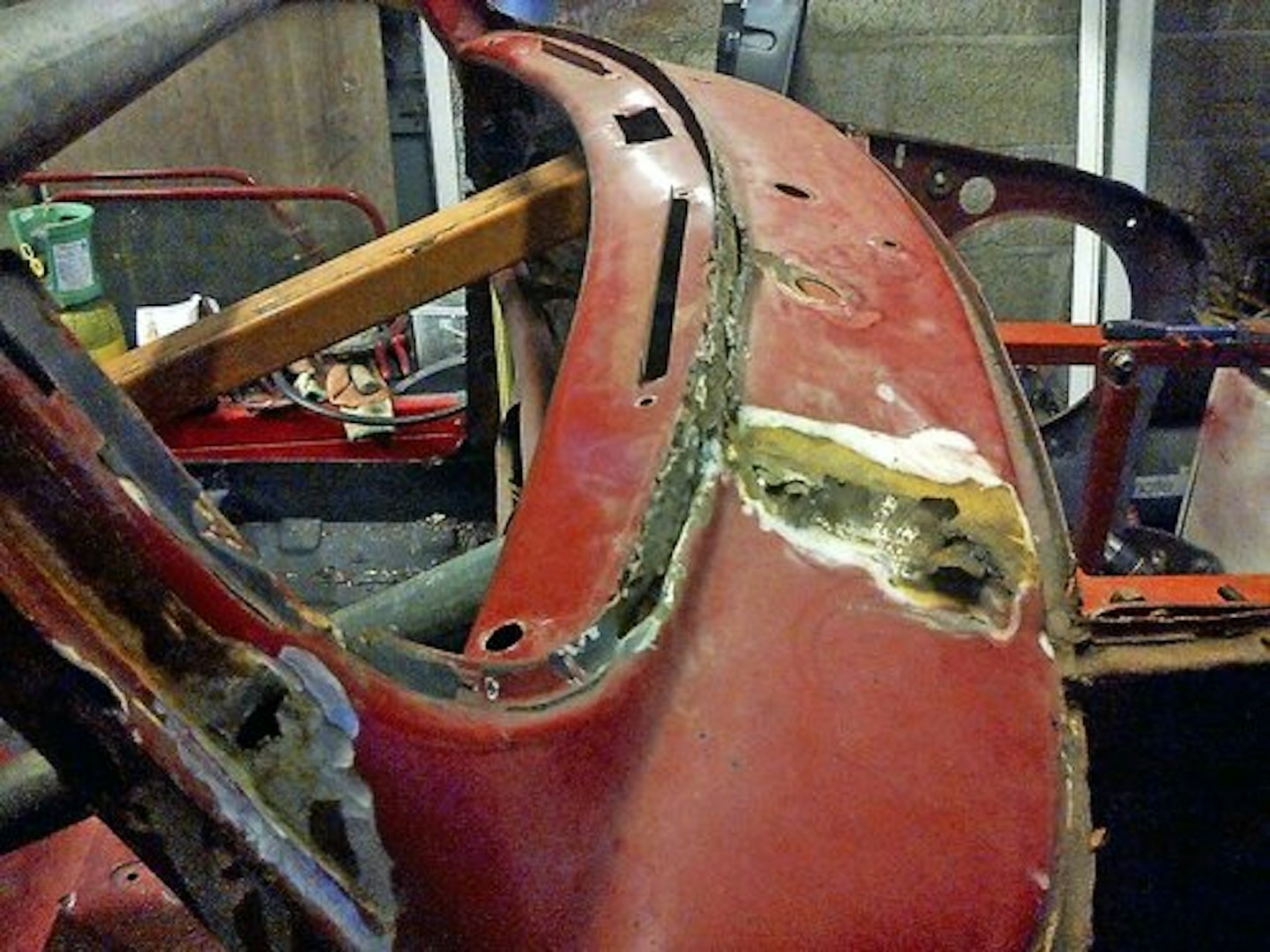 Interior out, the horror story continued with rusty vehemence. 'The floor was totally rotten so the car went up on axle stands and I began some extensive grinding'. Months later, after all the filler had been ground back, the Mini had been taken back to a bare shell, aside from doors and windows to ensure the car was kept as dry as possible. Between his school work, Tobias would keenly wander outside to make notes and analyse how the car was constructed. 'I thought if I could understand how they built it in the first place, it would mean I would do a better job of reconstructing it.
Tobias was a bit daunted by the rotten subframe mounts so his father came to the rescue. By now, he'd been gifted a rotisserie so was able to access the car more easily on all sides. Dad Nicholas appears with a tray of tea and admits he's a bit of a perfectionist. 'I admit to keeping an eye on what he was doing and helped where I could. I learned car repair and maintenance from my own father and he was like me… Quite fastidious!' Grandad Press passed away a few years ago but Nick says he would have been very impressed with the Mini restoration. 'He would have been out there giving Tobias advice about balljoints, propshafts and welding!'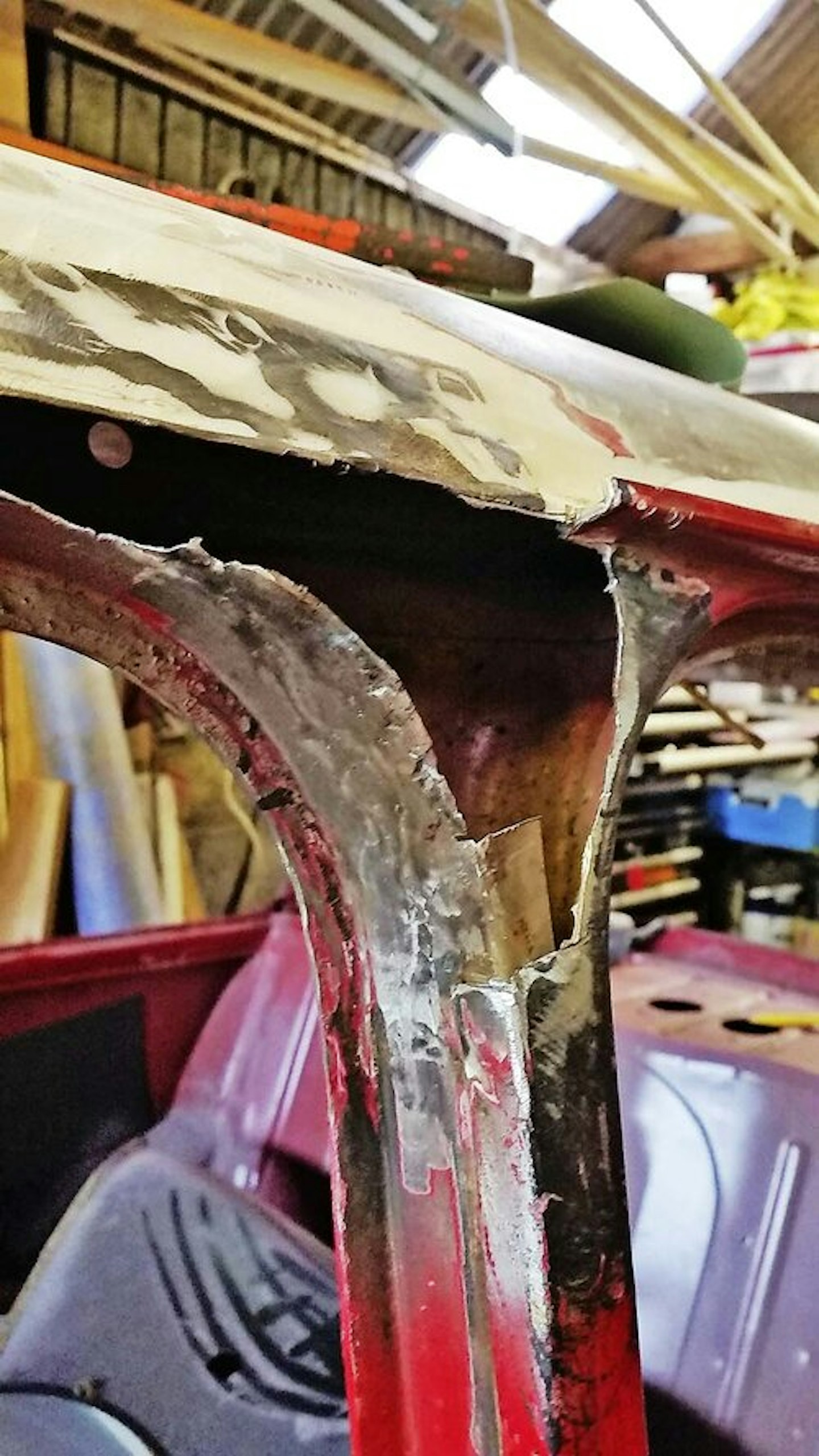 Tobias' first attempt at welding!
Tea slurped, we head outside to the garden. Tobias is keen to point out the source of his welding skills – and his first attempt at fabrication. It's a barbecue, made from a large steel barrel. 'I did it when I was about 14, fiddling around with scrap metal, fusing it together to see what happened.' He then began construction of the barbecue itself, forming a frame by cutting metal tubing to length and bending it into shape. 'I used grandad's old chairlift and bits of an old tumble dryer.'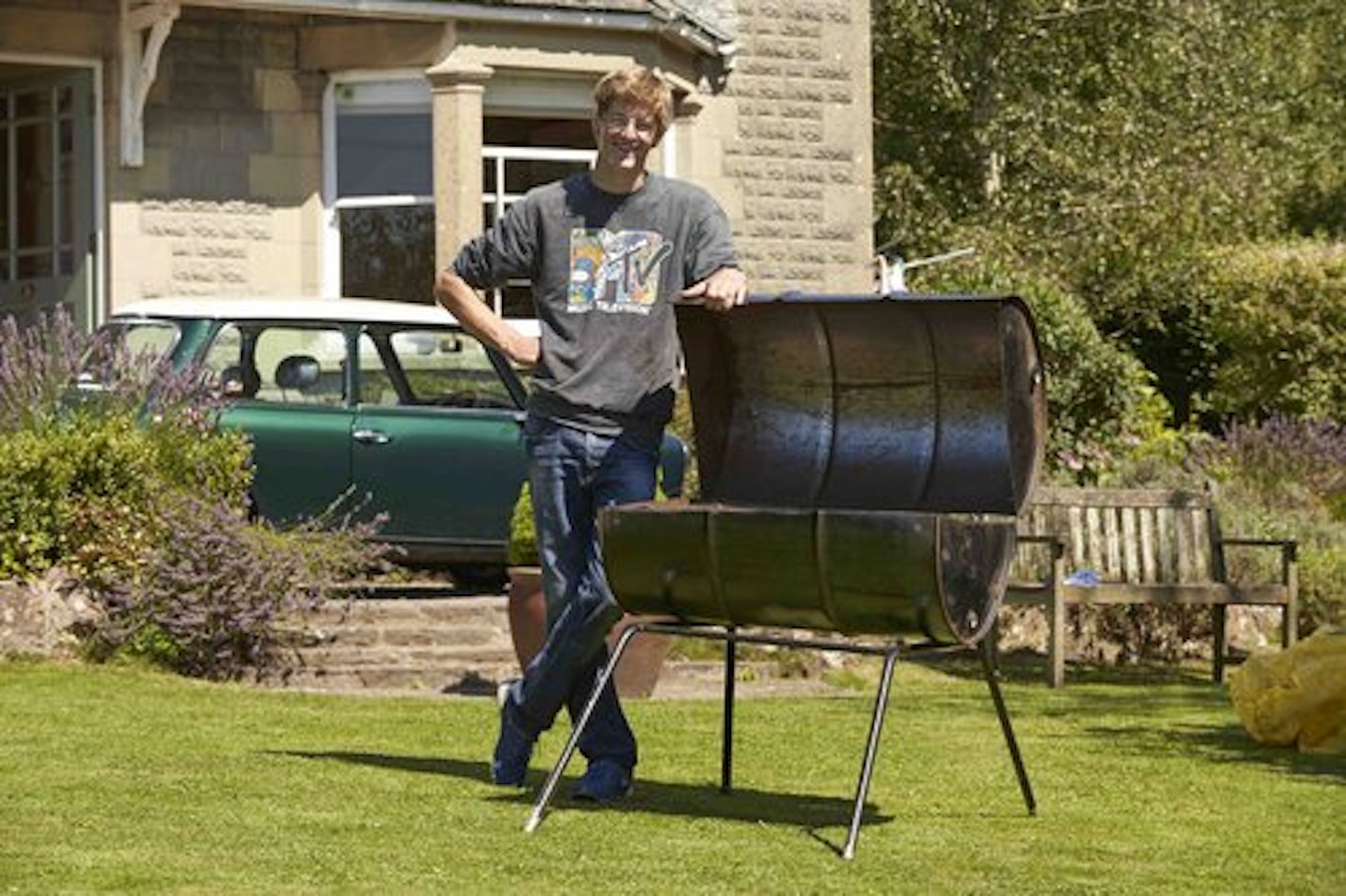 Happy his skills were up to scratch, Tobias set to work on the car, repairing the floors and sills. He traded in the rotten doors for some new ones replaced the scuttle panel. 'When I ground it all back, they'd seam welded a strip of metal onto the inside of the scuttle so that had to go.' He cut the front subframe off and set to work repairing the inner wing. 'It took three months to get the front all sorted out. But once all the local repairs were done – from the floor to windscreen surround and all four corners of the roof – I went around the whole thing with an orbital sander.' Having decided already to change the colour from red to green, Tobias sent the car away for paint. The engine was placed inside the family shed where Tobias performed a minor overhaul. 'It only had 63,000 miles so I didn't need to do much.' Nervous of the Single Point Injection's complexities – a common cause for woe - he sent that off to a specialist to be refurbished. The big refit took place swiftly, with all weekends and evenings taken up by the re-installation of parts and panels. 'By now, exams were in full swing so amid all the revision, dad stepped in towards the end and helped me to sort the interior and the loom.'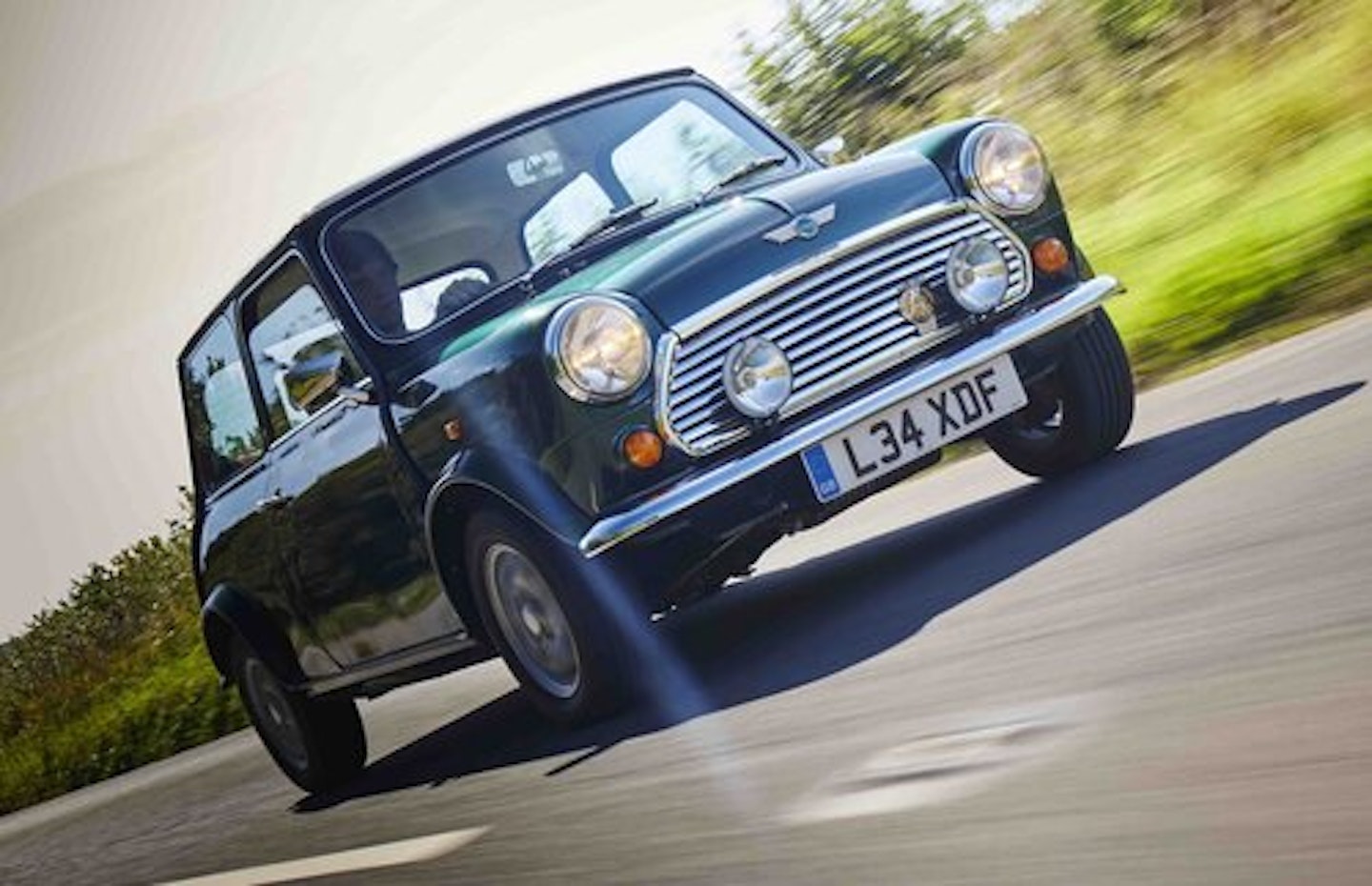 The Mini passed its MOT with no advisories. 'Filling it with petrol for the first time was a real highlight.' He then picked his mate Tom up and went off for a drive, watched by dad Nick and mum Astrid. It's not over yet, mind you. There is what appears to be an upturned Morris Traveller in the garden. PC Photographer Howell comments that it's the worse example he's ever seen, to which Tobias defiantly responds: 'It's alright. I just need to get some strength into it.'
So will Tobias Press make up for those lost years of house parties and reckless teenage escapades? It seems not. He's now studying Manufacturing and Mechanical Engineering at college – clearly intent on a fulfilling and lucrative career doing what he really loves. Not even an X-Box? 'No way! I'm terrible at computer games. It would be like watching my mates trying to weld.'