Words: James Walshe Pictures: Matt Howell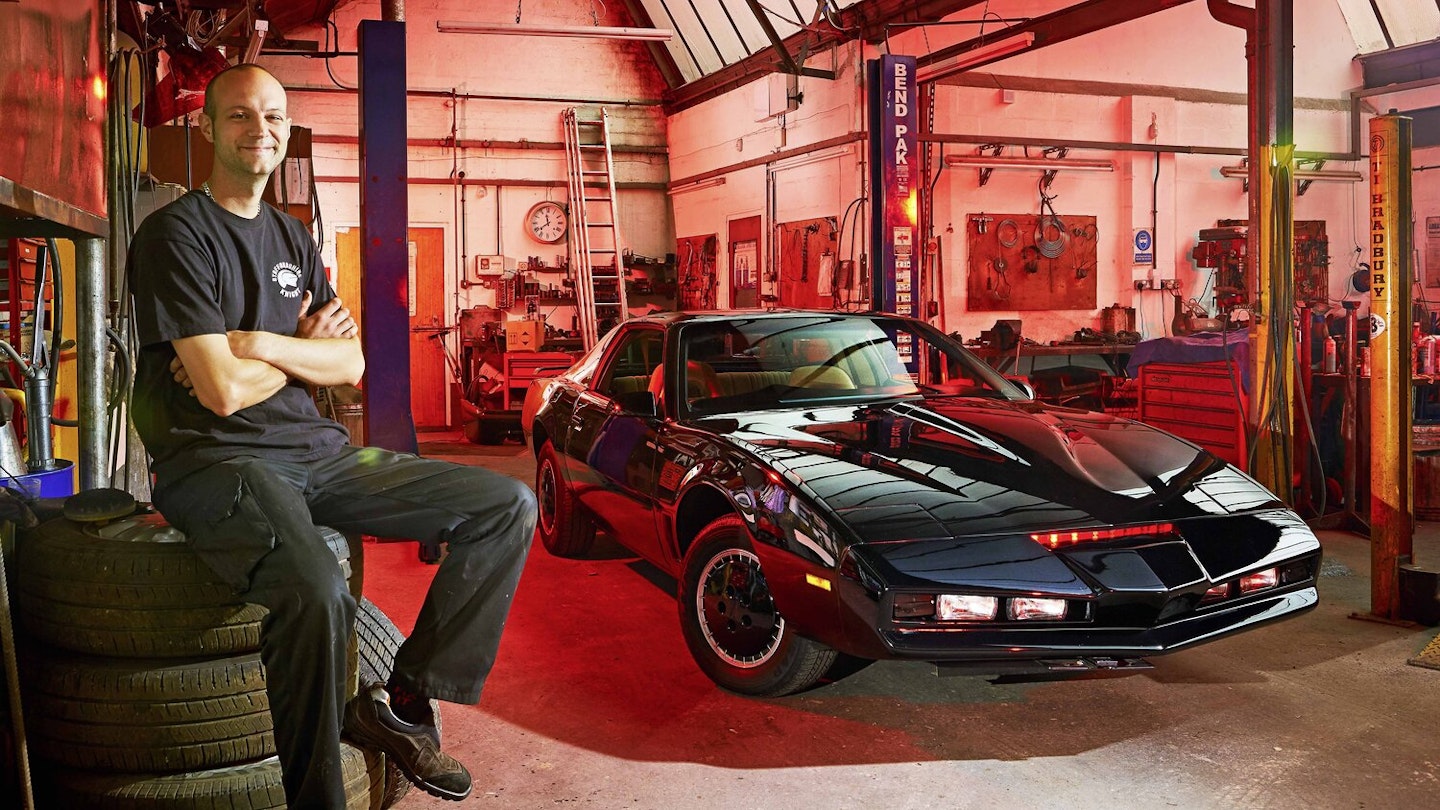 Ryan and his partner, KITT.
This must surely be the first time a restored vehicle has introduced itself to Practical Classics. A prim and familiar voice quacks across the workshop: 'I am the Knight Industries Two Thousand. Or KITT, if you prefer'. I hesitate, unsure as to whether I should reciprocate with a pleasantry. My head spins. I've just met my childhood hero.
With the 'original owner', Michael Knight (David Hasselhoff).
Recall the first time you properly noticed a car and I'll bet you were watching TV at the time. And boy, were we dazzled. FAB 1 and Chitty Chitty Bang Bang could fly, Herbie had a mind of his own, the General Lee was the ultimate stunt car for hooligans, James Bond's Lotus could drive underwater and the A-Team's van was far cooler than any van we'd ever seen before. These were the vehicles of our dreams, stamping an indelible mark on the childhood psyche of millions. My own love affair with the car however, began with a svelte looking black Pontiac...
Knight Rider was a US TV series about a handsome young crime-fighter named Michael Knight (David Hasselhoff) and his artificially intelligent Trans Am - the Knight Industries Two-Thousand (KITT). As with all the best action packed TV shows, amid the explosions, gunfights, punch-ups and The Hoff's well-coiffured curls, the star was the car. But for a neatly extended nose cone and blacked out rear lights, (styled by customizer Michael Scheffe, whose portfolio also includes Back to the Future), KITT looked fairly standard. No power bulges, spoilers or scoops here. Just subtle, pointy and clean, which reflected its purpose: To be efficient and effective. And clever. Because whilst Herbie had a heart, KITT had a brain. He was Michael's crime-fighting partner and best mate. Between playful snipes at each other, their road trips together were accompanied by country rock montages, aerial shots of KITT cruising through Vegas or sweeping across the desert, trail of dust in his wake.
No such road is available in Stoke On Trent, where our subject currently resides. The master of the KITT you see here is Ryan Tissandier. 'My restoration took two years because I had to keeping saving up the money! And then I had to wait for the parts to come, mostly from America'. The attention to detail is truly astonishing. I ask him why he's gone to all this trouble. 'I was a big fan of Knight Rider from a young age and always said I'd do everything I possibly could to own one. I made a promise to myself: One day I will own KITT'.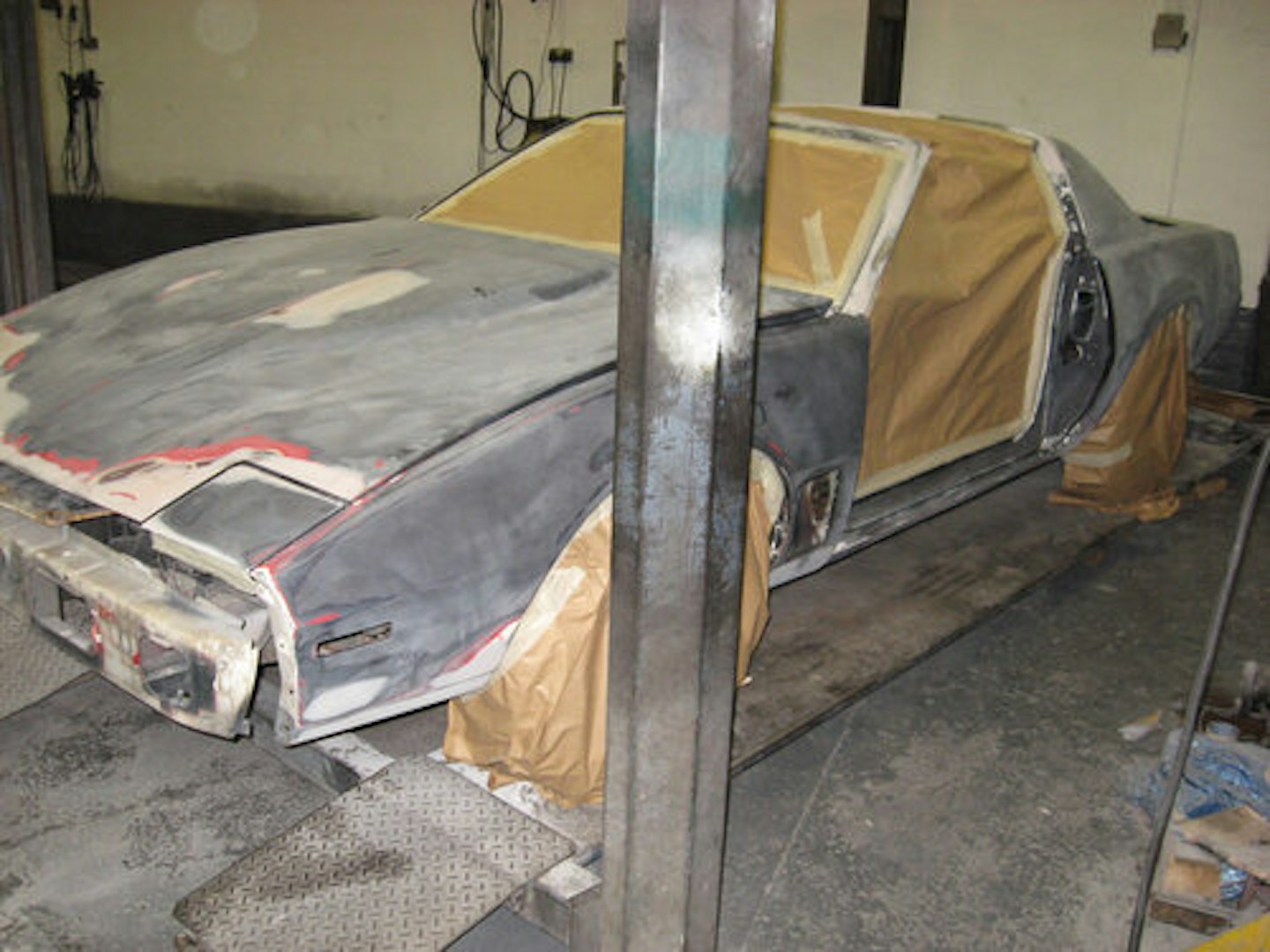 Car had seen better days. Repaint very necessary.
Ryan quickly concluded the purchase of a ready-made replica would be out of his reach financially so he decided to restore a Trans Am and build his own. 'Fully built replicas do appear from time to time but they can be really badly done'. Eventually, Ryan found a good donor car for his Knight Rider dream. 'I spent years looking but one day found exactly what I needed for sale on the internet for £1800. It was advertised as a 'possible Knight Rider replica' but it was nothing like KITT. It had the wrong interior, some rubbish interior modifications and the wrong seats but I was confident this was the car for me'.
Before getting into the complexities of electronics installation, Ryan had to perform a standard car restoration. 'It was a state. The sills were rotten and the A-pillars were quite bad. I had to strip it all down to the bare shell for some major welding work. It felt good to start from scratch though'. Recognising the benefits of taking the car back to the bare bones, Ryan spent weeks ensuring the shell was perfect before attempting the unenviable search for two new doors. Incredibly, it didn't take long. 'I couldn't believe my luck when I spotted two doors in a Kidsgrove breakers yard' he smiles. The bodywork is pure Firebird, aside from KITT's slightly pointier fibreglass nosecone, which contains his signature scrolling red scanner. I sourced the whole section from a company in America, who take four to five weeks to fabricate them to order'. It was then up to Ryan to shape the nose into the rest of the body, so it would be ready for paint.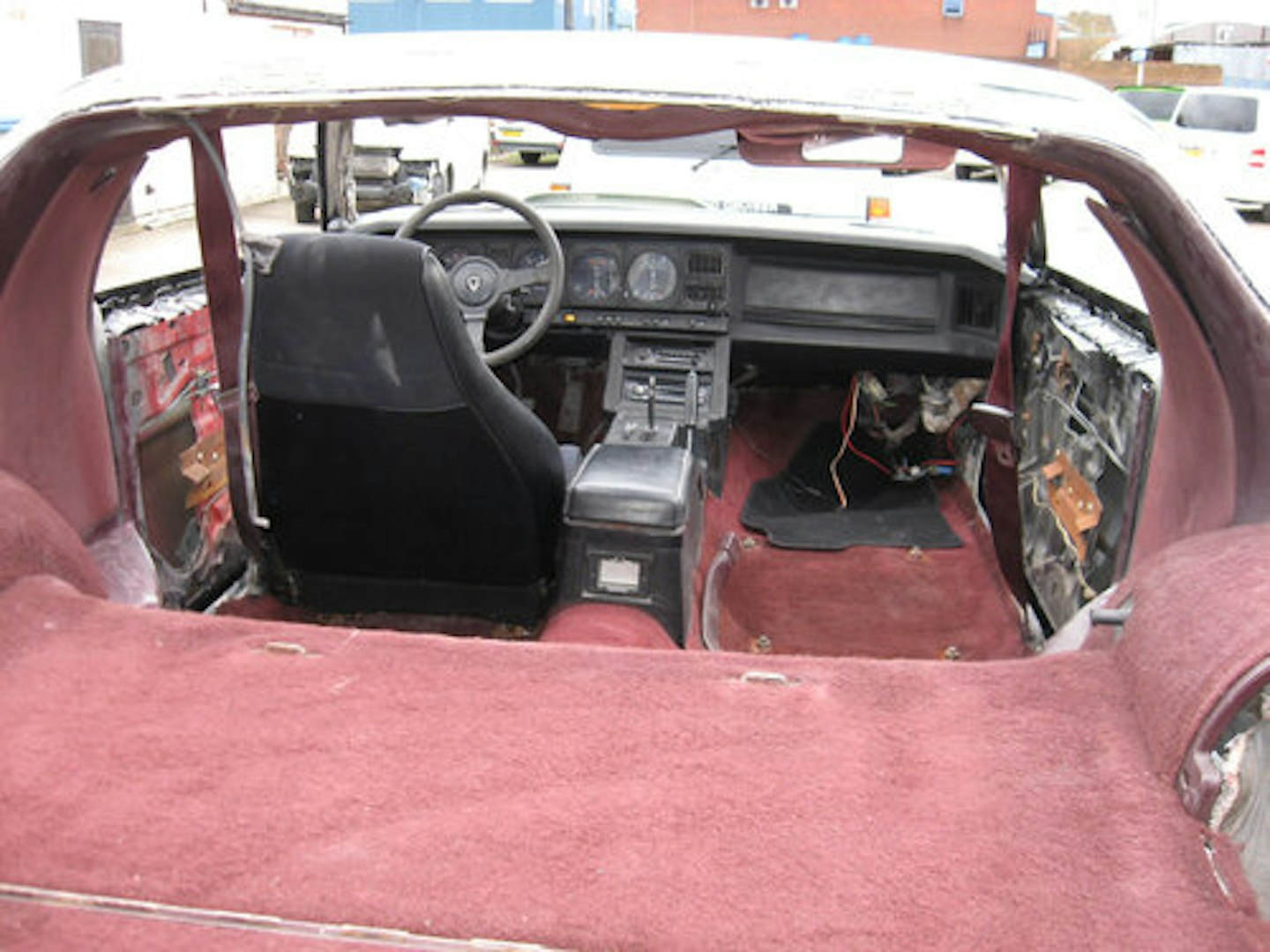 Original Pontiac interior had to go.
With money tight, there was a further delay until the time arrived for Ryan to begin the process of painting. 'It took a long while to get the paintwork right' he admits. 'In the end, I built a custom-made booth in my little workshop and after many attempts, it all started to come out right'. The deep black shine is one of the great successes of this restoration. It's a fine paint job – the car's bodywork looking almost as bulletproof as that of the TV car (which was protected from all forms of firearms and explosives by 'Tri-Helical Plasteel 1000 Molecular Bonded Shell plating', don't you know).
With KITT looking mighty fine from the outside, Ryan drove the car around for a year with the standard factory fitted interior, until he could afford to order the electronics that would enable him to recreate KITT's space-age cabin. 'It might have looked good from the outside, but it didn't feel right inside. I couldn't wait to get going with KITT's amazing cockpit'. When the electronics eventually arrived from a specialist company in Canada, the dashboard build began in earnest. 'It took a week to do the dash alone, as you have to make the brackets and drill all the holes. It's like a big jigsaw puzzle. You then have to fit everything to the different plastic panels supplied'.

KITT's complex looking array of blinking lights, switches and screens began to slot into place over the next few weeks. Ryan's eye for detail extended to the individual buttons. 'Each one has a different tone and colour – essential for authenticity'. There's a switch for every function of the TV car: KITT was equipped with a laser weapon, anti-missile ultra-magnesium chargers, on board phone, cash dispenser, chemical analyser, flame thrower, microscanners, height adjustable suspension and something called a micro-lock, (which used focused microwaves to heat the brake fluid of other vehicles causing the fluid to expand and apply the brakes of the car). Handy if you're being tailgated an Audi.
Early test drives were successful.
Ryan also wanted his replica to sound perfect, so two exterior waterproof marine speakers were installed under the bonnet, allowing sound effects to be played to the outside world, such as the turbine whistle of the engine and distinctive whoosh of KITT's swirling red scanner. In addition to the sound effects, passers by are greeted by KITT's voice – Ryan having created a compilation of phrases, delivered via an mp3 player in the cabin. 'I am keen on detail' he sighs. 'I fitted the codex instrument panel from Season 1 and 2 of Knight Rider, but the roof console from Season 4 as I just prefer it'. This is getting seriously geeky. Realising my own love of KITT's technical magnificence could spiral into similar depths of obsessiveness, I distract Ryan with a question about the engine. Sadly, this one isn't a Knight Industries Turbojet with afterburners. It's the standard 5013cc V8, which develops a piffling 150bhp. Coupled to a 3-speed auto, Ryan struggles to get 12mpg. Not so clever now, KITT? 'You do get a meaty V8 rumble, especially as I've fitted a straight-through two and a half inch pipe. But no, it won't do 300 miles per hour'.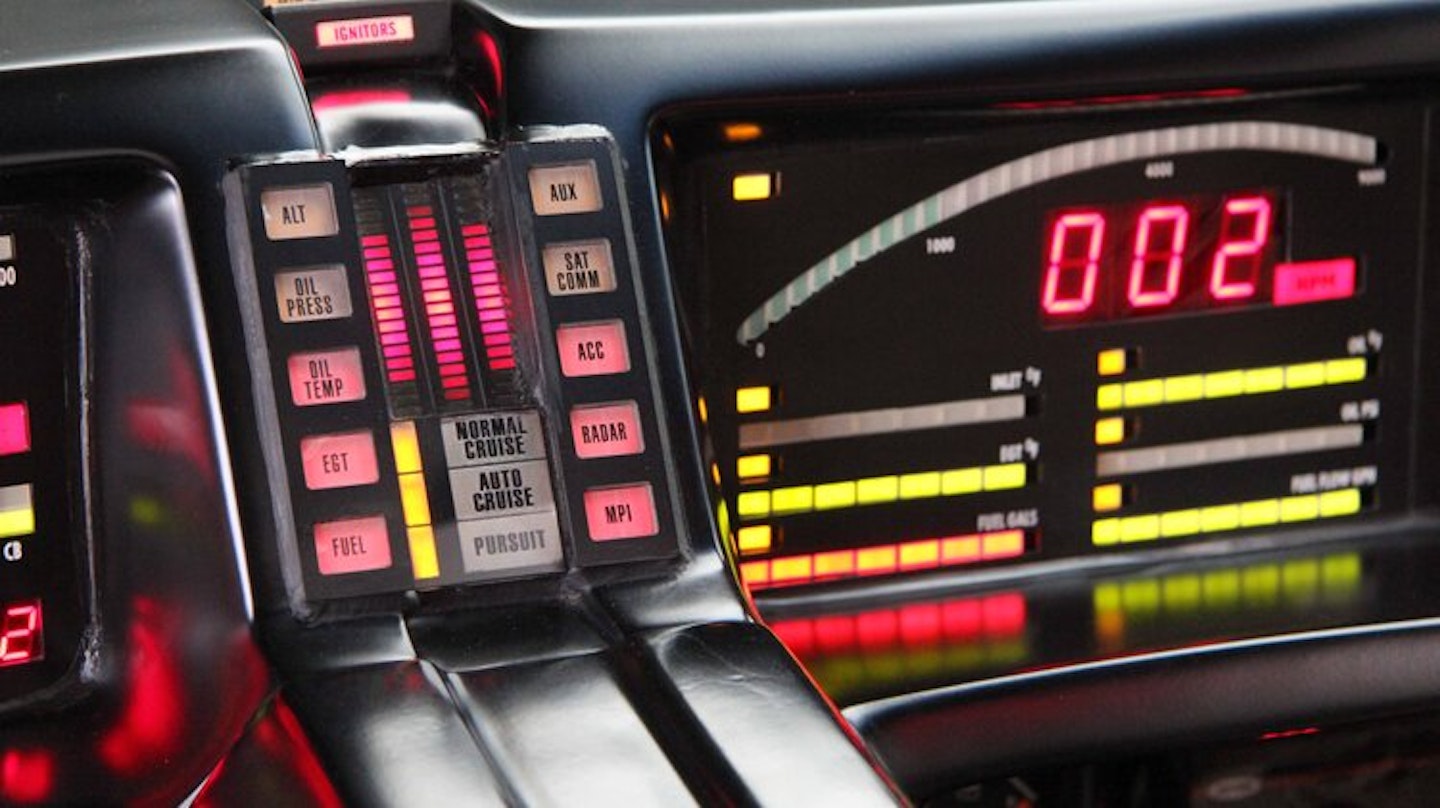 Pursuit mode gives KITT a 310mph top speed.
Having carried out a thorough engine rebuild, Ryan began to approach the finish line. 'I found a set of the standard Pontiac Turbocast wheels and got a good deal on a set of carpets, which I bought online from a man in Texas. With a few minor tweaks, I began to use KITT, attracting a great deal of attention in the process'. It was around this time, lifelong Knight Rider fan Andrew Willday was sat in his own car at a roundabout in Stoke On Trent, when KITT sped by. Without hesitation, he gave chase and having accosted Ryan on his way home, they've been best mates ever since. The pair set up their own business, Staffordshire Knight, and Andrew is designated driver for the numerous weddings and events they get booked for. 'As a kid, I used to pretend I was driving KITT from the passenger seat of my mum's 1988 Astra, using the pedals and steering wheel from a PS3'.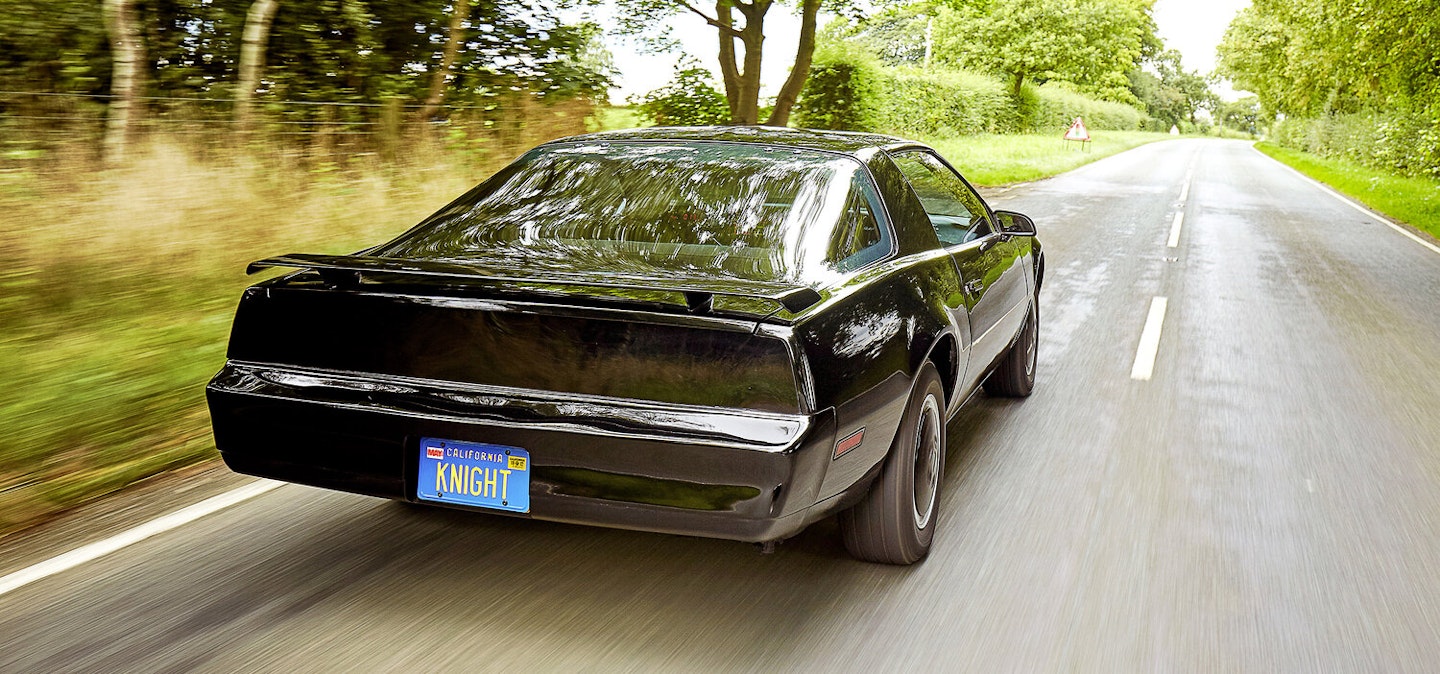 Traffic lights ahead. Activate: Turbo boost!
I crouch down and stare into KITT's red scanner – known as the 'Anamorphic Equaliser'. Meant to represent a fibre-optic array of electronic eyes, as with the cybernetic Cylon creature ifrom 1978 TV series Battlestar Galactica. The similarity is no coincidence - both shows were created by Glen A Larson. As it turns out, the only other person to have been allowed behind the wheel of Ryan's car since its restoration was David Hasselhoff. It is – without question – Ryan's pride and joy. During a recent interview, Hasselhoff said it was a conscious effort to give the car a personality. 'I started calling him 'pal' and 'buddy. I grew up watching Roy Rogers and Lone Ranger and wanted KITT to be like my horse'. As I stare into KITT's scanner, eyes glazed, immersed in nostalgia and admiration, KITT's voice breaks the silence with one of his many pre-recorded – yet oddly appropriate - remarks: 'I am the Knight Industries Two Thousand. I hate to be the one to break this to you but automobiles are not human. They have no lineage or personality'. I beg to differ, KITT.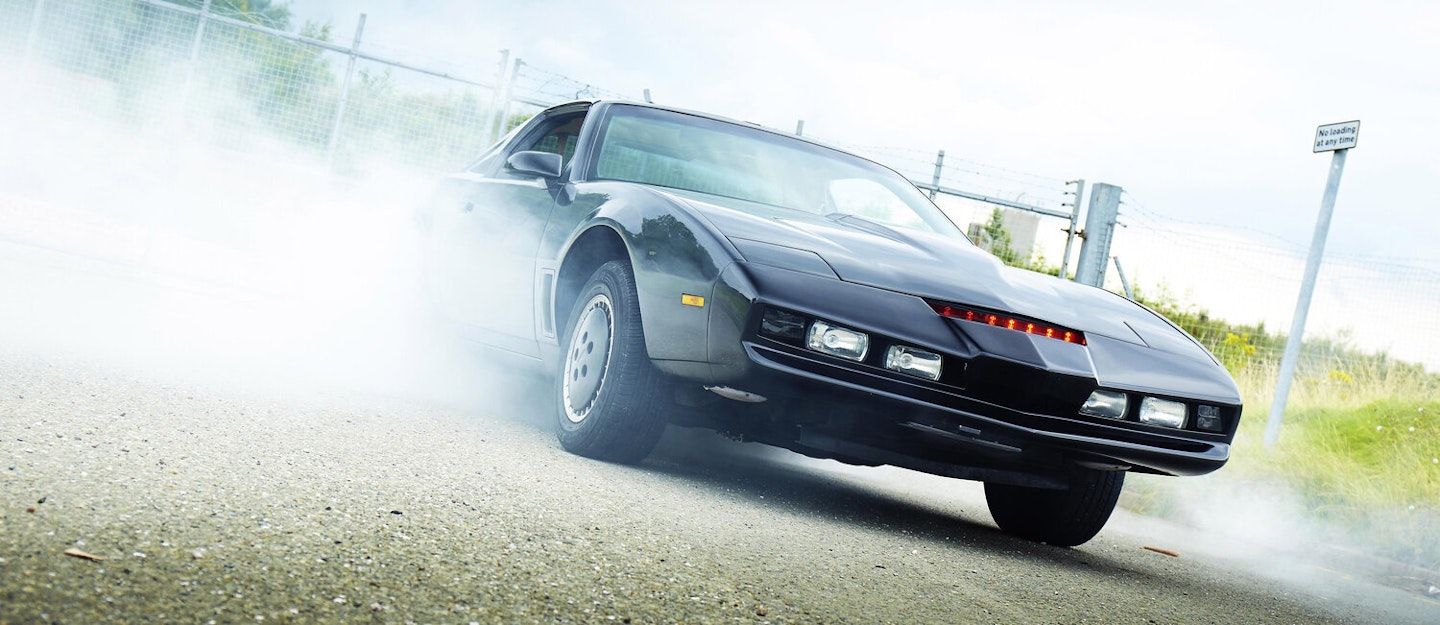 Mclaren, Lamborghini, Ferrari who? KITT always was the fastest in town.
What's it like to drive?
'Michael… my sensors are picking up something'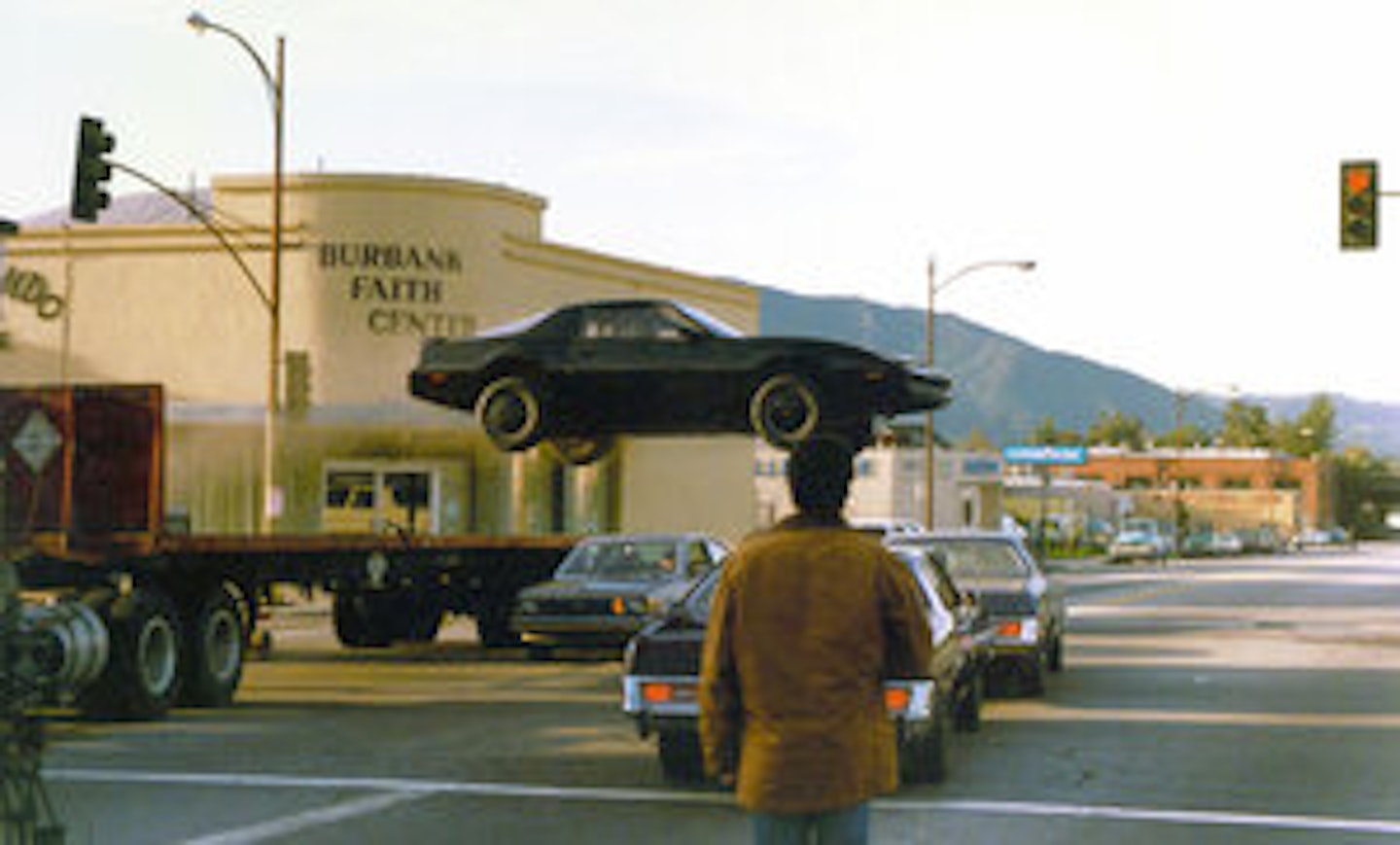 James takes KITT shopping.
The driving experience is, as you'd imagine, effortless, with numerous electronically activated driving modes, depending on the demands of the driver. 'Normal Cruise' is for manual control of the car, although the radar detection system means KITT takes over in an emergency. Meanwhile, 'Auto Cruise' enables KITT to become fully automated, so the driver is free to read or sleep during a long journey. The 'Pursuit' function sees all of KITT's microprocessors coming to life for high speed driving, which is when the powerful Knight Industries Turbojet engine springs into life. Power is instant, braking from the electromagnetic hyper-vacuum discs is strong and handling is astonishing, as you rocket along any given road at speeds of 250+mph. Viewed from outside, it's as if you're watching sped up film footage. Best of all, the 'Turbo Boost' feature activates the afterburner, allowing KITT to leap obstacles in an emergency. I found this function extremely useful, especially while navigating rural Staffordshire.
James Walshe, Deputy Editor
Shush! Don't tell anyone but KITT runs on petrol after all.
Knight Industries Two-Thousand (KITT)
Engine: Knight Industries Turbojet
Gearbox: 8-speed turbodrive
Top speed: 310mph (with afterburners)
0-60mph: 2.1 seconds
Economy: 200mpg
Brakes: Electromagnetic hyper-vacuum discs
Cost: $11,400,000 (1982)