I bought my first Panhard, a24CT, in 1969–I was only 19 and it was a total nightmare. A fabulous piece of kit, it should have been the best car I'd ever owned, but in those days parts supply and information was scarce. Panhards didn't even appear on spark plug spec charts. I sold it soon after, but by then I'd been bitten by the bug. In the infancy of the internet in 1999, I typed 'Panhard' into a search engine image search, for old times' sake, and what should be in the first image to load, but my old car! Now fully restored and owned by a club member, it was amazing to see it again. I got in touch with the current owner and went to see the car and reunited it with the original bill of sale. It was an emotional day, plus one that reignited the spark and led me to buy this 17b sight unseen on eBay from France in 2014.
Last on the road in 1977 but showing just 90,000km, this 17b seemed a good starting point for a project, despite looking absolutely awful. Unfortunately, it had been used as a source of parts at some point during its long rest and had also become home to many rodents. Their acidic urine had rotted out the bottom of the dashboard and rear seat base and they had nibbled at the wiring loom. As luck would have it, the seller in France had been contacted by a club member alerting them to another 17b – this one a totally rotten scrapper – that was for sale in Wales. So as the virtual hammer went down, I was also passed the details of this second car, which I purchased as a source of useful parts for the rst one. This proved invaluable, as did being a member of the club – in particular getting to know technical advisor Ted Bemand, who was able to supply many of the rare and missing pieces of the jigsaw.
The car required a huge amount of welding – from door bottoms to full sills, and the chassis legs that run within them – all of which I fabricated myself. I cut the bottoms o each sill in turn and repaired the innards before making new sill bottoms and welding them on. An old fence post and some scaffold pole on my trusty Workmate proved most useful for putting a gentle radius into the new outer sill panels. I took my time and worked steadily around the car. The Panhard was typically French – bumped and bashed on every corner having had its bodywork and soft aluminium bumpers used as parking aids. Another club member, Peter Bettis, was able to supply me with a replacement set of the latter. The more I looked, the more that I found – with rodent damage rife. There were pounds and pounds of nutshells absolutely everywhere. I even found a mummified rat between the bulkheads alongside evidence of its last meal; a chewed wiring loom that I had to re-make. The acidic urine had rusted all the cables behind the dash solid and the whole hinge along the bottom of the glovebox needed to be remade too.
Get Practical Classics magazine delivered to your door every month with a subscription!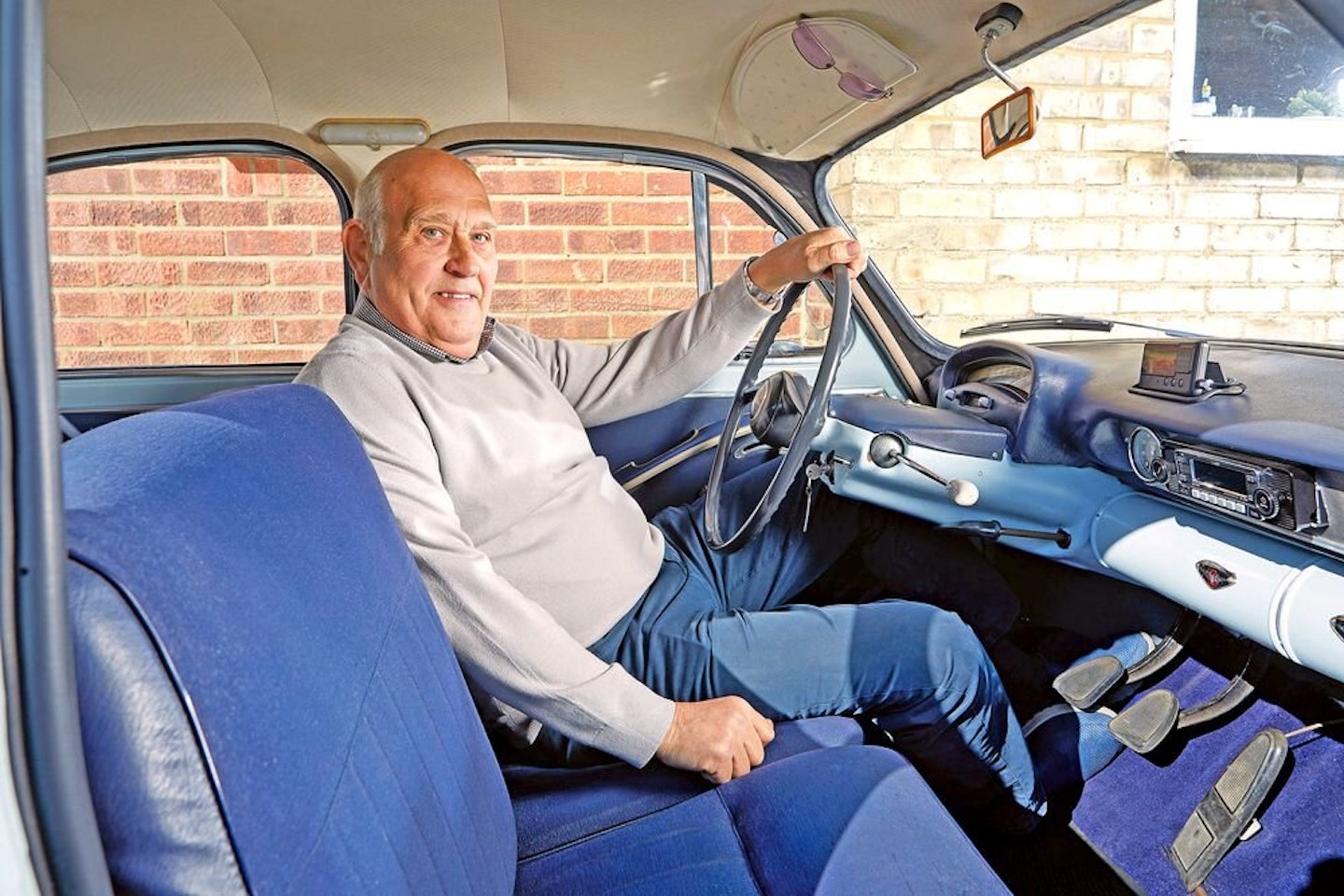 INTERIOR DESIGN
The interior came from the donor car as the original was saturated with rodent urine and had been nibbled beyond the point of no return. I stripped all the door cards and re-made their backings then used a product called PlastiKote on all the vinyl, matched for shade and sheen.
I rebuilt the engine and fitted it up with a new stainless steel exhaust system from PD Gough in Nottingham. The exhaust is particularly important on these cars, as the engine mounts from the manifold – so a compromised system is an absolute no-no.
I prepared and then painted the car in cellulose myself in the garage using a HVLP set-up that I bought back in 1976. It's absolutely fantastic. I've used various spray guns over the years – amateur to professional – and they always seem to run out of air. The HVLP gun just keeps going. The colour is Ford Pompadour blue. I saw a Panhard in that colour on the internet and thought: 'I want mine to look just like that.' And it does!
ENGINE
'I've never been entirely happy with the engine in the car. It's not the original and, although it runs well enough and has covered a good number of miles since the rebuild, it's not as smooth as some Panhards I've heard, so I've just finished rebuilding a Tigre engine to go in. It's a slightly sportier engine than the one currently fitted and I've modified an SU HS4 carburettor to fit – having already successfully fitted an HS2 to the car after being unable to stop the original Zenith from flooding. I'm looking forward to seeing how it performs!'
Enjoying the read? Why not buy a full issue of Practical Classics magazine! Because nothing beats paper right?
SCREEN AND BOOT
'The rear screen blind is a period accessory that is still available new from Passion DS. It took a while to arrive as it was made to order – I doubt they sell many! The cavernous boot area is a real bonus, too, making it incredibly practical.'