James Walshe joins fellow owners of Citroën's unsung hero take their cars back to the factory at Rennes.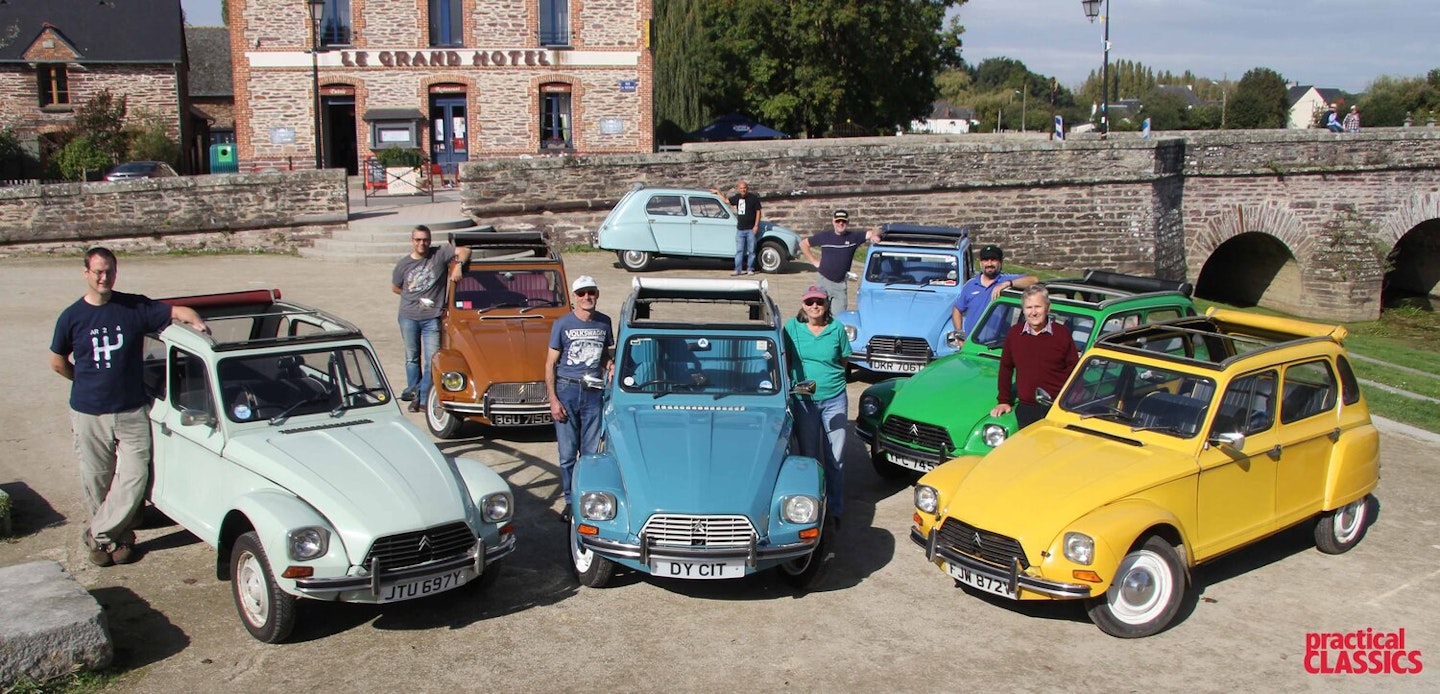 L-R: Ian, Graham, Pete, Calvin, Alison, John, Mark and Stephen.
A people's car that combines mechanical durability, comfort, space, fuel efficiency and unmitigated practicality is a goal designers and engineers have been chasing for 100 years. Citroën hit the jackpot in 1967 with the Dyane. This diminutive hatchback was to become the great uncelebrated workhorse of Europe and a car so popular in Britain, for a while it outsold the car it was meant to replace.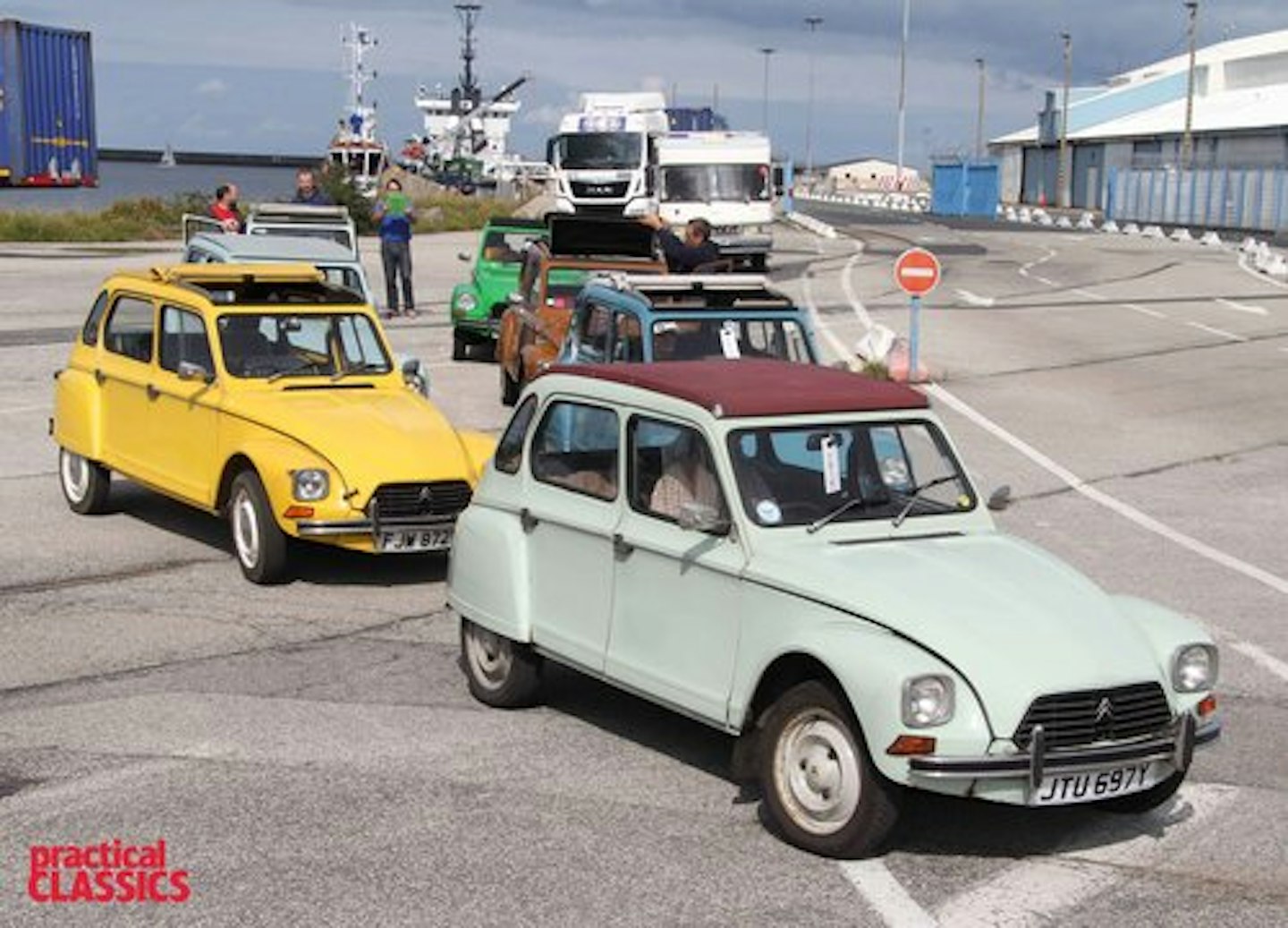 Team Dyane hit French tarmac at Cherbourg.
Visual similarities with the 2CV are no coincidence. It's almost all 2CV underneath, but with a couple of crucial improvements – including that full-length tailgate - to enhance practicality further. Improved aerodynamics over its older sister meant you could drive flat-out all day at 75mph too.
Celebrating this masterpiece of practicality, we decided the Dyane's 50th birthday should be marked with a road trip to its place of birth: PSA's giant factory facility at Rennes. My choice of car was made simple by virtue of the fact we already have one in the family. My father bought his well-travelled Dyane some years ago, having already owned two – back in the 1970s and again in the eighties. Nowadays, this mimosa mean machine is my parent's daily driver and occasionally mine, (when I can steal the keys away from him).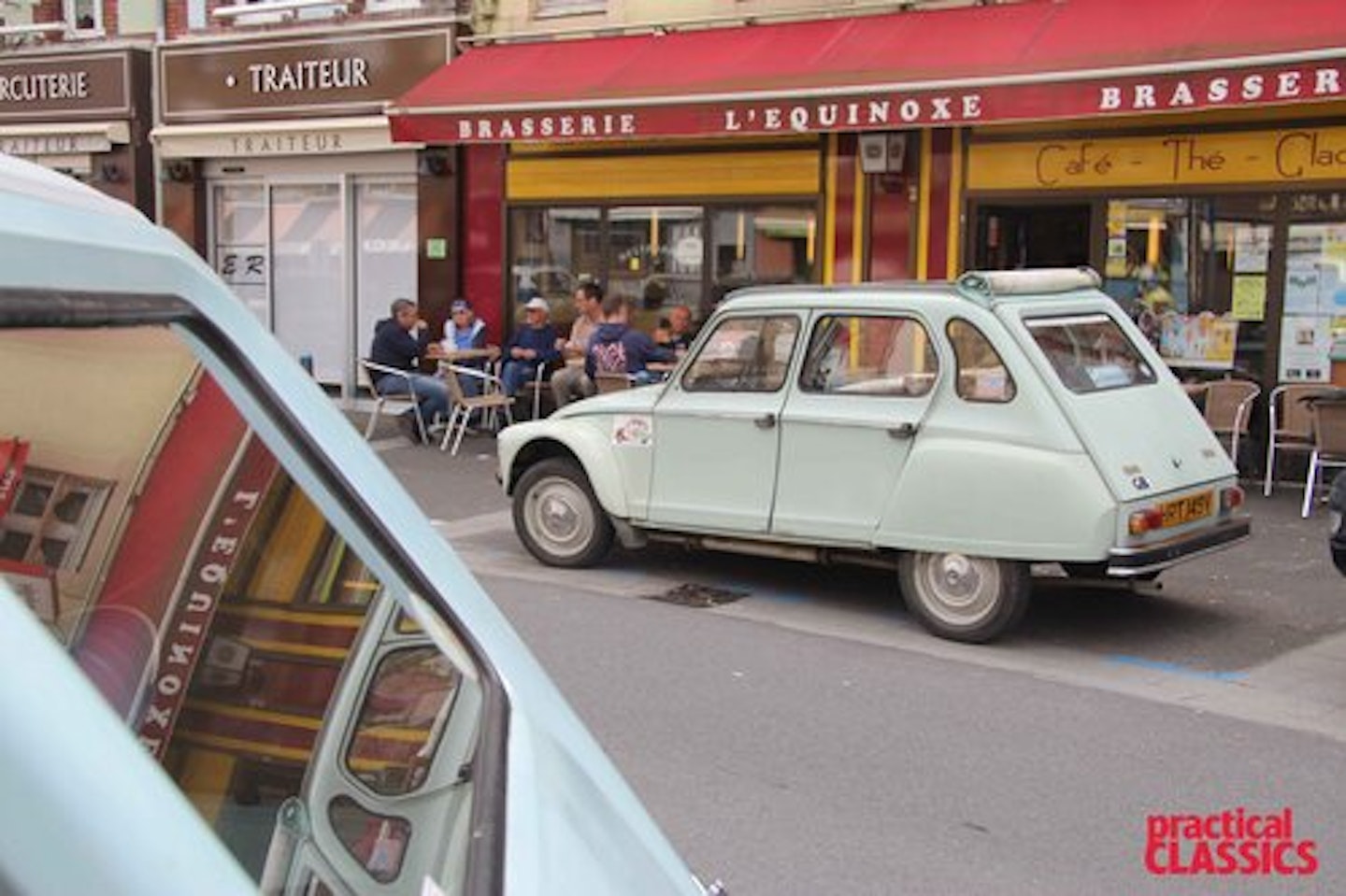 Welcome break at a proper café.
I spread the word to members of both 2CVGB and the Citroën Car Club and soon after, a vision of multi-coloured madness is cutting through the blustery gloom of Poole harbour and bouncing onto the Brittany Ferries' finest. Hours later in Cherbourg, we are bathing in autumn sunshine and collectively unfastening poppers and rolling back the canvas. We hit the road south and it becomes apparent we are causing a bit of a spectacle. Locals wave and win grin back. There is huge affection for the Dyane in France, where 1.4m were manufactured between 1967 and 1983.
The Dyane was one of the most affordable vehicles of its time, easy on fuel and mechanically simple with comparably few moving parts. Citroen suggested that on the basis that ideally, water ought not to be allowed anywhere near machinery or electricity, air-cooling increased the likelihood of dependability. A hand crank (doubling as a wheel brace) was also useful, should your battery to go flat. As with its older sister, combining front wheel drive, disc brakes and all-independent interconnected suspension laid flat along each sill expanded the cabin space, kept the centre of gravity low and improved stability and grip in poor conditions. It also shared removable front seats and similar bolt-on panels for ease of replacement.
We dodge the autoroute and follow the arrow-straight D900 via Bricquebec, stopping off an hour later at a café in the market town of La Haye-du-Puits where we take a seat in the warm sunshine with coffee, numerous pastry delights and the view of our fleet in the town square. 'This is exactly what we hoped for and the reason I came along' glows Ian Pacey – the owner of a fine jade green Dyane he uses almost every day. Ian drove from Shipley in West Yorkshire to join the convoy. 'I use it to ferry the kids around locally and it's actually easier to hop in and out of than our Picasso.'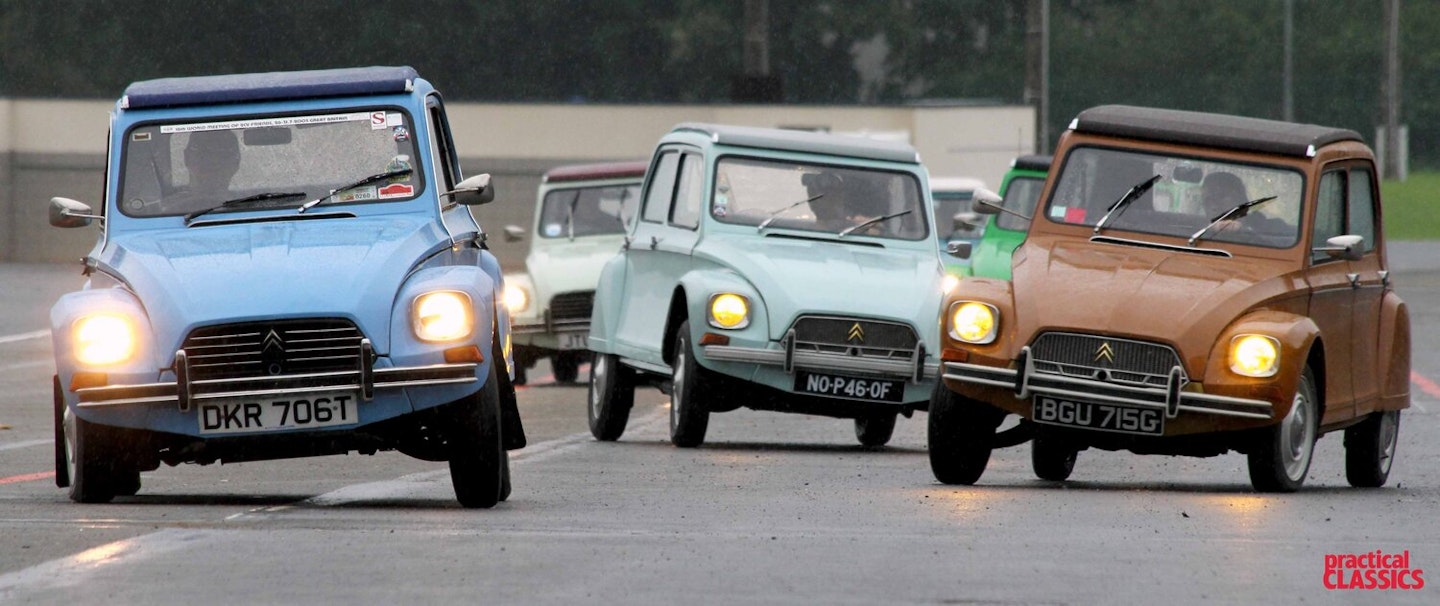 Our journey takes us through rolling green countryside via Avranches, catching a glimpse of Mont Saint Michel's pointy bits as we pass. We pull into the car park at our hotel just as the sun disappears behind the tiled rooftops in a picturesque village outside the city of Rennes. John Stenhouse is there waiting for us, having come from a French rally in his own Dyane. He's a committed Citroën nut with three Dyane models, a Mehari, Ami, BX and an Acadiane with a 1299cc GS engine and 5-speed box. 'I got my first Dyane aged 17. I off-roaded it, took it snow drift jumping in the backroads near where I lived and it'd cost a fiver to fill up!'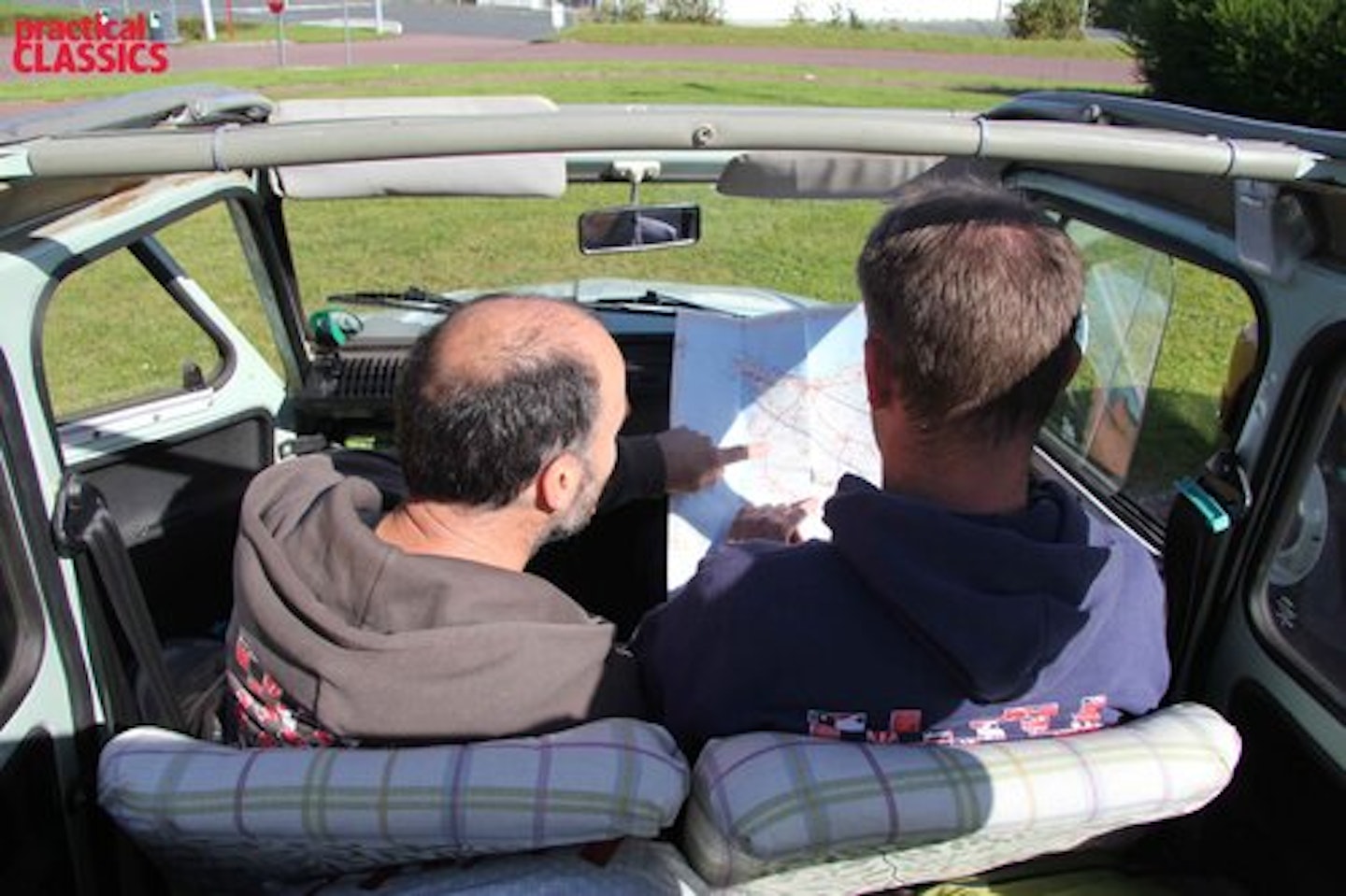 Closing hoods in unison and locking up for the night, we wander across the road to check in and curiously, we're met with some mild hostility from the lady on reception. The reason becomes clear next morning. As daylight breaks and we all gather for breakfast, the hotel manager peers through the window and notices the multi-coloured cars assembled outside. 'You are not golfers?' We shake our heads and with a strong French accent and in a joyous tone proclaims: 'Ah! I thought you were English golf! These are your cars? You are welcome 'ere!' Evidently, she'd had a recent bad experience with some rowdy, drunken British golfers...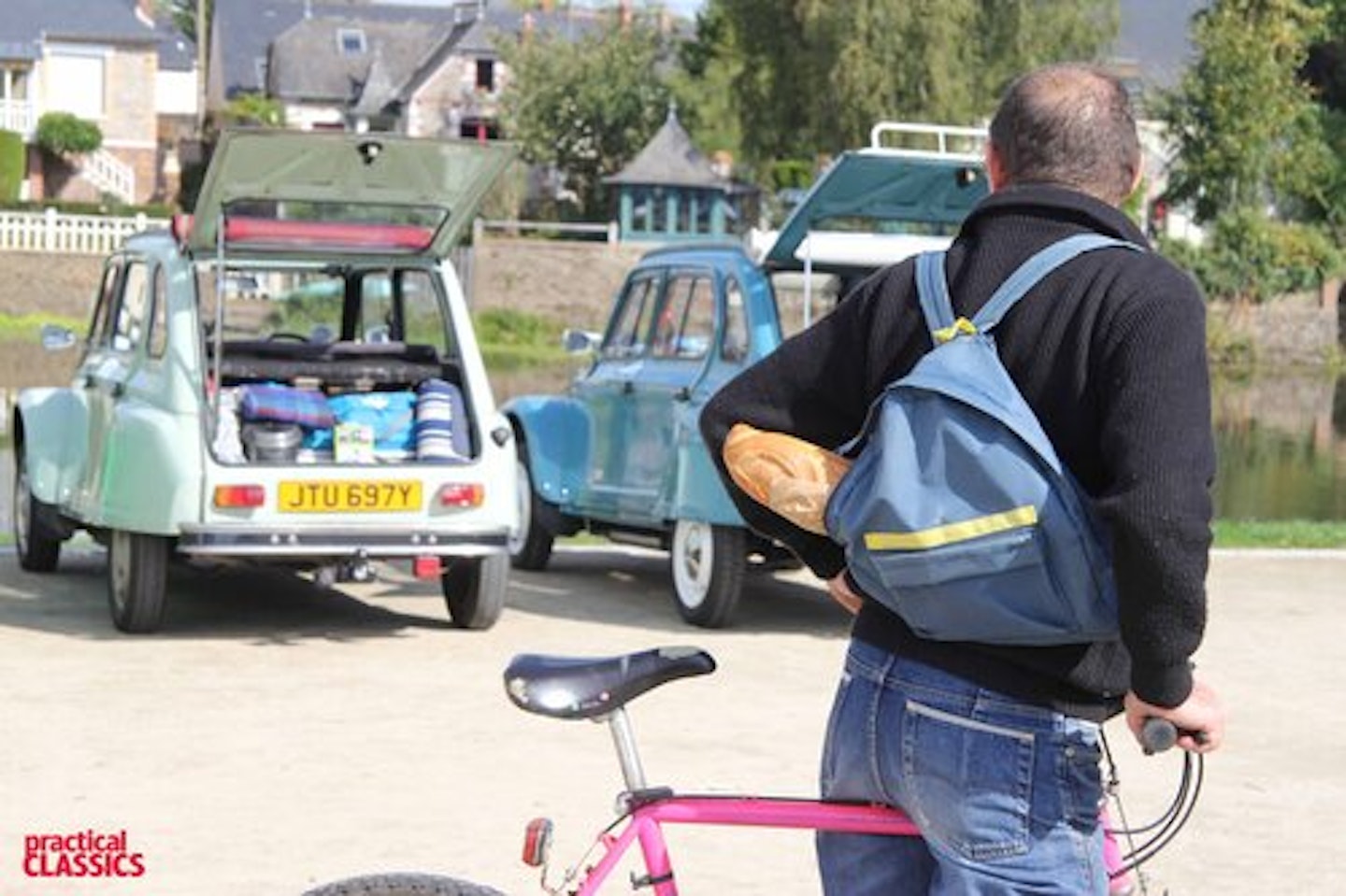 After breakfast, we gather around the cars and ready ourselves for a short drive to the Dyane's place of birth: the nearby PSA factory in Rennes. Just before we depart, we're approached by another enthusiastic local. This time, it's a gentleman clutching a French stick: 'I built these cars!' He circles the 1968 Dyane of Calvin Bradley, pointing his baguette at numerous panels and enthusiastically explains how he worked at the factory from the late 1960s until retirement as a spot welder, paying particular attention to the rear bodywork: 'I make this!' Owner of the brown 1968 car – Graham Colwill – pulls our new friend over to his car and points at a small patch of surface rust. The Frenchman performs the most perfect Gallic shrug, before wandering off chuckling.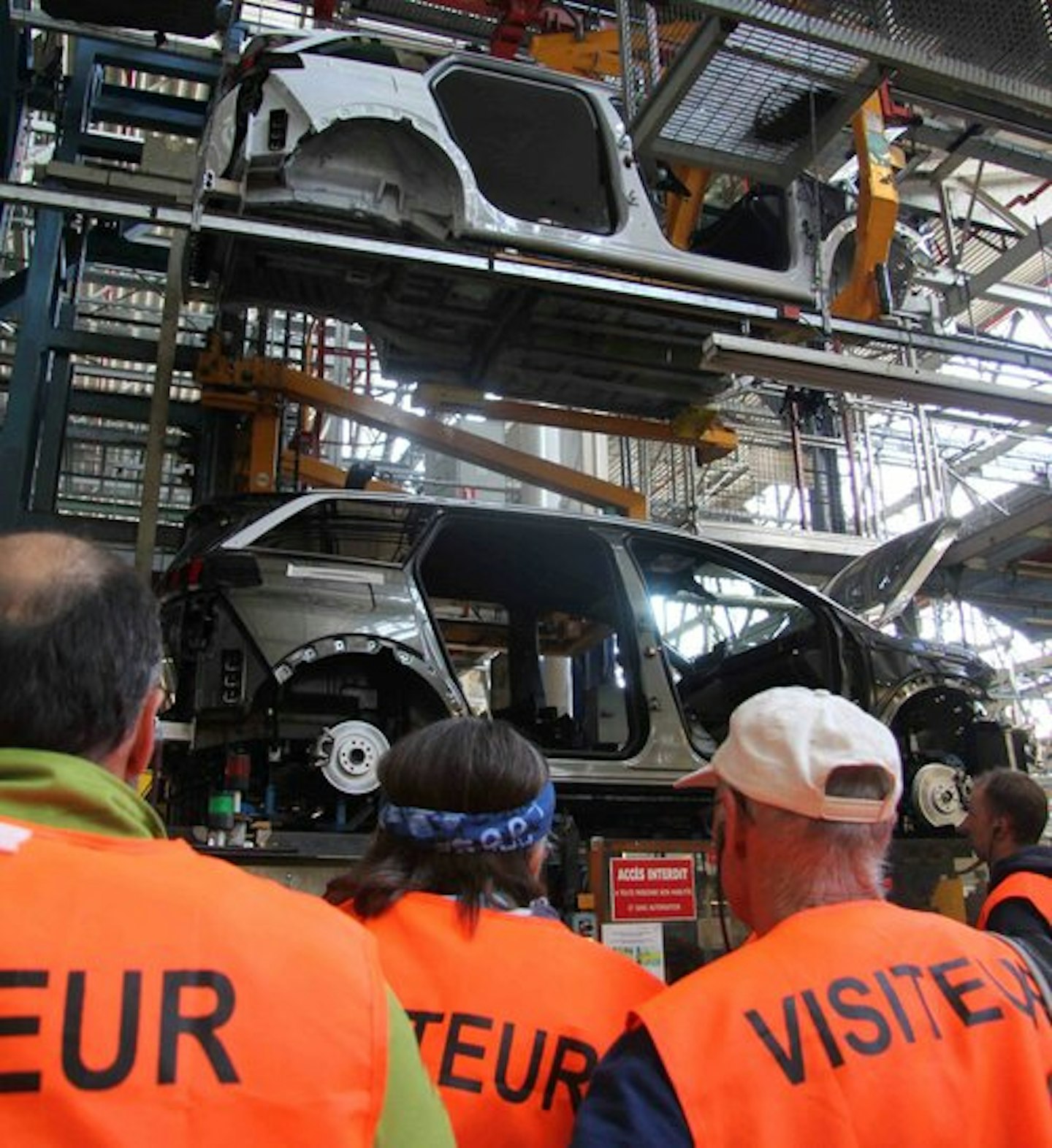 These days, Peugeots are built in Rennes.
Our arrival at PSA Rennes causes a stir at the factory gates. A shrieking convoy of flat twins enters factory turf and workers stop beside the access roads to watch the convoy make its way to the admin block, where smiling faces appear at the windows of every floor. Since 1961, the production lines have churned out the likes of the best-selling Ami, GS and BX models, as well as the Visa, XM, Xantia and Dyane.
We are taken inside, where a host of Peugeots are now built (Peugeot took a majority stake in 1976 and produced the first Peugeot badged car here in 2004). We're taken through the entire build process, from the sheet metal arriving in giant rolls ready for stamping with gargantuan hydraulic presses to the paint shop, final assembly and witness the moment each vehicle is started for the first time and driven off the line. It's modern, surprisingly quiet, sophisticated and breathtakingly efficient.
It's only when you look up to the ceiling, you realise this is a plant with history. Steel vaulted beams and dusty panes of frosted glass cloak what would have been a cacophony of 1960s car production. We get goosebumps as we cast our minds back to our friend back at the hotel and others like him: the men and women who built the very cars we have arrived in.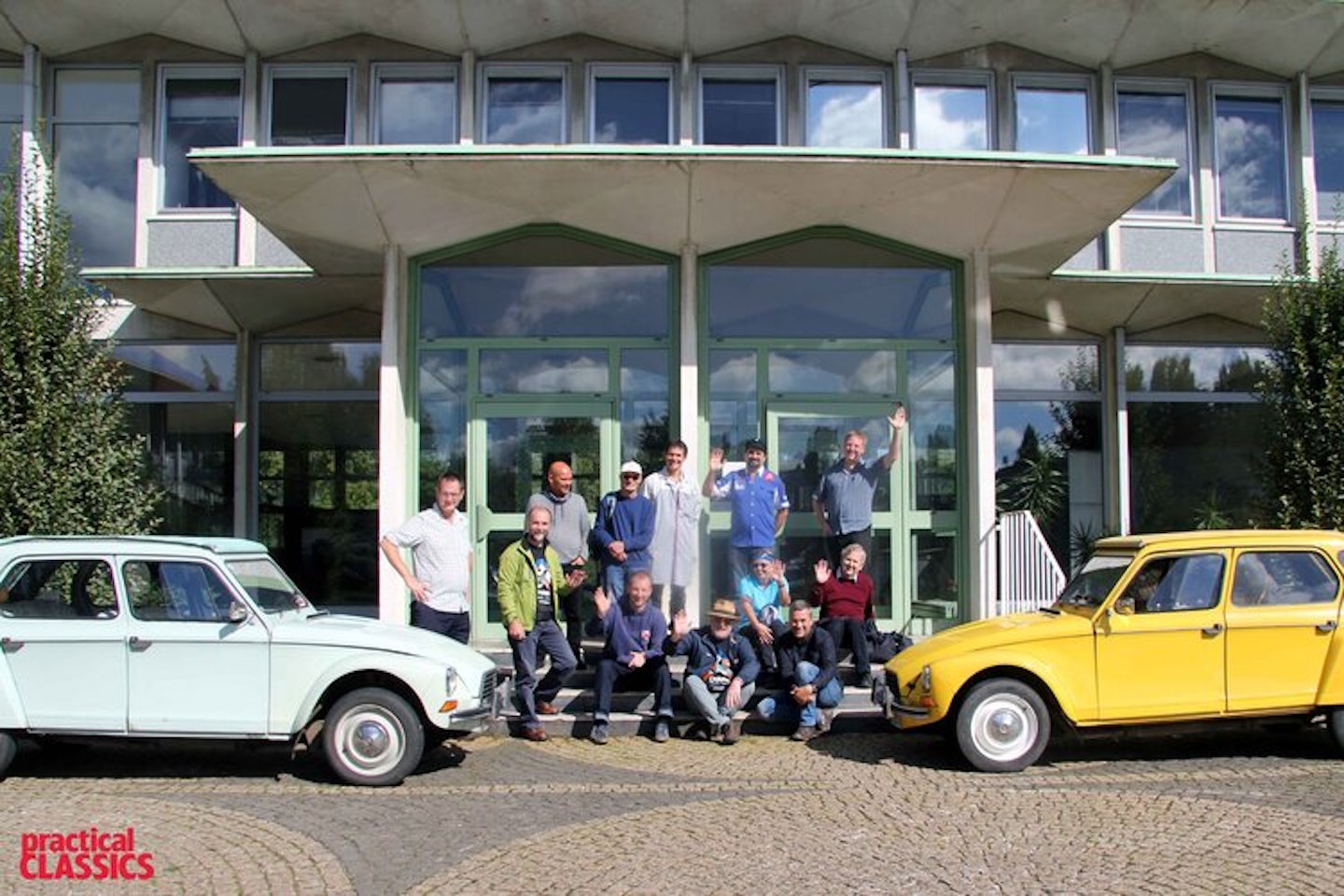 Team Dyane at the offices of Citroën's old Rennes factory.
Outside, there's a hubbub of chatter. Everyone is buzzing at what has been a highlight of the trip. Pete and Alison Cross bought their car new in January 1983. 'My wife went down to the local dealer in Leicester to buy a headlight bulb' says Pete. 'She came back with a brand-new Dyane.' The pair loved it so much, they have never found a car as useful since. 'The Dyane is almost entirely function over form' Pete concludes. 'That's what defines its character'. Some would say the Dyane is 'quirky' but that would suggest there is something flawed about it. What is odder than a car without a hatchback? Or an obstructive transmission tunnel and space-inhibiting suspension turrets in the boot? The Dyane presented solutions to all of these 'quirks'. For years, I have studied the index of every classic car book and no matter how hard I try, I cannot think of a more sensible car than the Citroën Dyane.
GALLERY - CITROËN DYANE TO RENNES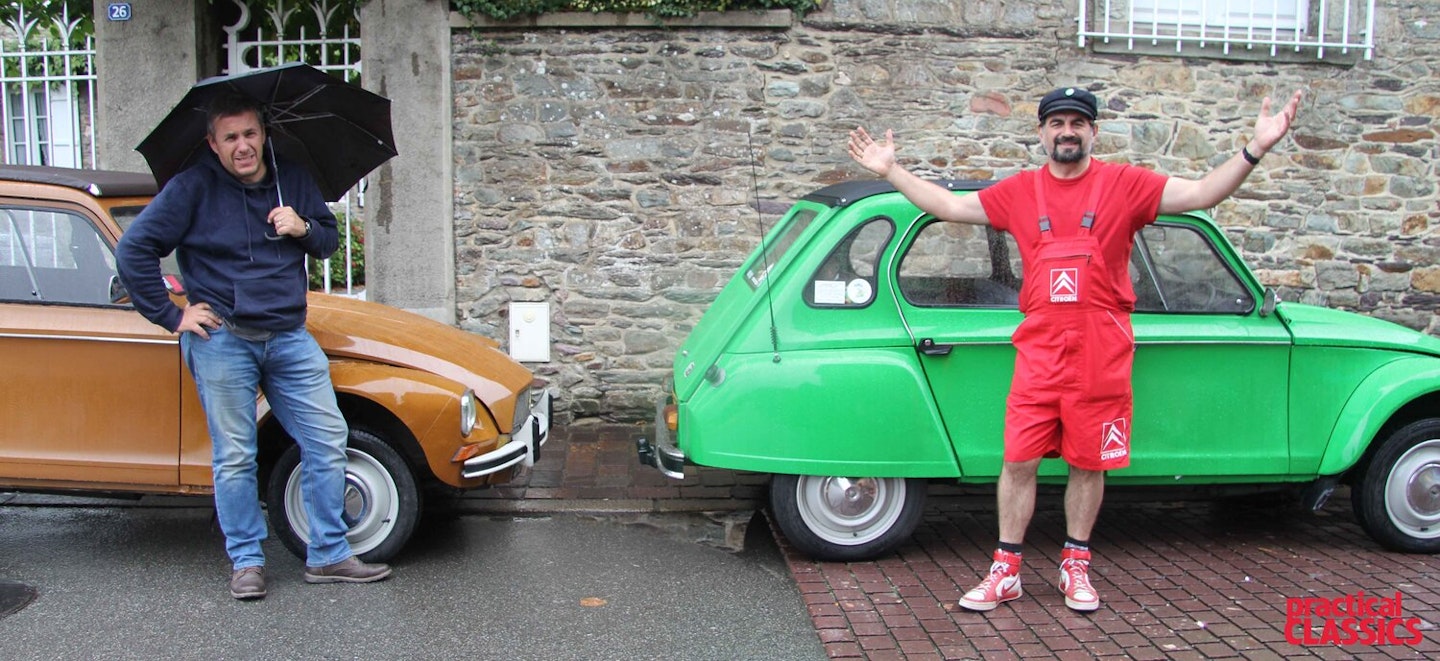 Graham and Mark, dressed for the fine French weather.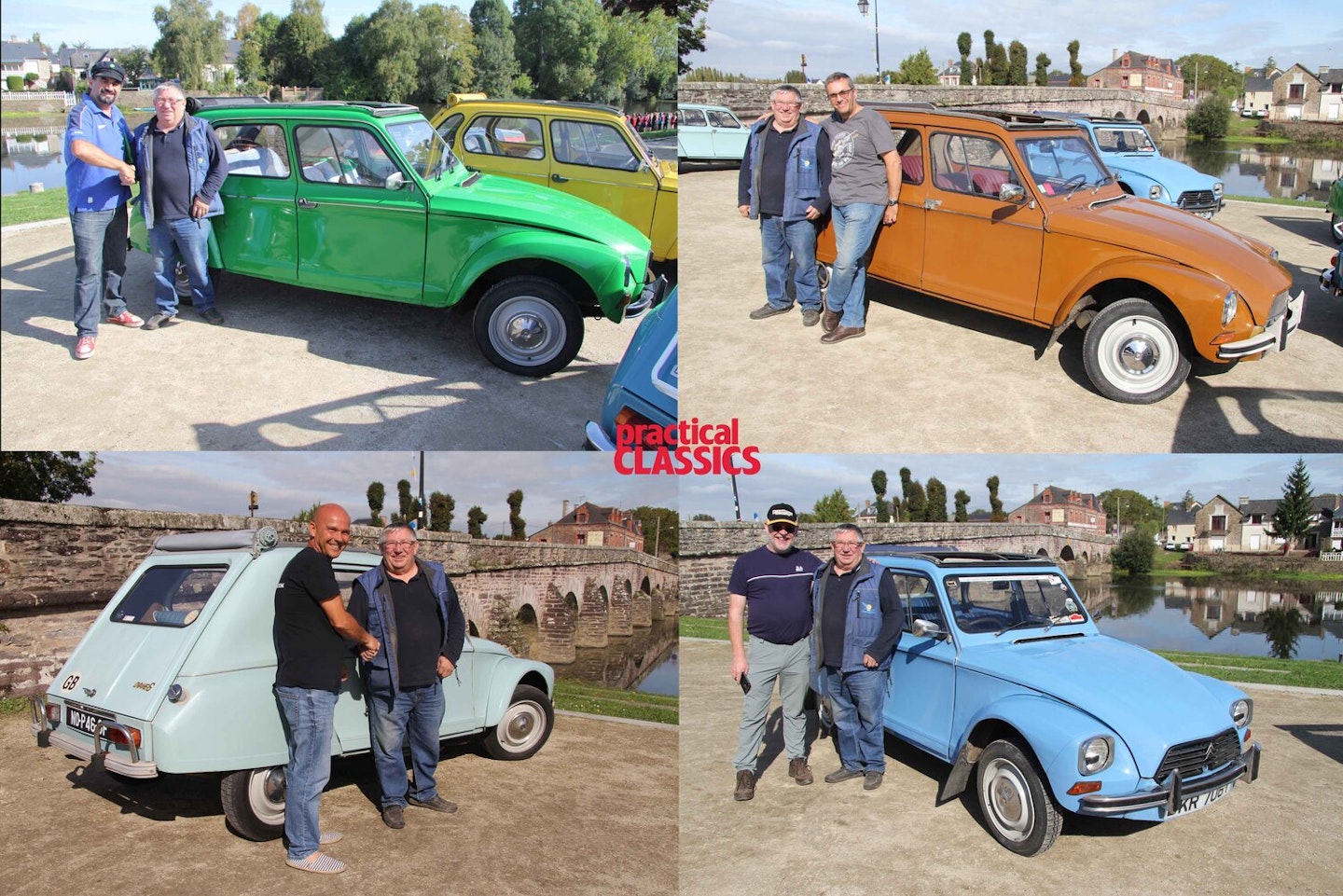 Members of the gang bump into one of the original workers from the Rennes factory.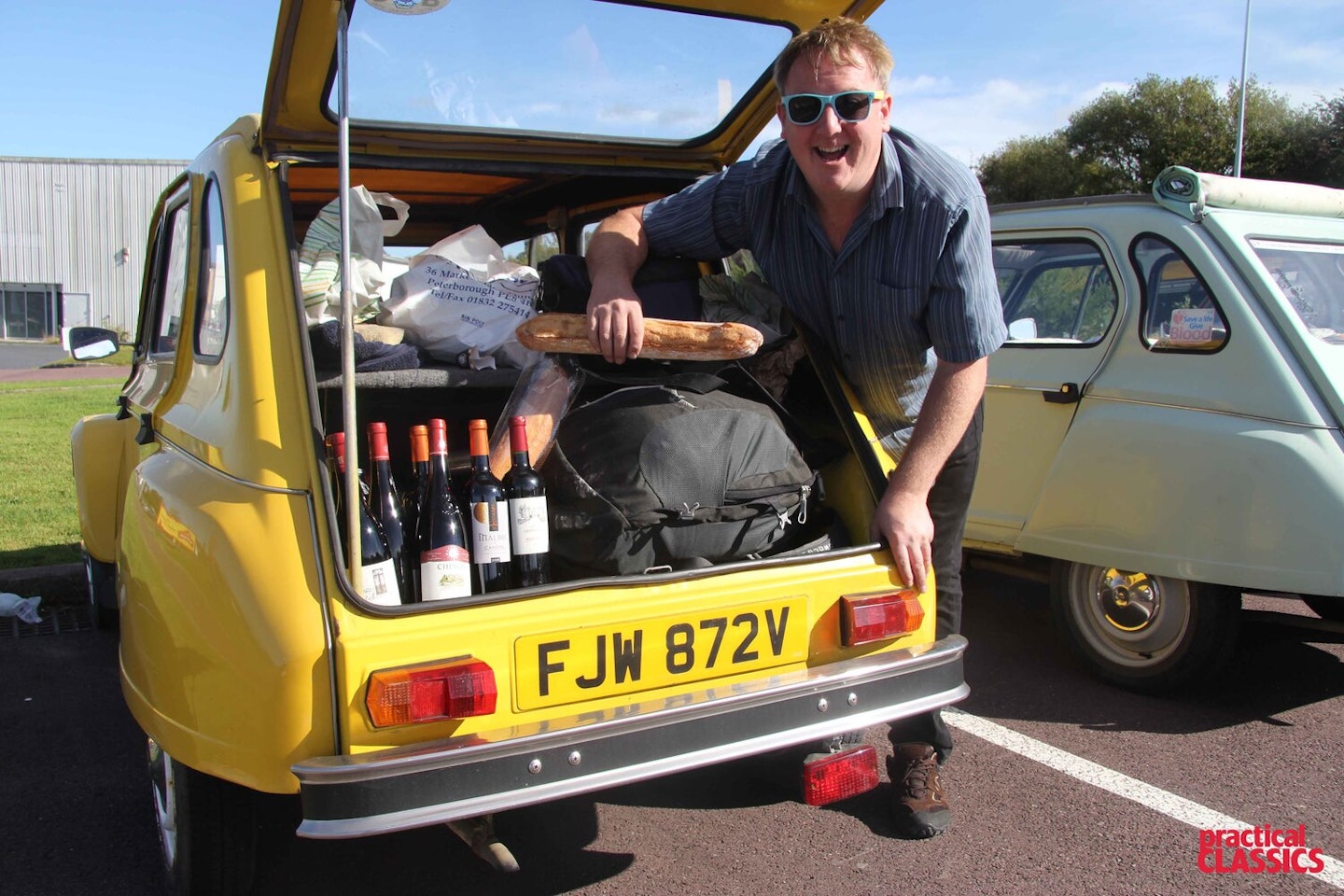 James fills his boot with essentials.
Calvin doing the usual checks!