Sound stage 7 at Elstree Studios. A place that could be converted into a casino, the headquarters of an over-acting super villain or Simon Templar's mews house. For many years this was the base of The Saint and Return of the Saint and today we pay tribute to them by bringing the former's Volvo P1800 and the latter's Jaguar XJ-S back home.
Some 54 years ago B-film producers Robert S 'Bob' Baker and Monty Berman acquired the rights to Leslie Charteris' Saint novels. By 1962, they'd gained financial backing from ITC and shooting began in June of that year. And on October 4 ITV screened the first episode of the programme that provided thrills, excitement and fez-wearing villains.
Once an animated halo appeared above Roger Moore's pompadour it was adventure all the way. especially when he took the wheel of 'ST1', aka 71 DXC, his white Volvo P1800.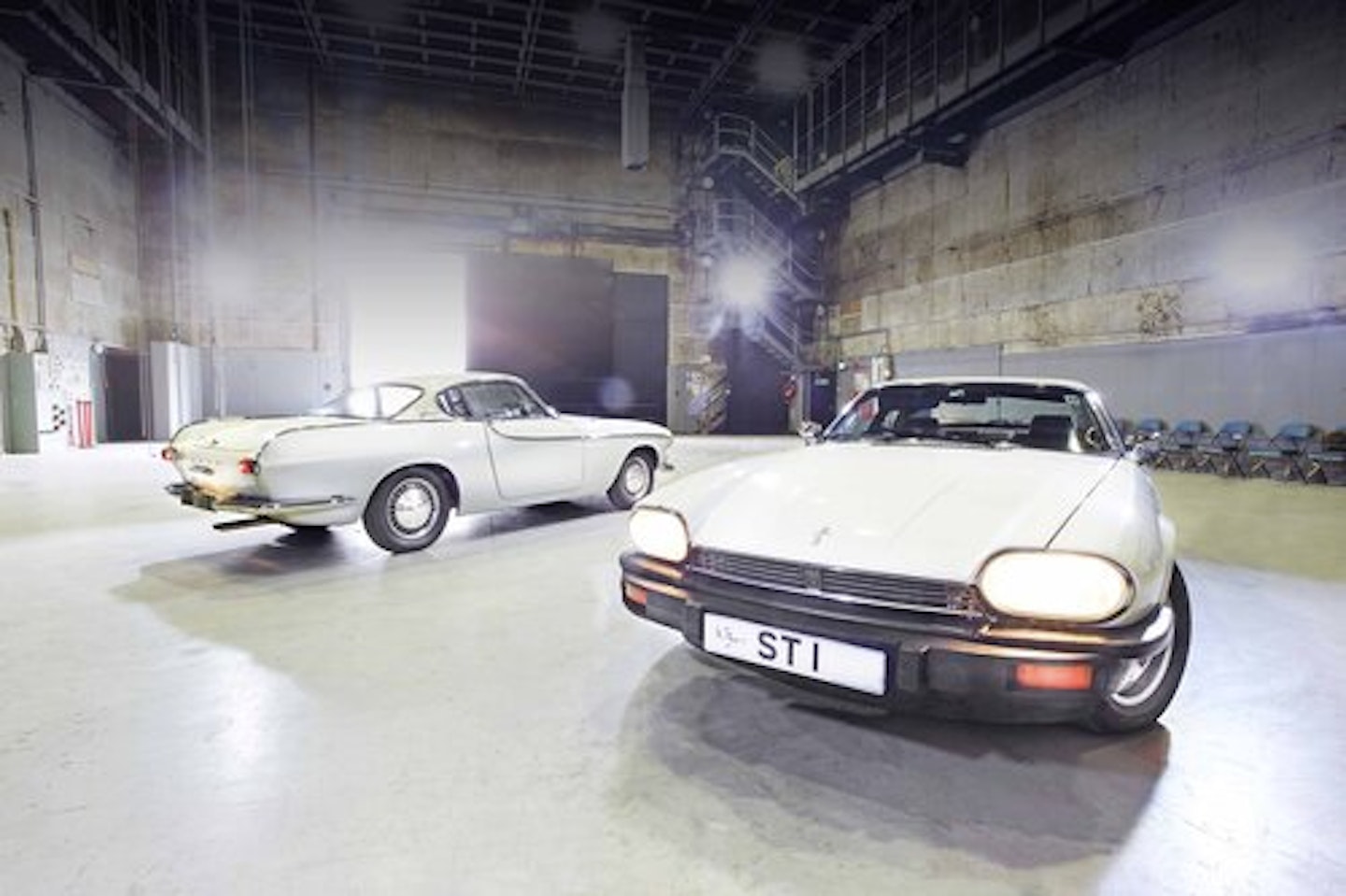 The Volvo
The original choice for ST 1 was the Jaguar MkX (not the E-type as is often stated – the high sills would have made it impractical for Moore to regularly leap in and out of one) and the plan was for both Moore and Baker to have cars for filming and personal use. In the event Browns Lane saw no reason to loan their new flagship for filming as the MkX was enjoying as a high a profile as the E-type. Even offers to buy weren't enough to push them higher up the long waiting list. Baker approached other manufacturers and while Mercedes-Benz said it could offer a car, it couldn't guarantee continuity. And besides, the marque was better suited to Saint villainy.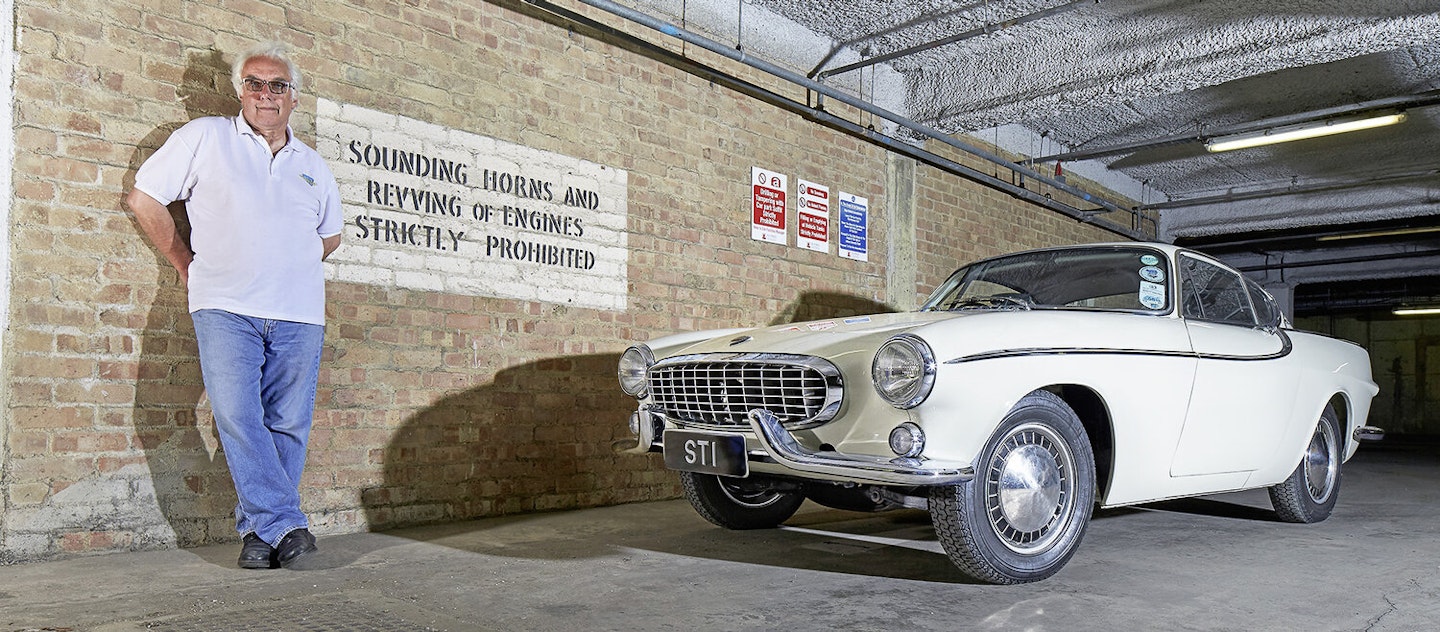 By now desperation was setting in but one day young film crew member Malcolm Christopher saw a svelte coupé in London and discovered that it was a Volvo. He told production supervisor Johnny Goodman who, in turn, urged Roger to visit the firm's concessionaire in Mayfair. Volvo agreed to sell their newly-registered demonstrator at a knock down price and the car arrived at Elstree in spring 1962, along with a mock-up interior for those times when Simon needed to avoid dastardly villains and suffer equally dastardly back-projection.
The P1800 debuted at the 1960 Brussels Motor Show but since Volvo initially lacked the capacity to build its new coupé, the first 6000 full production cars were built by Jensen Motors. Today Volvo is so familiar that it's easy to forget that the British public was largely unaware of the marque when The Saint first aired. The company had only officially sold cars in the UK since 1958 through a limited number of dealerships and the P1800 was very expensive; in fact, its £1800 asking price was the equivalent of a Jaguar Mk2 3.8 – or three Morris Mini-Minors. Right-hand drive P1800s were first offered in March 1962 and chassis number 3018, registration number 71 DXC – later to become ST 1 – left Jensen's West Bromwich plant on the 23rd of that month.
The impact of 71 DXC on viewers around the world was seismic. It looked thrilling, from the muted tail fins to its stylish two-spoke steering wheel and fascia awash with dashing instruments. There was also space enough in the passenger seat to convey Ivor Dean's ever-scowling Inspector Teale and an overdubbed enhanced exhaust note to alert criminals that eyebrow-raising levels of retribution were on their way.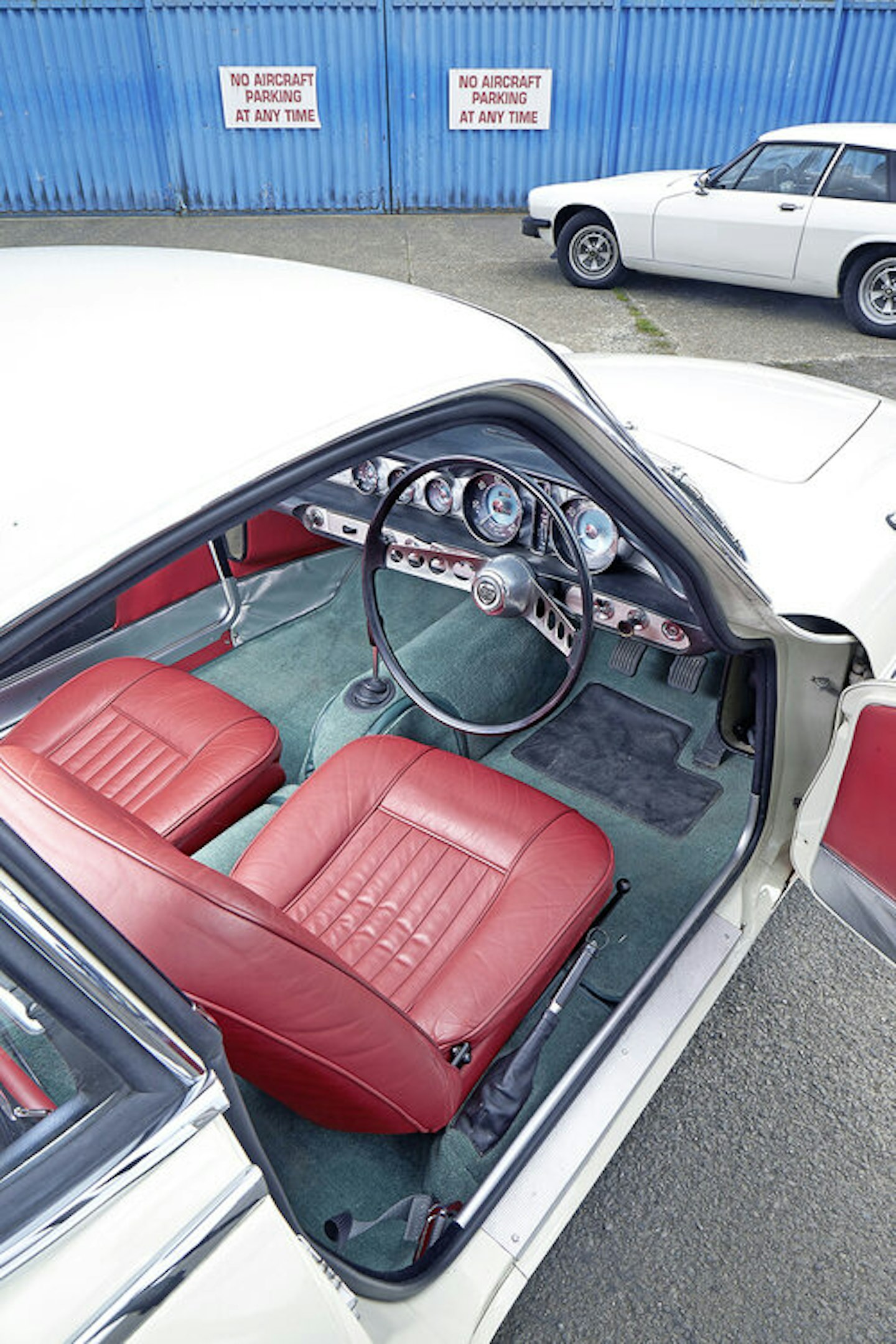 The Saint was always so entertaining that it didn't matter that the mock-up Volvo interior served for a wide variety of cars, including an Aston Martin DB4. One such was a red 'Series V' Vantage, driven by Anthony Quayle in an episode entitled The Noble Sportsman. This became the DB5 prototype and was subsequently painted Silver Birch and fitted with a rather unconventional sunroof.
71 DXC was used on the screen until late 1963 when it was partially superseded by a P1800S, registration number 77 GYL. This model, as with all subsequent ST1s (the Templar plate was always a studio mock up), was provided by Volvo, and the 'S' suffix denoted that this was one of the first P1800s to be built in Sweden; the British versions were somewhat prone to quality issues. The formal changeover happens in The Case of the Frightened Inn-Keeper, in which Vauxhall FB Victor-driving bandits plant a bomb in Simon Templar's car.
This episode happens to be the favourite of 71 DXC's current owner, Kevin Price. He says: 'I just like to see my car being used in a Cornish setting'. By 1967 Simon Templar was driving a faced-lifted model – NUV 647E – which boasted a higher-powered 115bhp engine and alloy wheels. Its twin, NUV 648E, was issued for Roger's own use and now lives in the USA.
The World Beater was the last episode of The Saint and broadcast on the February 9, 1969 after seven years, 118 shows aired in over 80 countries and sales of over £350million. Volvo's appreciation of television as a sales tool had certainly paid off but our story now moves to 1991 when Kevin was approached by a gentleman in North Wales who claimed to have one of The Saint Volvos. He says: 'My interest in the car is more because I'm a design engineer than its TV work, so I was initially slightly cynical. It seemed at the time that almost every white Volvo P1800 had appeared on television!'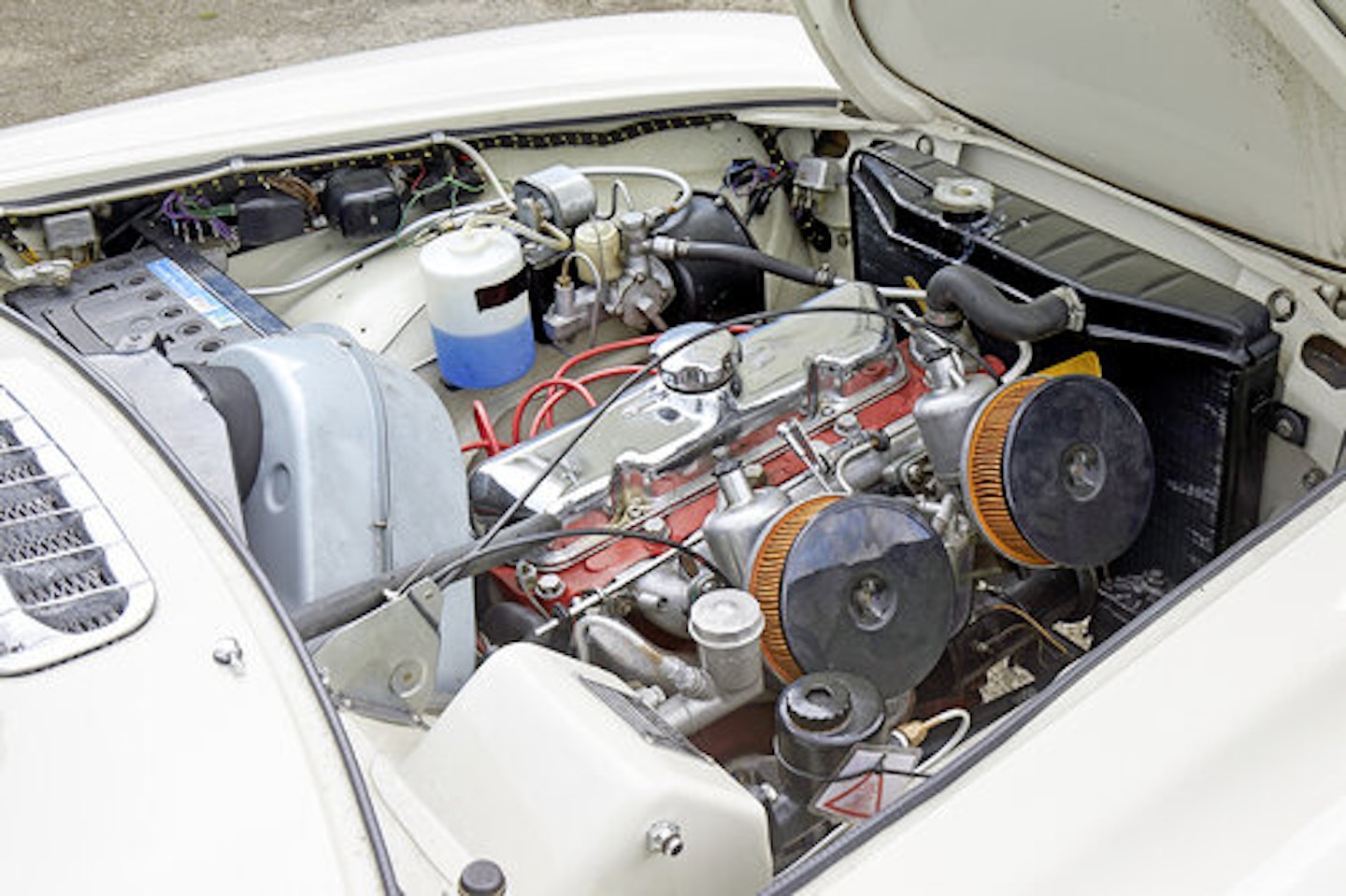 Kevin decided to investigate anyway and found that it was indeed 71 DXC, although it was looking somewhat the worse for wear. It also had mounting points for wing mirrors. Says Kevin: 'I found out that Roger Moore drove the car for his own private use and had the mirrors fitted because the visibility was so bad!' He finally acquired all the parts needed for its refurbishment in early 2007 – see the full story of the restoration in our December 2013 issue.
When the completed Volvo was finally unveiled at the 2012 NEC Classic Car Show it was obvious to all present that an important slice of motoring and TV history had been preserved. Bringing the car back to Elstree was a pleasure – and not just because we were in Stage Seven where so much of The Saint and Return of the Saint was shot. We even shot our own car chase along the central access road. Heady stuff.
The Jaguar
Six years after the final episode of The Saint was aired, Baker was contemplating a sequel. The plan was to call it Son of the Saint and feature a new young leading man, Ian Ogilvy, whom Baker's wife Alma had spotted in Upstairs, Downstairs. This eventually became Return of the Saint and Jaguar's press office was by now eager to help with Templar's transport in light of the earlier series' success. Alan Zafer, who worked for British Leyland's PR department at the time, recalls: 'Product placement was the intelligent thing to do. We provided cars for loads of people, including transport for Wimbledon.'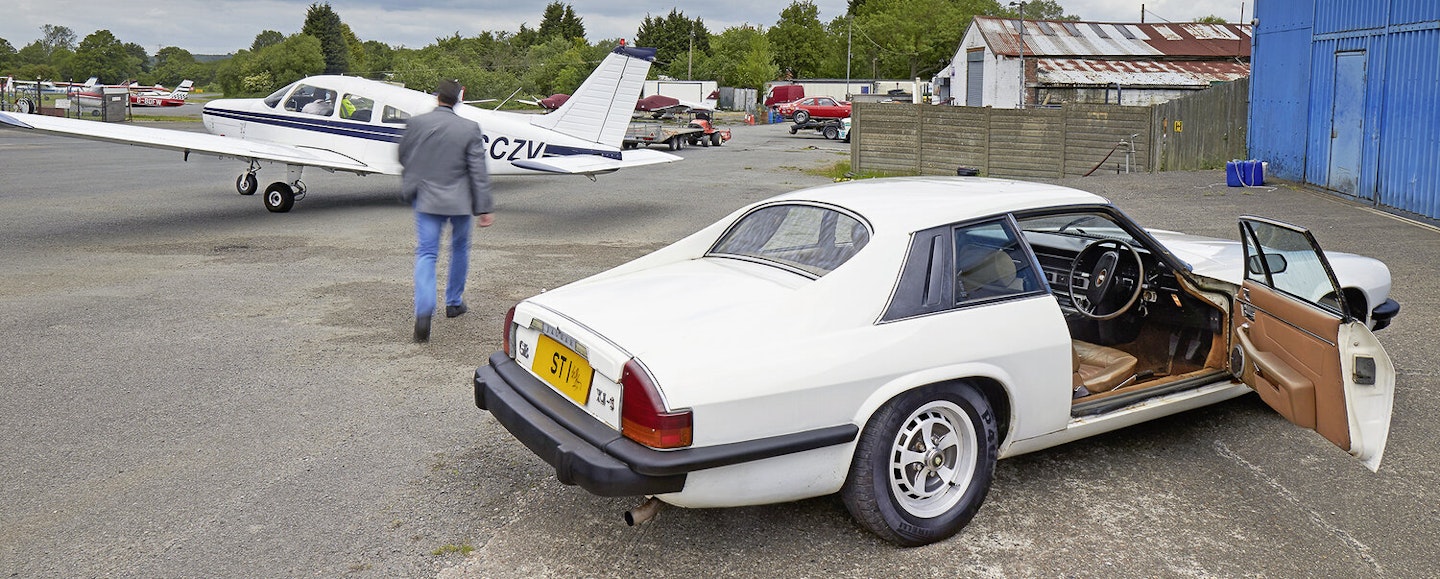 BL routinely placed cars on television and film from 1968 onwards and it was Zafer who had previously arranged for a fleet of BL cars to appear in The New Avengers. This included a Jaguar XJ-S V12 (chassis no. 2W1075BW) for Gareth Hunt's Mike Gambit, which had to share screen time in the show with many other Leyland PR cars. In Return of the Saint, on the other hand, it would be Ian Ogilvy's virtual co-star. And in any case, Simon Templar had a slight edge over Gambit in the 'International Man of Mystery' stakes.
BL provided a Jaguar finished in Old English White with a Cinnamon leather-trimmed interior. It was the 138th XJ-S built and one of only 385 models fitted with a manual gearbox. It left the production line on August 22nd 1975 and was pressed into service as a Longbridge test vehicle under the supervision of a certain Norman Dewis. Many such cars faced a grisly fate (most were dismantled) but this one was registered PWK 530R on April 7th 1977 ready for TV stardom. Jaguar doctored it to make it look like a 1978 car and Production Manager Malcolm Christopher also requested an electric sunroof to assist with lighting; BL duly arranged for a BMW unit to be fitted by London Roof Installations. There was also a Storno Channel 9 radiophone which would have seemed like pure science fiction at a time when many British homes were still not 'on the 'phone'.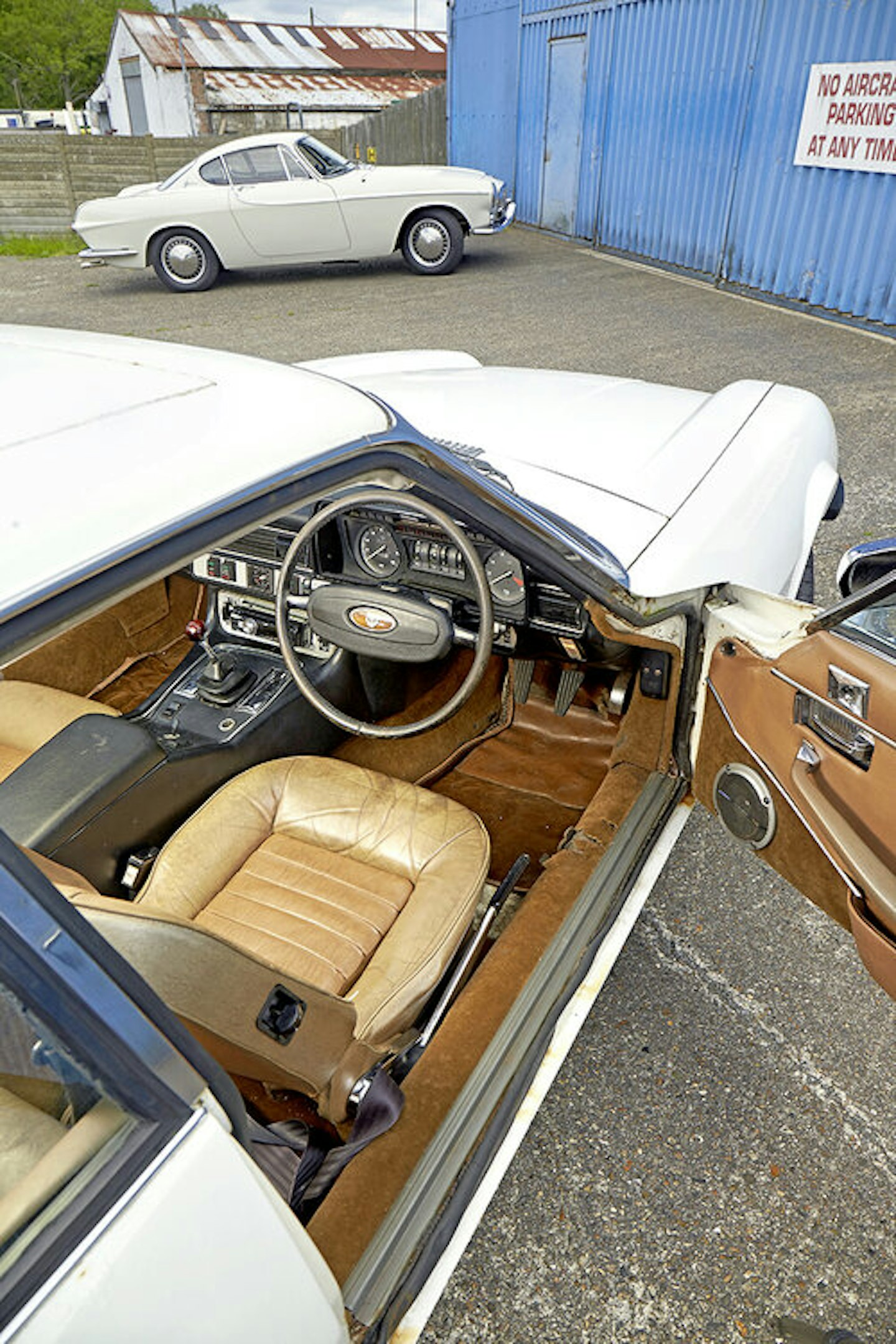 The first episode, The Judas Game, aired at 7:15pm on Sunday 10th September 1978 (following Stars on Sunday) and as Alan Zafer later commented, Return of the Saint 'promised – and delivered – splendid publicity.' PWK 530R was the only Jaguar-supplied car but two other dealer-sourced XJ-Ss provided support, one with tan trim and another with black leather. Each had an automatic gearbox and no sliding roof. With the main car's distinctive metal B-pillars taken into account, it was easy to spot the stunt doubles, and since the show wasn't aired in the sequence in which it was filmed there were some hugely entertaining continuity errors. Indeed, several episodes clearly feature two completely different Jaguars.
By 1978 viewers wanted 'overseas' settings that comprised rather more than 15 year-old stock footage, endlessly driving on the wrong side of the road in Hertfordshire and potted palm trees dotted around the studio car park. Thus, Return of the Saint has genuine European locations and Ian Ogilvy himself can often be seen driving the Jaguar. However, the Elstree sound stage remained the show's base and the car park even doubled as a hovercraft terminal in The Diplomat's Daughter. Among the show's many fans was the Jaguar's current owner – 'call me "Mr. M"' – who, after meeting Ogilvy at Kendal's Department store in Manchester in 1978 and being given the Corgi model, told his mum that one day he would own the actual car. 25 years later he achieved his dream.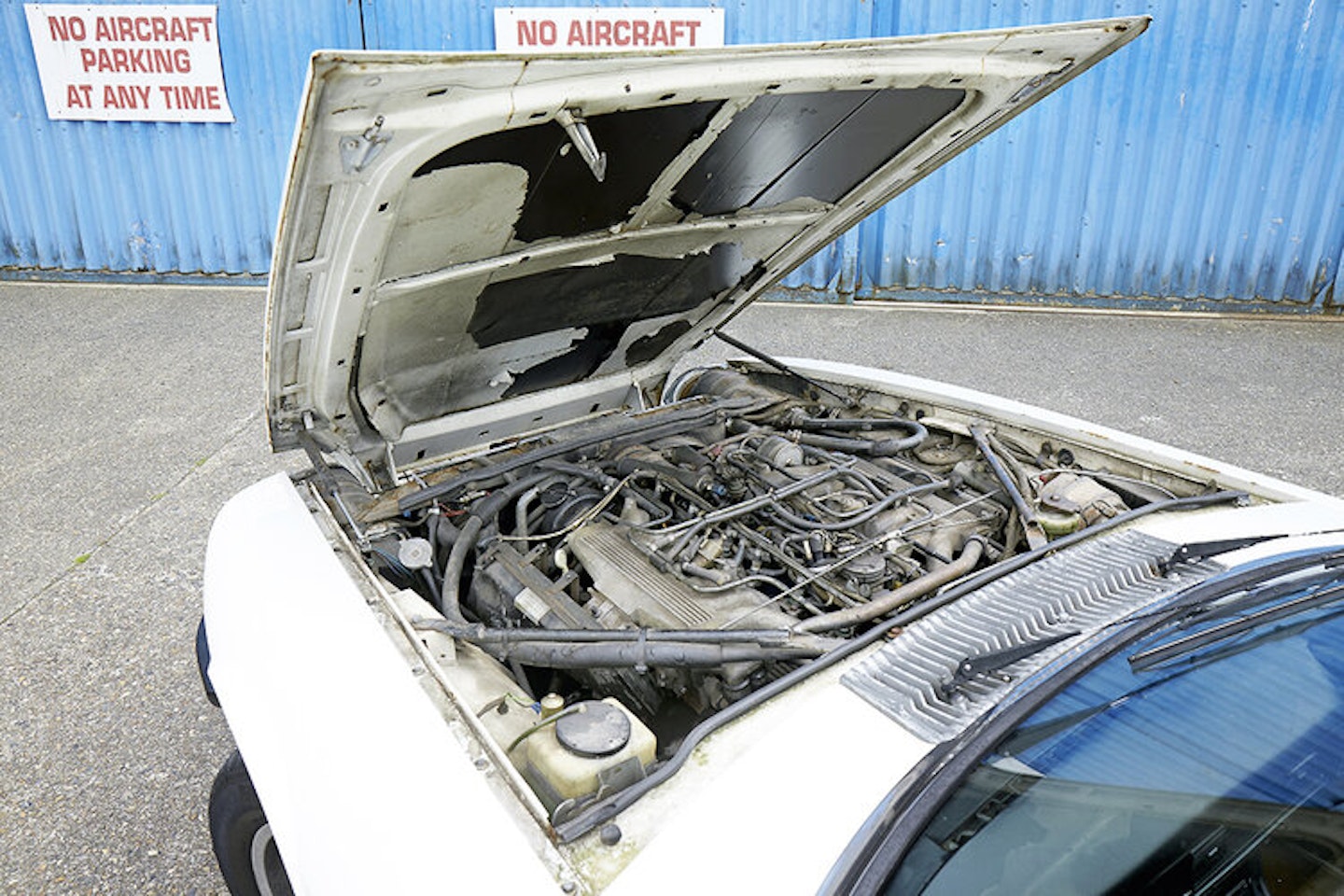 Before the show aired Jaguar sold the XJ-S to Coombs of Guildford on April 20, 1978. Coombs used it for promotional work for a couple of years before selling it on again in 1981. It subsequently changed hands (and registration numbers) several times and by 1994 was living in the Shetland Islands. By this point, Mr M had hired a private detective to track the Jaguar down and finally found it in 2003 looking in a sorry state. Negotiations ensued with the assistance of Inga Ramsey of the Shetlands Classic Car Club and Mr M finally took delivery of the only surviving Return of the Saint XJ-S. He says: 'To be honest, I didn't care what condition the car was in, I just wanted it.
'It arrived at my home at 3am – it was really exciting. And despite being in poor condition it drove and came with a box containing the full service history, bills, newspaper cuttings and so on. It was amazing.' Over next few years a succession of Jaguar specialists tried and failed to get the car running properly. Then one day Mr M found a note under the windscreen wiper left by fellow early XJ-S owner, Gavin Townley. Gavin later introduced him to John Taylor who had worked on BL and Jaguar cars from 1972 to 2000 before establishing his own business. Says Mr M: 'The difference in knowledge care and attention was amazing. Between them John and Gavin got the car mechanically and cosmetically sorted and it started to drive amazingly well. Hitting 152mph at Bruntingthorpe was a good day!'
Mr M concedes that the bodywork looks really tired now. But to all those present at Elstree the XJ-S did not look so much 'tired' as 'magnificent', poised to battle with a Volvo 164 (The Debt Collectors) or George Cole's Morris 1100-driving villain in The Armageddon Alternative. Above all, though, the Jaguar conveys a natural air of glamour, even if Ogilvy remembers it breaking down a couple of times. No matter. As Mr M points out 'getting in the Jaguar is a revelation. The V12 engine offers performance that still impresses today'. Of the rare manual transmission, he notes: the lever needs to be manhandled solidly but the need to actually change gear is rare; it's so flexible it can be left in third or top most of the time.'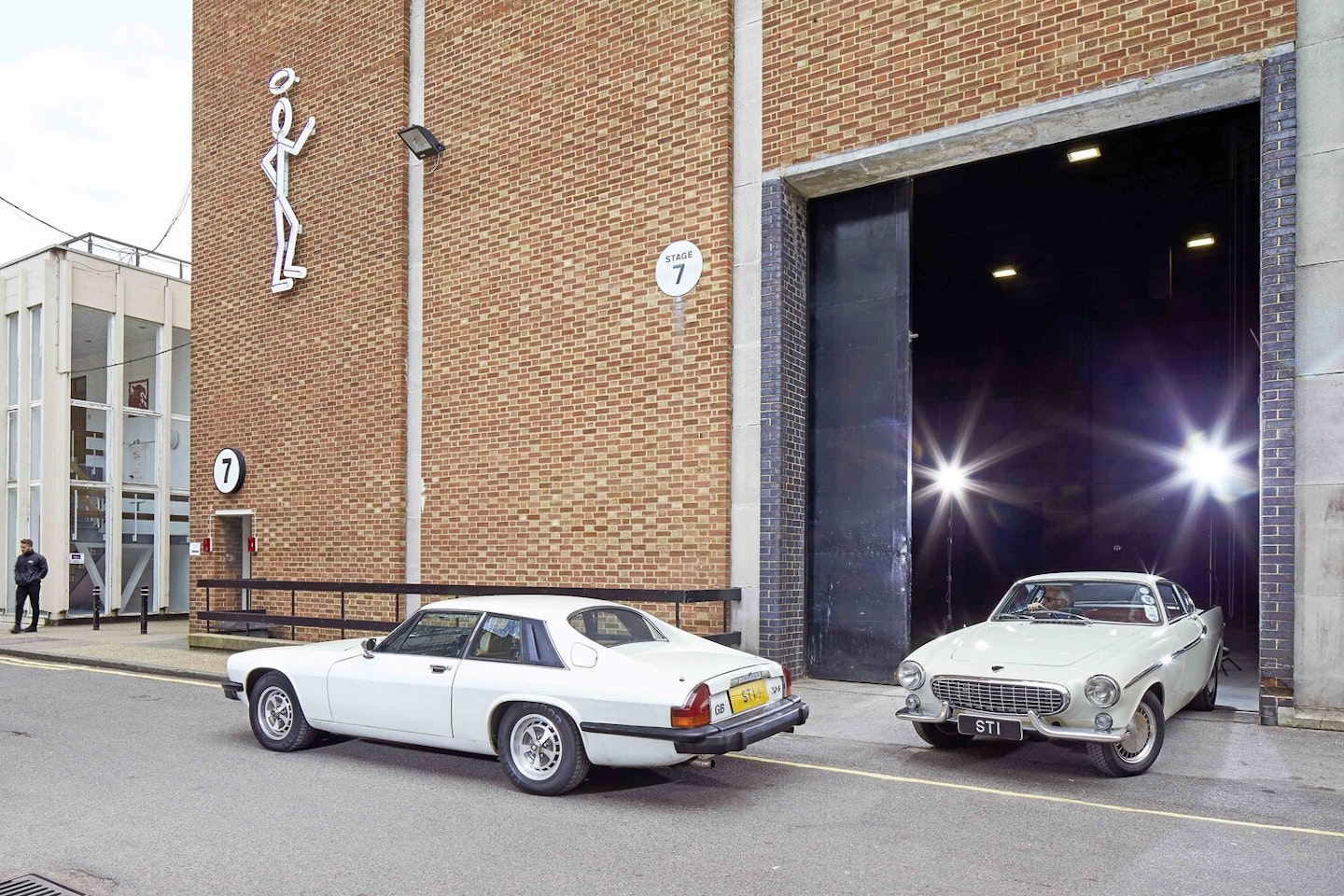 WHICH CAR GETS THE HALO?
Choosing between the P1800 and the XJ-S is frankly impossible. The Volvo hails from a fabulous era of television when chaps were chaps, but the Jaguar feels more powerful and still impresses out on the road 40 years after its debut.
Both cars are equally important, for no matter what may have been happening in the lives of the viewer, the Volvo and Jaguar were always there, looking impossibly glamourous, bringing villains to justice and unwittingly inspiring countless future classic car enthusiasts. And they never, ever let you down. But if we're forced to choose between the two, the Jag wins – if only because it's the birthday car.
DRIVING THE SAINT CARS
'Just being on Elstree's sound stage or in the underground car park is a huge thrill – and the fact that so many of the people working on the day crowded in to watch our photo shoot is testament to the enduring appeal of the show and its motors
Driving Simon Templar's cars was an experience I shall never forget, but it wasn't until we arrived at London Elstree Aerodrome that the magic really hit me. Every other episode of any ITC adventure series concluded with a shoot-out at this very airfield and it was here that the utter joy of being in a car from a show I'd watched throughout my child-hood really hit home.
Today I was experiencing the actual P1800, but if that wasn't enough, I was then handed the keys to the Jaguar XJ-S. I saved up my pocket money for the Corgi model of this car. I was thrilled when Ian Ogilvy darted past an early white Range Rover in Assault Force and marvelled when the XJ-S co-starred with a Lotus Éclat in The Arrangement. Power in every gearchange and a sense of real sporting prowess that's seemed so lacking in every slush-box XJ-S V12 I've ever driven made this the car of the day. Even with the Volvo's poise, beauty, gearchange and sense of speed, the XJ-S wins for me.'
Danny Hopkins, Editor