Britain has been responsible for some of the world's most useful things. From the first passenger railway to the jet engine, lawnmower, vacuum cleaner, catseye and tin can, we're a nation bursting with extremely good ideas. And we can proudly count the MG among them. Of course, there were mainstream 'sporty' cars before the T-Series MGs. But none quite so competent, well-made and fun. They were unexpectedly successful abroad, too.
The torrent of engineering excellence and clever marketing that followed gave us the MGA, MGB and Midget and cemented the company's claim to have created 'the people's sports car'. Yet there was a significant flaw in the plan for us Brits back home – something all the ingenuity in England couldn't change: The weather. So imagine a place where you can enjoy truly your MG 365 days a year. A land where the windows are never up and the roof is always down. Welcome to California.
The T-Series MG had stolen the hearts of American soldiers stationed in the UK during World War 2 so it was no surprise when MG started sending cars across the pond. It was an automotive cultural invasion unmatched by any other grass-roots UK manufacturer. Rolls Royce and Bentley may have become known for luxury but when it came to affordable open top fun, Americans went wild for the unique British charm of the MG.
One of them is Mike Benbrook who, like many others basking in the sun of West Coast USA, decided to eschew the beef in the burger of the US muscle car. 'Most of California is desert and muscle cars are big, hot and sweaty brutes' he says. 'The nimble MG makes perfect sense here. We have plenty of mountain roads too so you need something small, nimble and fun to drive'.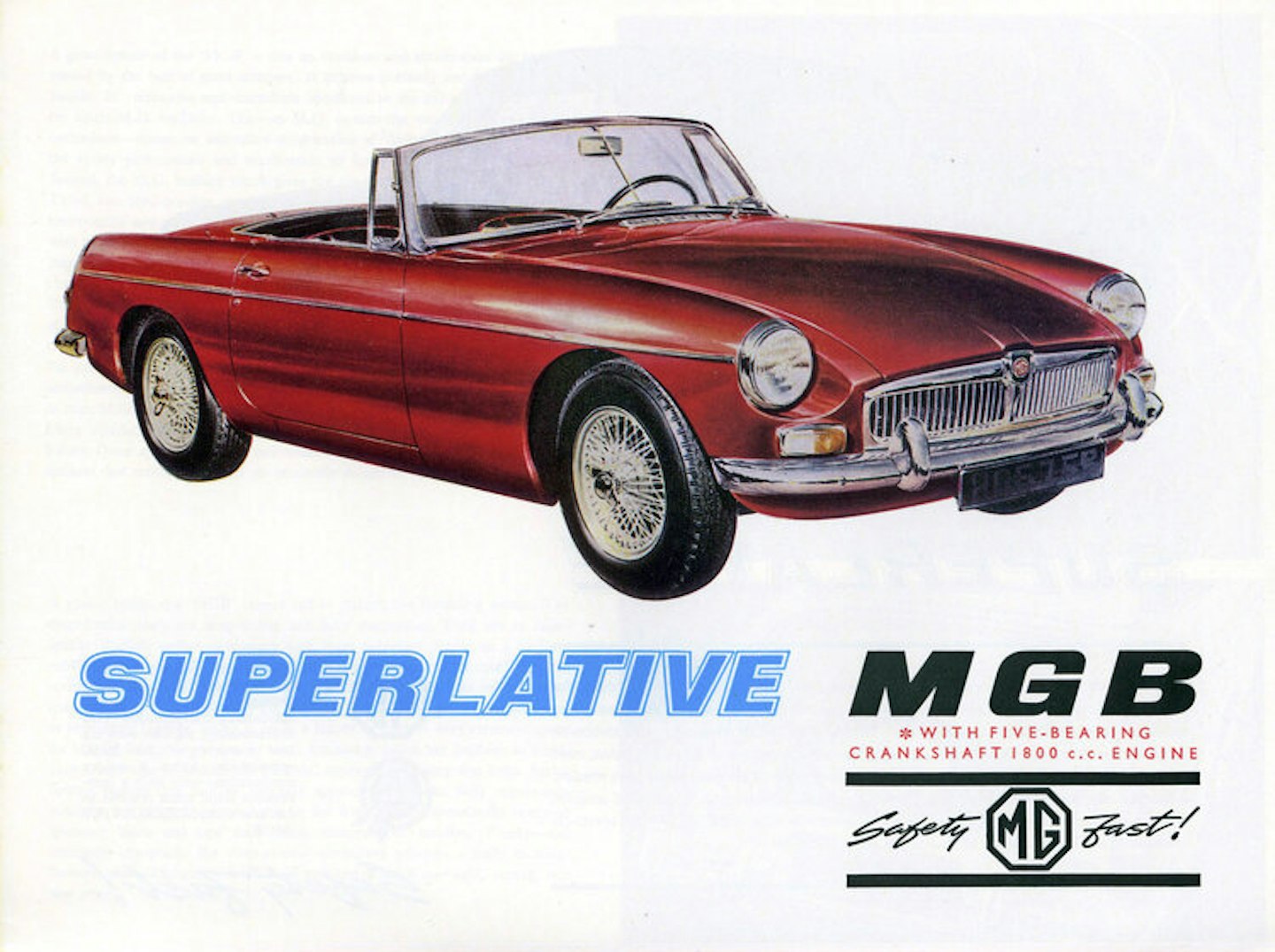 We've all seen the saucy UK press images with the infamous 'Your mother…' strapline but advertising the MG in the United States was a rather more serious affair in the 60s and 70s, championing masculine fun with economy: 'Lean, honest and quick' proclaimed one advert. 'The MGB has the athletic reflexes of rack and pinion steering, short-throw four speed stick, track-bred suspension'. In the midst of this infectious frenzy of open-top marketeering, Mike was hooked. 'My wife once owned a Midget. She'd tell me stories of road trips and the fun she had driving it. Then we spotted an MGB for sale in the paper. It was in a bad state but I drove it and fell in love. The way it sounded, looked and handled. Even the smell, which was a mix of oil, grease and mildew'. Mike fixed the car up and sold it: 'A guy from South Carolina flew into LA and drove it home. I called him later and he said it ran great!'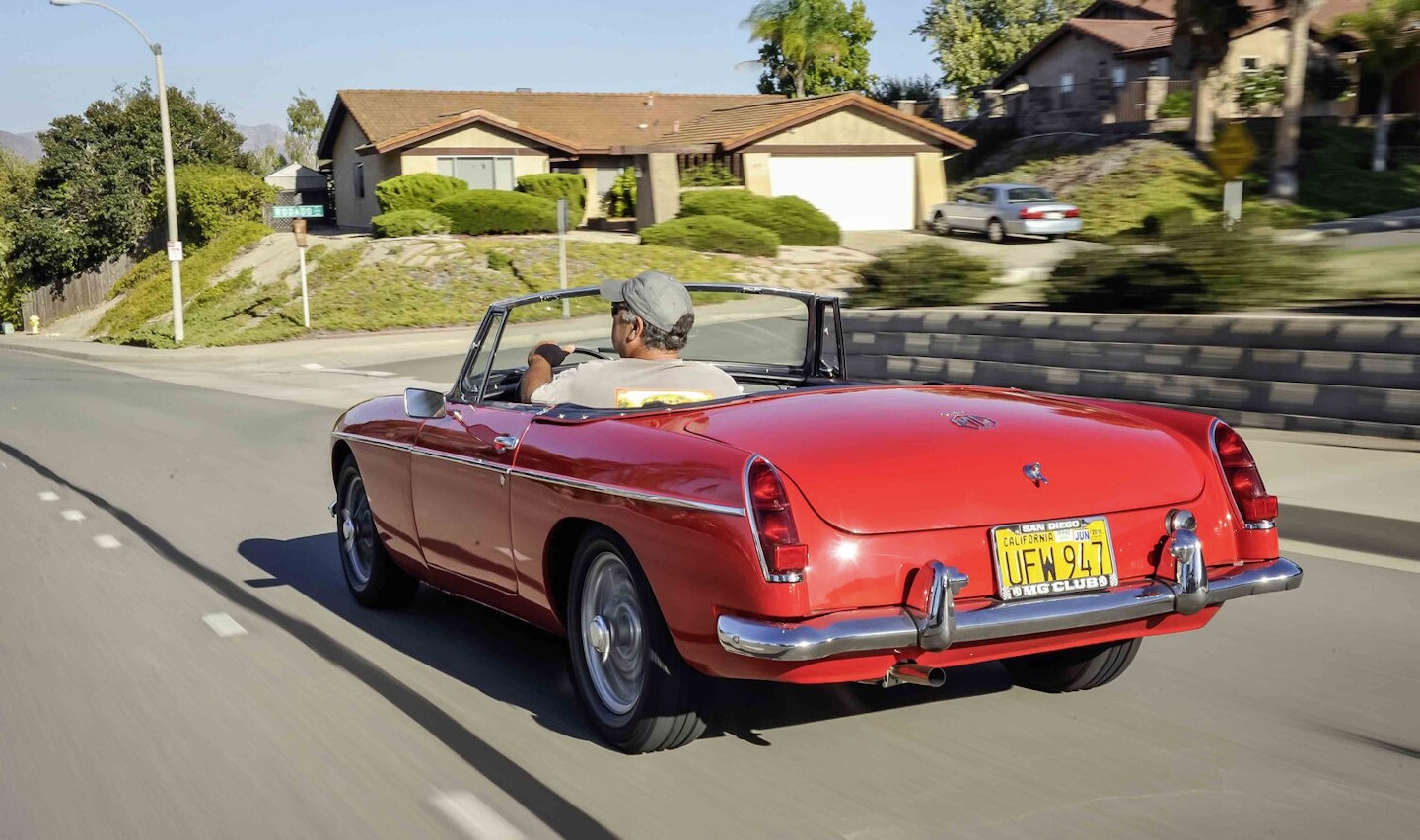 We turn to Mike's current fleet, sat sparkling in the warm Californian sun. Following a spell with a 1952 TD, three years ago he bought a '54 TF from a widow in San Diego. The husband had parked it in a garage in 1974 but sadly passed away before he could restore it. 'I took some photos of my TD so I could show the lady my intentions were good. To me, these cars are pieces of history. They are art. She agreed and sold me the car'.
The restoration was extensive, with some parts difficult to source. Most MGs sold were on the east coast, which makes finding expertise a little more difficult. But Mike says it was worth it: 'The TF makes people lose their minds. We drive down the freeway and people scream at us from their cars. Having someone scream at you while on the freeway is a little disconcerting in LA. But fortunately, people usually just want to take photos of the car. Little kids want to jump on the running boards to look inside. You leave the car parked to go for a meal or something and when you get back, there are always fingerprints".
With the TF restored, Mike found himself an MGC. He had a spell in an MGCGT says it was like riding in an oven: 'That Austin six throw off a lot of heat and the bodyshell captures most of it! Not so much fun in the west coast weather!' So Mike found this MGC up in Washington State, gave it a good paint job and last year drove it around Yosemite National Park: 'It's a little road monster! My MGC has went tear-assing through the mountains of Yosemite, past giant trees and crowds of startled tourists. The car was as popular as the scenery. We must be in about 500 vacation photographs!'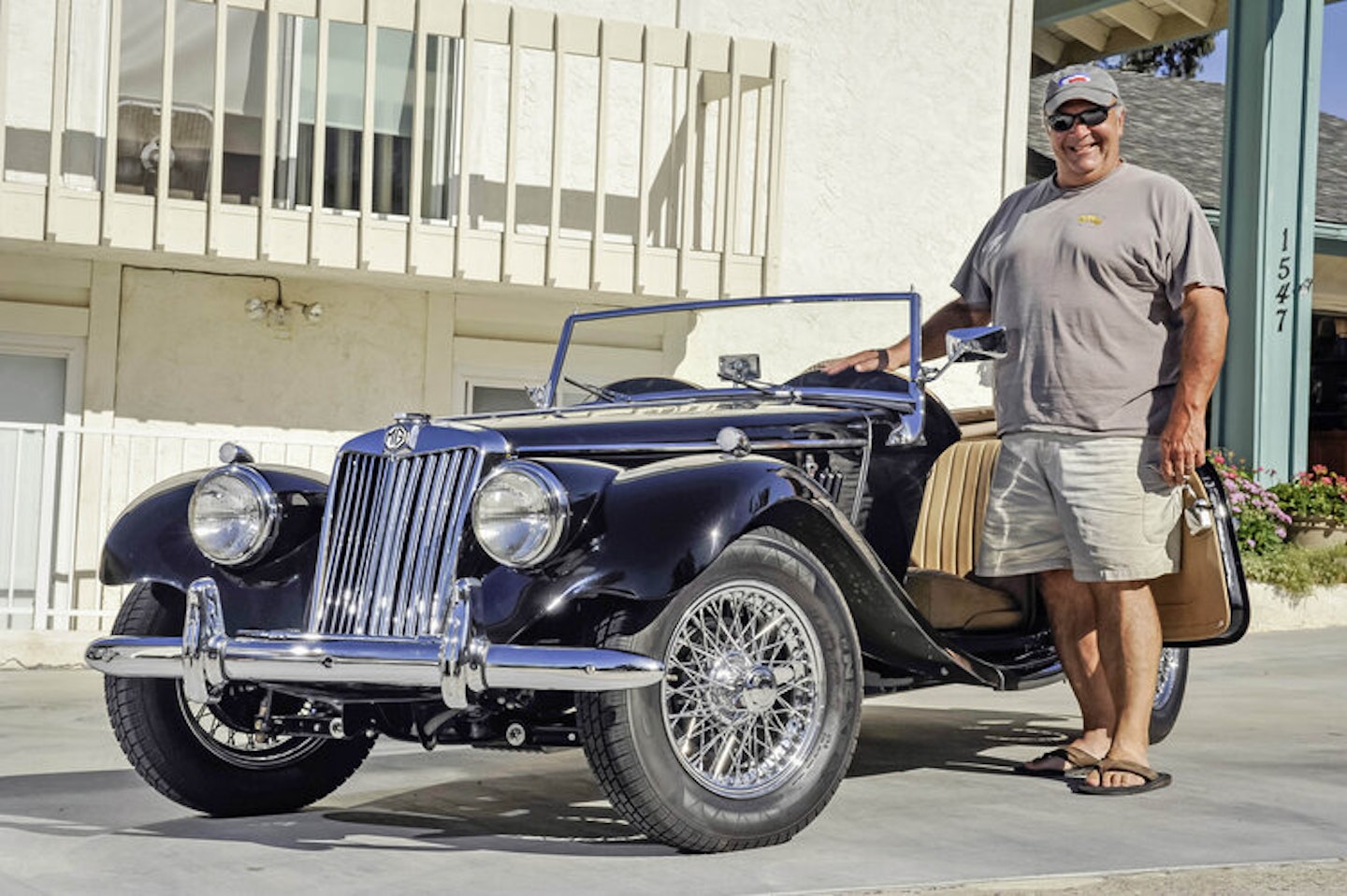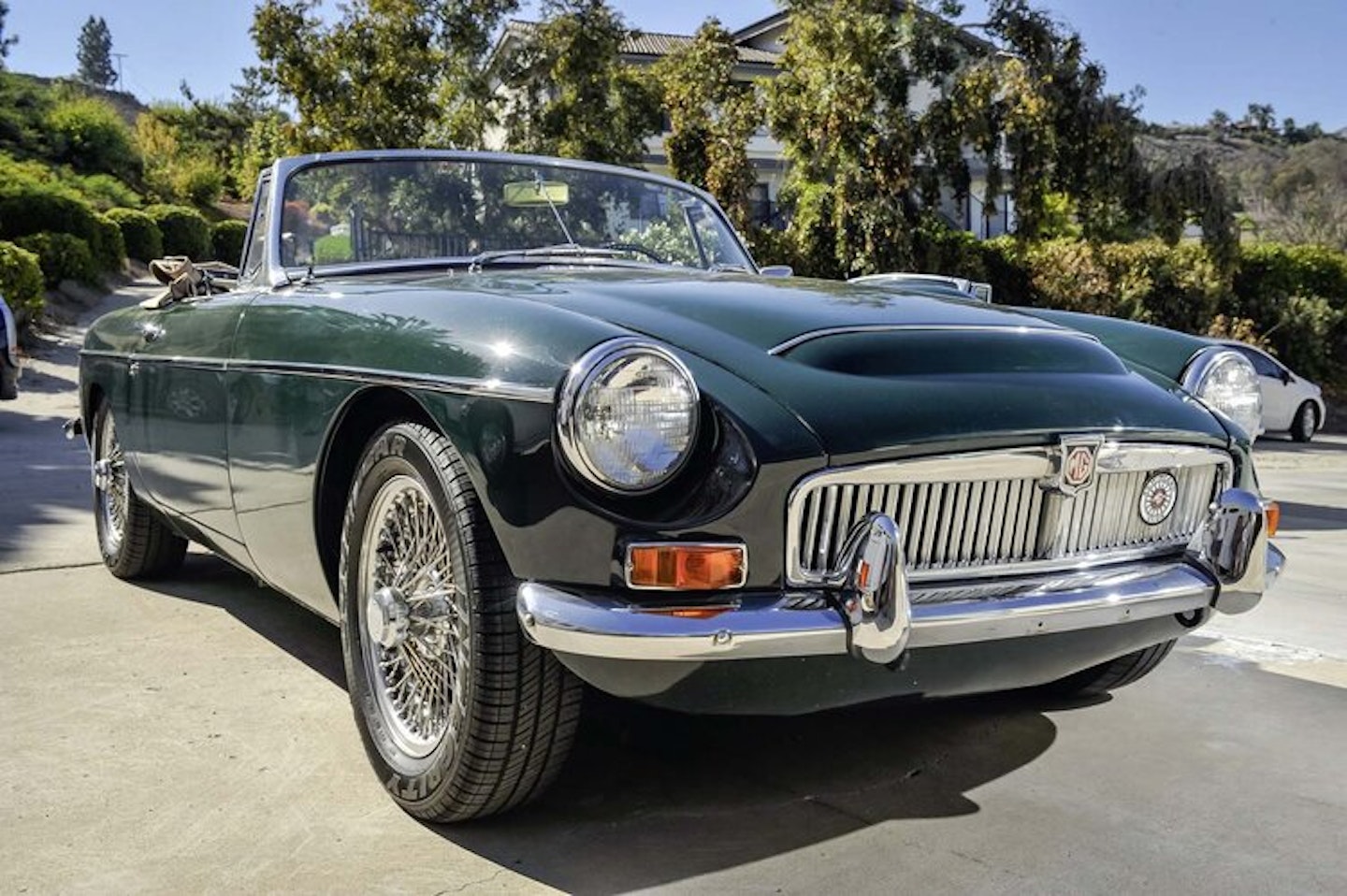 If you thought an MGC demolishing the American wilderness wasn't a curious enough spectacle, picture if you will the steamy silhouette of palm trees against a simmering red sky at dusk on Sunset Boulevard – and the alien profile of an Austin 1100 as it hustles for space alongside Mustangs and Chargers. This magnificent 1964 MG 1100 has absolutely no right to be in LA and yet, here it is, transporting Mike, his wife and two Staffordshire Terriers around one of the world's biggest cities.
'We don't allow dogs in the other MGs so my wife found this in the mists of Washington State and brought it back to warmer climes for restoration'. Mike describes it as a 'driver and dog car': 'She uses the car to take them to dog parades and you'll notice the license plate reads 'MG4DOGZ'. Yeah, we love that car! It is a little underpowered for the roads here but once it gets a head of steam, it really rolls. We have friends from England and they all owned an 1100 once in their lives'.
My attention turns to Mike's immaculate MGB and after a short pause for thought, I suddenly realise what I'm looking at. It's one of the very first MGBs. Incredibly, it is MGB Car Number 36 and here it is, sat glimmering in the LA heat. And, might I say, enjoying a grand new life.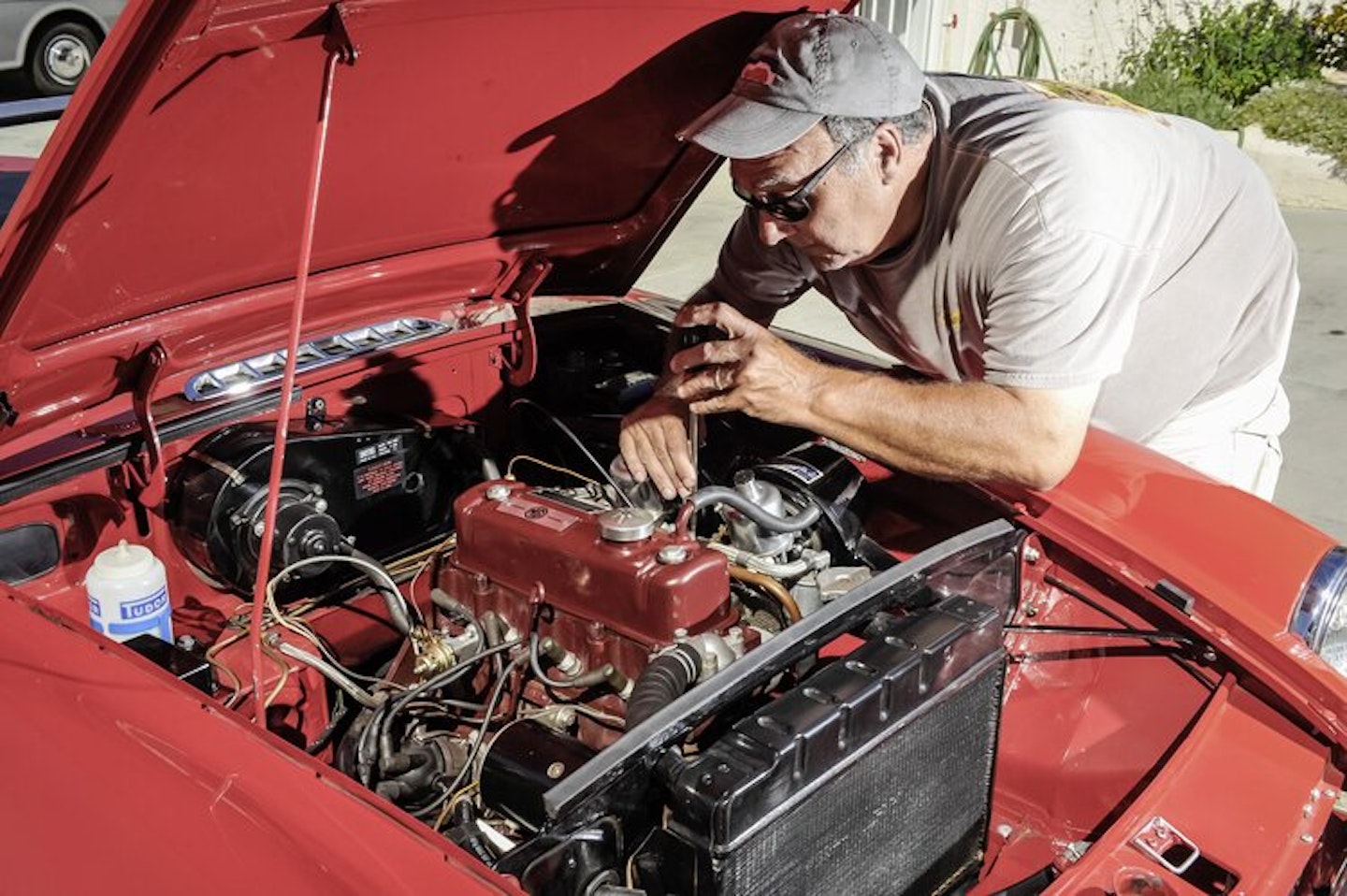 Mike found it under a tarpaulin in San Diego where it had sat for twenty years. He says it was just a pile of scrap, despite having sat in relative humidity. 'It was very rusty and it needed a lot of work. It had to be saved, right down to the detail. I replaced the Smiths gauges with Jaegers and a 4-speed crash box transmission'. He then painted it in the original Tartan Red and gave it some brand new seats.
The car is well known on the US scene, as it keeps winning awards. Before a big show I give it the complete detailing, cleaning the chrome and spokes and washing puddle splash off the rockers. We are car crazy in California. If want to roll, your car better be looking good. We have muscle cars, hot rods, and some very fine looking Low Riders'. In 2013 Mike's MGB won the John Bernard Award at the Fallbrook British Car Show. 'The other 'B Guys' told me if I bring that car back to the show, they would kick my ass. I think they were serious.'
It's a truly beautiful example, a tribute to Mike's commitment to MG and to one of Great Britain's greatest exports. This particular is unlikely to ever see our green and pleasant shores again – but we can at least say it's in safe hands, preserved well in the warm Californian sunshine. As Mike concludes: 'No rain, no humidity. I don't wash my cars, I dust them!'
1964 MG 1100
Mike is particularly fond of this MG - a car he says that you don't expect to see driving around California. 'This is the practical MG! Otherwise known as 'The Dog MG'! We have a Jeep Cherokee and a Prius but we wanted a classic car to drive our dogs around in. It gets a lot of attention in LA and a lot of smiles'.