The phone line crackled as I heard my good friend thump the steering wheel of his expensive SUV. 'Modern rubbish!' he bellowed. Graham and wife Sarah were aboard their 3-year old car, heading for the south of France on holiday. Night had fallen, the rain was heavy and those hi-tech headlights had completely failed… at 80 miles per hour on an unlit autoroute.
At the other end of the phone, I was subjected to a string of spectacular expletives and a reminder that new cars are not always reliable. Furthermore, once technology of this type fails, there's very little you can do about it. Following a night messing about with breakdown trucks and a manky motel, next day Graham and Sarah were relieved of almost £800.
Old cars are different. I know this because I've just changed a headlight bulb on a 30-year old Rover 800. To do so, I opened the bonnet, fumbled around the back of the headlight unit and simply replaced it. Less than a minute later, I'm thundering off the sliproad of the services near Saint-Quentin, back into the night to the sounds of Private Investigations by Dire Straits. (The incredible live version from the album 'On the Night').
THE JOURNEY BEGINS
My own trip began as a simple road test but as I awaited my lunch at a pub near Brand's Hatch, an email brought news of a classic British car show that weekend - something altogether more exciting and a useful backdrop for photos of my Rover. It was, however, 700 miles away on the shores of Lake Geneva. I finished my coffee and set off, reasoning that I had nothing better to do.
One final check was required, involving my furry wingman – an Australian Labradoodle called Carlos. With his owner (my mate Simon) away for the week, I'd ended up in the role of dog-sitter. Once the animal was confirmed as recently vaccinated, microchopped and with pet passport, I set off.
Hours later, I was slipping off the ferry and dashing south to the sounds of the battered Dire Straits cassette I found in the glovebox, with plenty of time to ponder the car. I have always admired the early 800's styling. It's a handsome car which seems to get better with age - that slender profile looking sharp parked among modern saloons. There's a pleasing resemblance to the SD1 in the Fastback model too, the subtle body kit of this 820 Turbo giving it an appropriately muscular flavour.
So far, however, I am admittedly a little disappointed with the 800's long-distance behaviour. As dusk falls, I'm 300 miles into France and that 2-litre lump up front is beginning to get on my nerves. It smells of oil. I call an old friend – a committed Rover nut. 'They all do that' he says, knowingly. He explains it was easier to adapt the M-Series engine, as it was the only UK-built unit (V6 and turbo-diesel engines came from Honda) before disappearing in the crackle of my hands free earpiece. Needless to say, having climbed into bed with Tickford (following a previous dalliance with the MG Maestro Turbo), Rover unveiled the 820 Turbo in March 1991 to an impressed crowd.

ALPS IN SIGHT
I bring down my speed a little and settle into a 65mph cruise. The oily smell lessens and the drone becomes a gentle hum as dusk falls near Dijon. I settle for a basic roadside motel and fall asleep listening to the murmur of a dozen smoking Frenchmen on the balcony outside. Next morning, I'm keen to explore the 820 Turbo's more playful side so I swing east and dive into the Alps via Bern and Interlaken, Target: The Furka Pass. There are few roads more challenging so my expectations are lowered. But it seems the Rover is keen to impress.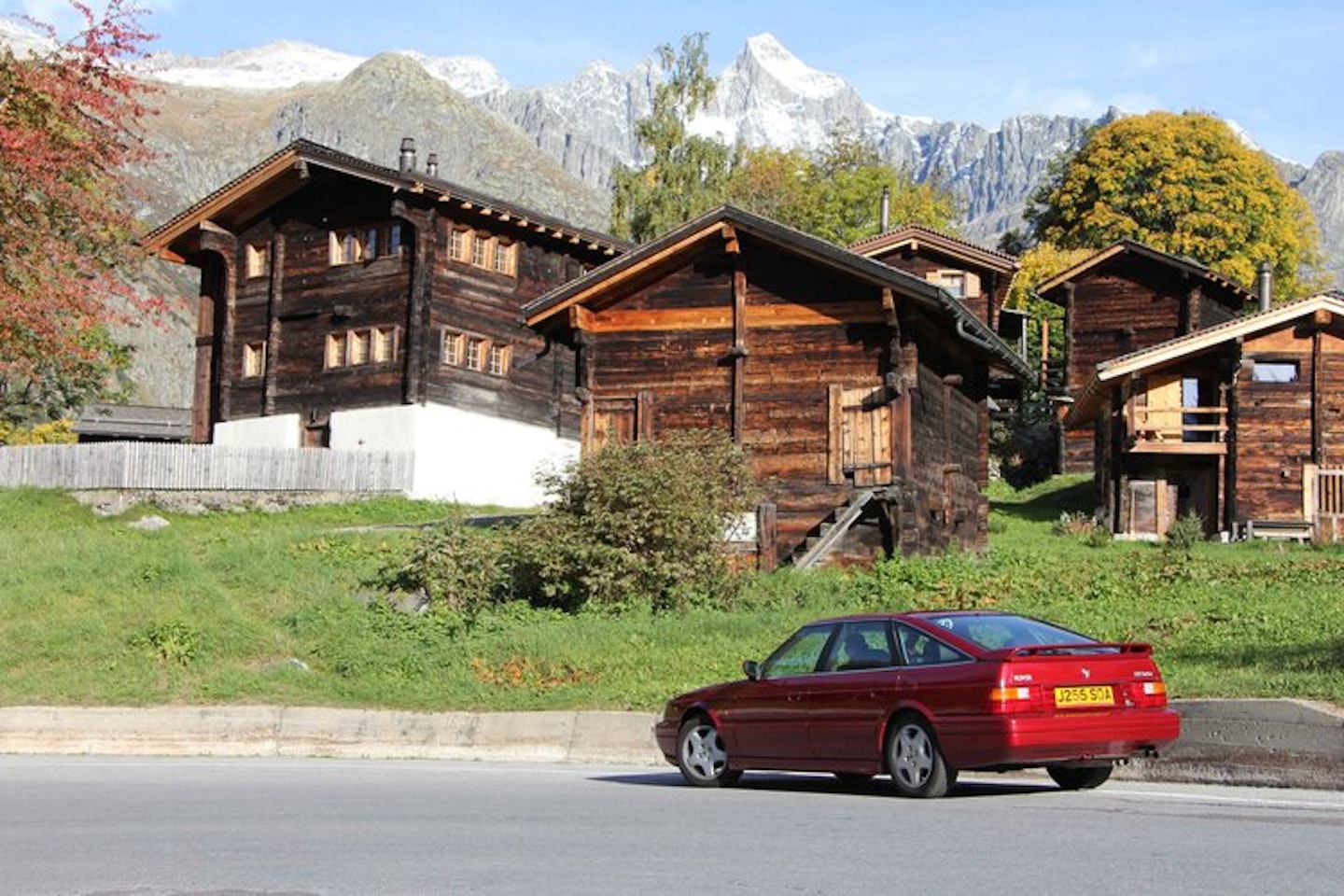 I'm surprised to learn how well an 820 Turbo really wakes up on these mountain roads. It's quite agile and despite the slightly wishy-washy steering, I find myself enjoying every bend. Power was limited to 180bhp (one assumes anything more would have been encroaching on Vitesse territory) but there's no real shortage of oomph. Just about the right amount for roads like these, frankly - you won't find yourself falling off any hairpins. We ascend the steepest part of the pass at a fair lick and I become aware of that oily smell again. The engine is working hard so I pull over at the top to check the oil. No leaks, fortunately. Carlos the Dog on the other hand is keen to expel fluid so he enjoys his call of nature with one of the finest views in the Alps.
I descend the magnificent Goms to Brig, Sion and Martigny and pick up the road west to Montreux, Lausanne and the town of peaceful lakeside town Morges where, somewhat pooped, we rest for the night. I wake up next day to a riot of British metal jostling for position in every direction on every street. My eyes, ears and nose are overcome by the growling, wheezing and woofling of the most exotic collection of British classics I've ever seen.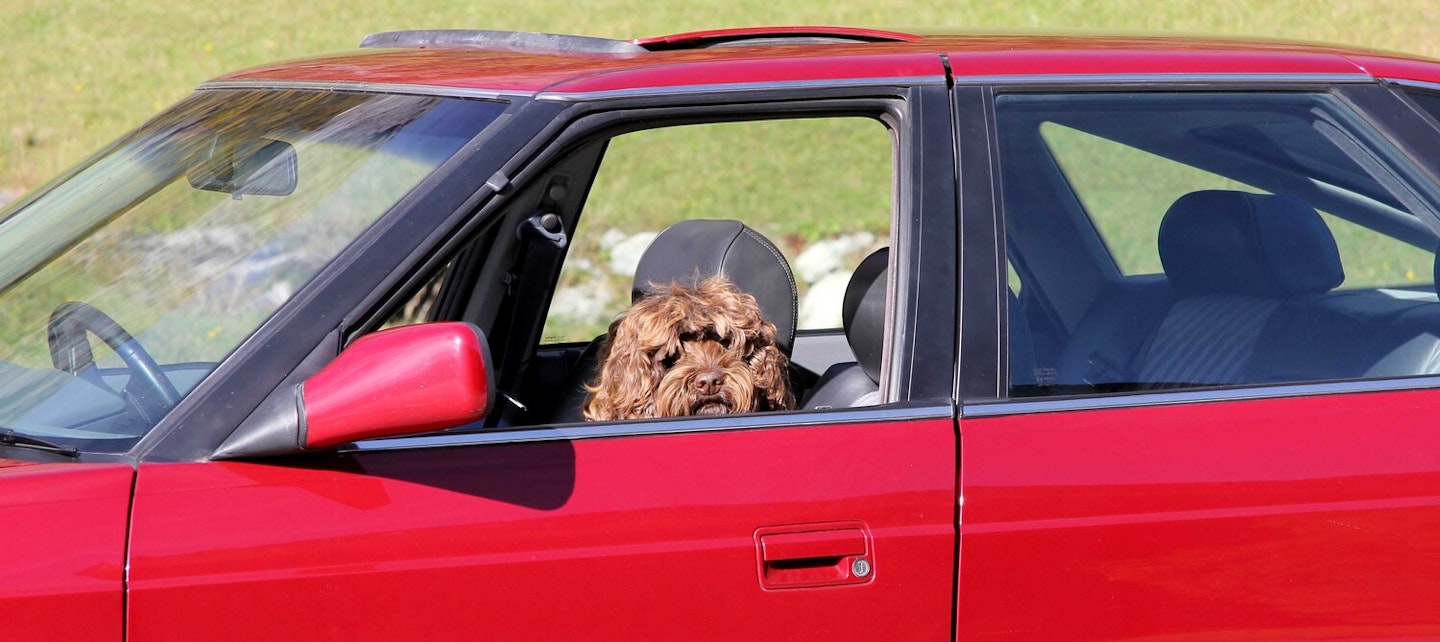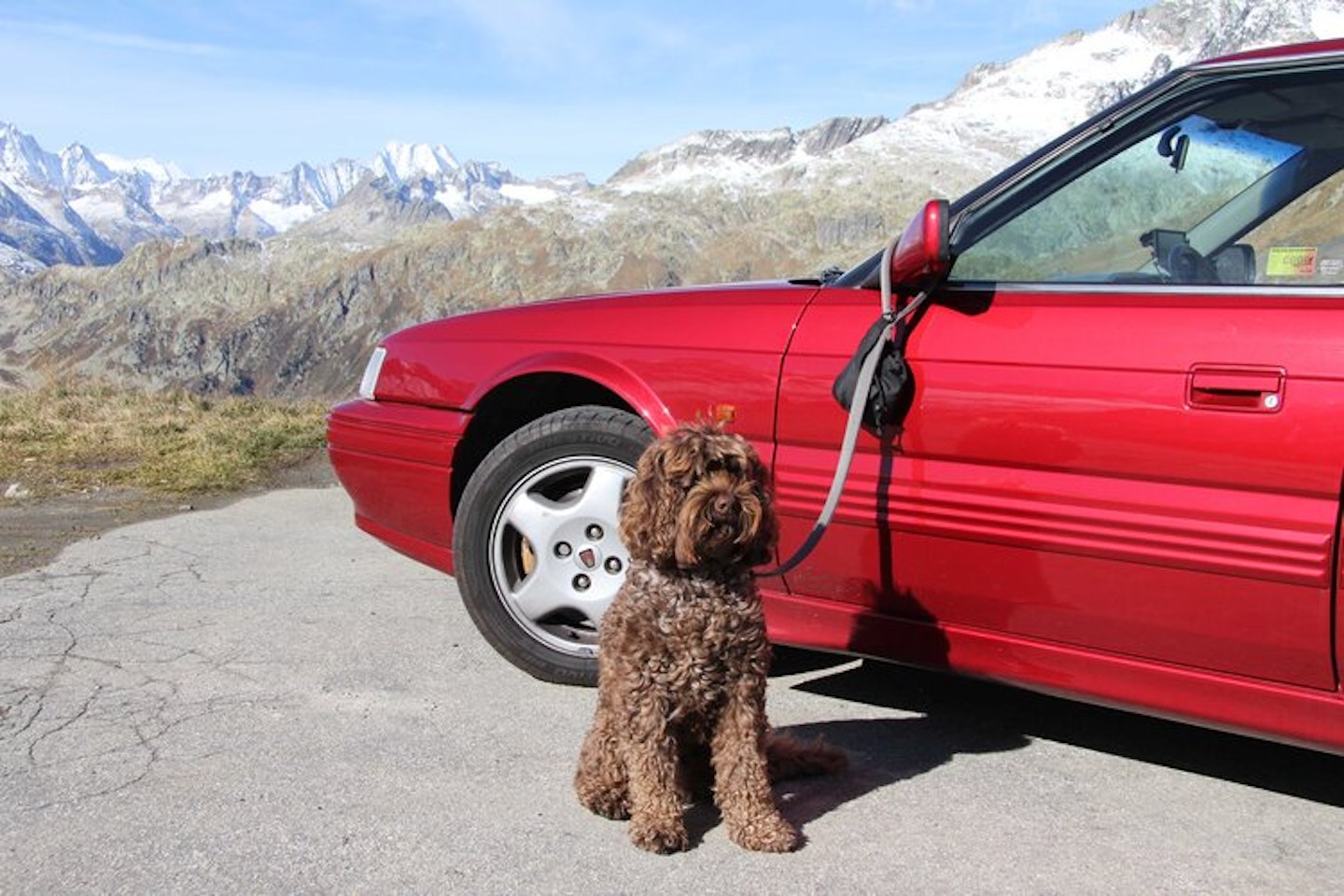 SHOWTIME
Almost 2000 of them have descended on Morges and take their positions beside the tranquil parks and palm tree-lined public gardens beside Lake Geneva. The paintwork of a coachbuilt Bentley gleams in the morning sun alongside immaculate Aston Martins, Jensens and MGAs. The sparkling waters of the lake and towering peaks around Mont Blanc form the backdrop. It's jaw dropping.
And yet… Every owner I encounter is friendly and greets me with a warm handshake. One group approaches the Rover with glowing smiles and an inquisitive bearing. 'It still looks good!' exclaims the Lagonda owner parked nearby, as he points at my fine 800. 'I have a V8 Vitesse at home' he beams. I ask why he didn't bring it today. 'Well, I think these people would prefer to see my Lagonda'. We all disagree and urge him to go home for the SD1.
Stunning collection beside the shores of Lake Geneva.
The day is spent wandering along row upon row of stunning British classics of all kinds – not one LED headlight to be seen. Despite the occasional appearance of an Austin 1100 or Dolomite, almost all of the cars are posh and expensive. This is no surprise, considering the Swiss aren't short of a bob or two. That said, I can't say I have ever attended a car show like this. I encounter no snobbery. You could replace every Rolls Royce for a Morris Minor - the enthusiasm and welcoming smiles would be the same.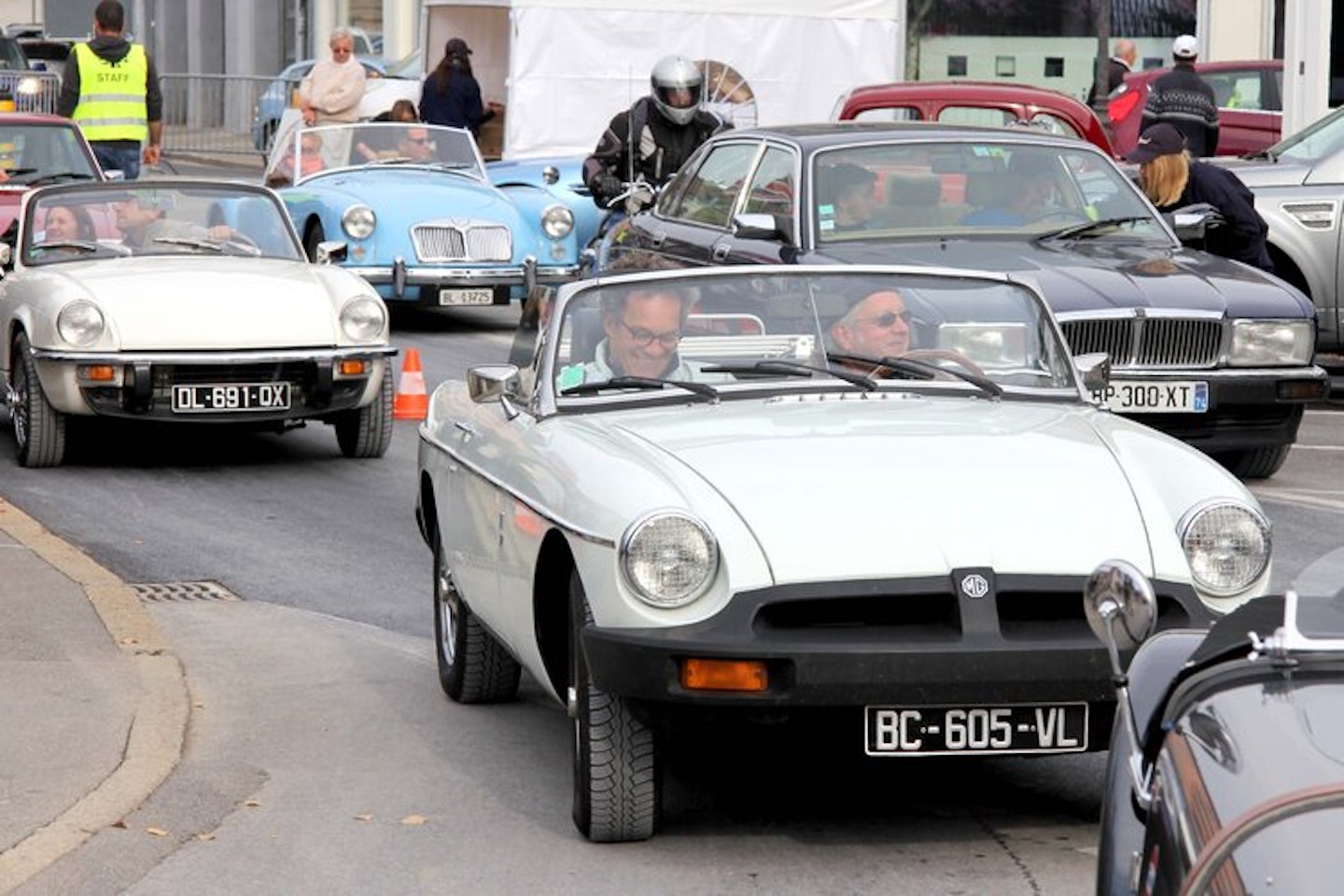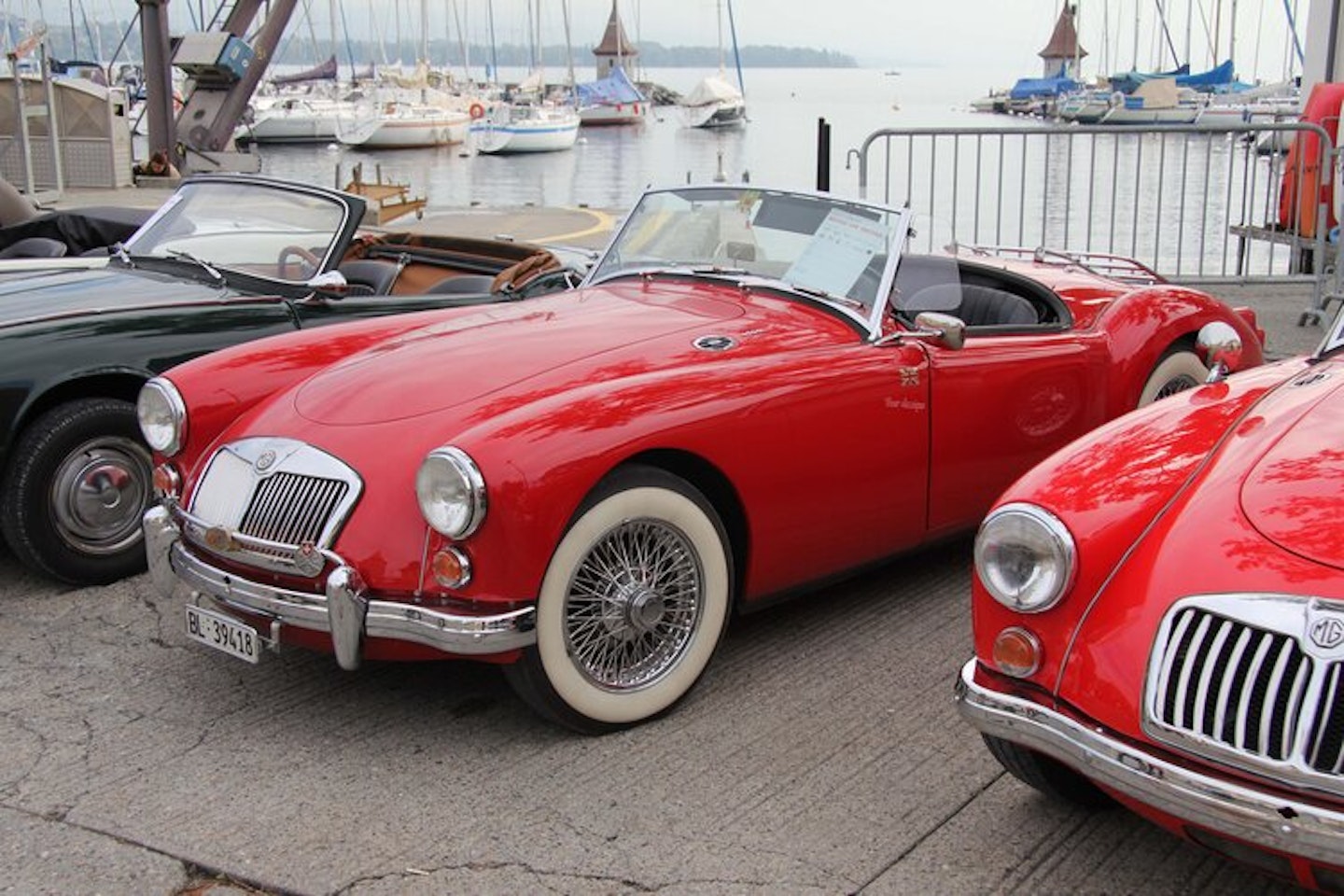 THE RETURN LEG
The road from Nyon to Morez provides one last session of hairpin thrills before we eventually descend the Alps and head for the channel. Still feeling mildly paranoid about that oily smell, at the top of the final pass I check the Rover's levels once more. I glance back across this astonishing landscape - the only sound is the ticking of the engine and a cold wind whistling across the snowy peaks. Here I am, on Sunday morning, in the chill of an Alpine pass with the bonnet up on my Rover 800, with a bewildered dog blinking at me through the windscreen.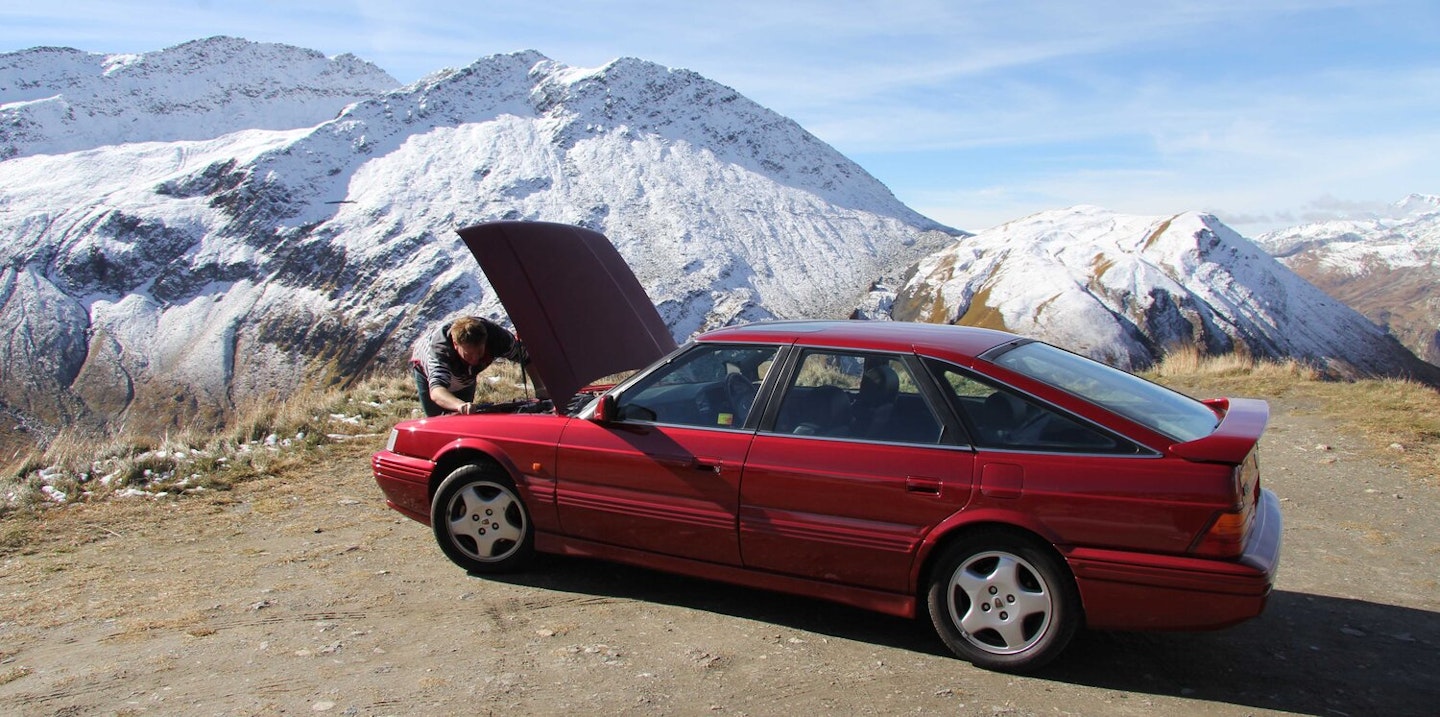 Caen is 481 miles away. I'm drawn to these early Rover 800s – they're big, comfy and still brilliant value. This one is also so much better than the awful US-spec Sterling 825SL that's back home sitting in disgrace. It runs – but is mysteriously misfiring after a lifetime of abuse. As simple as 1980s cars might be when compared to modern ones, neglect of the electrics can cause serious headaches and I'm having one with that car by the bucketload. Not for this 800 Turbo, however. It is proof that when it has been cared for, the Rover 800 is, without doubt, a great classic British saloon.