A trio of affordable modern classic drop-tops and a trip to south-west Ireland. What could possibly go wrong? Did I mention it was February? I equipped myself with the warmest coat known to man and set off to meet the team in South Wales. Neil Campbell was driving Britain's favourite roadie – an MGF kindly lent to us by PC's John Simpson; photographer Simon Hipperson had charge of a car Mercedes-Benz claimed was directly inspired by the Frogeye Sprite, the Smart Roadster (James's own car). And finally, James had procured the builders tea version of Lotus's Elise – the outrageously louty Vauxhall VXR220 Turbo.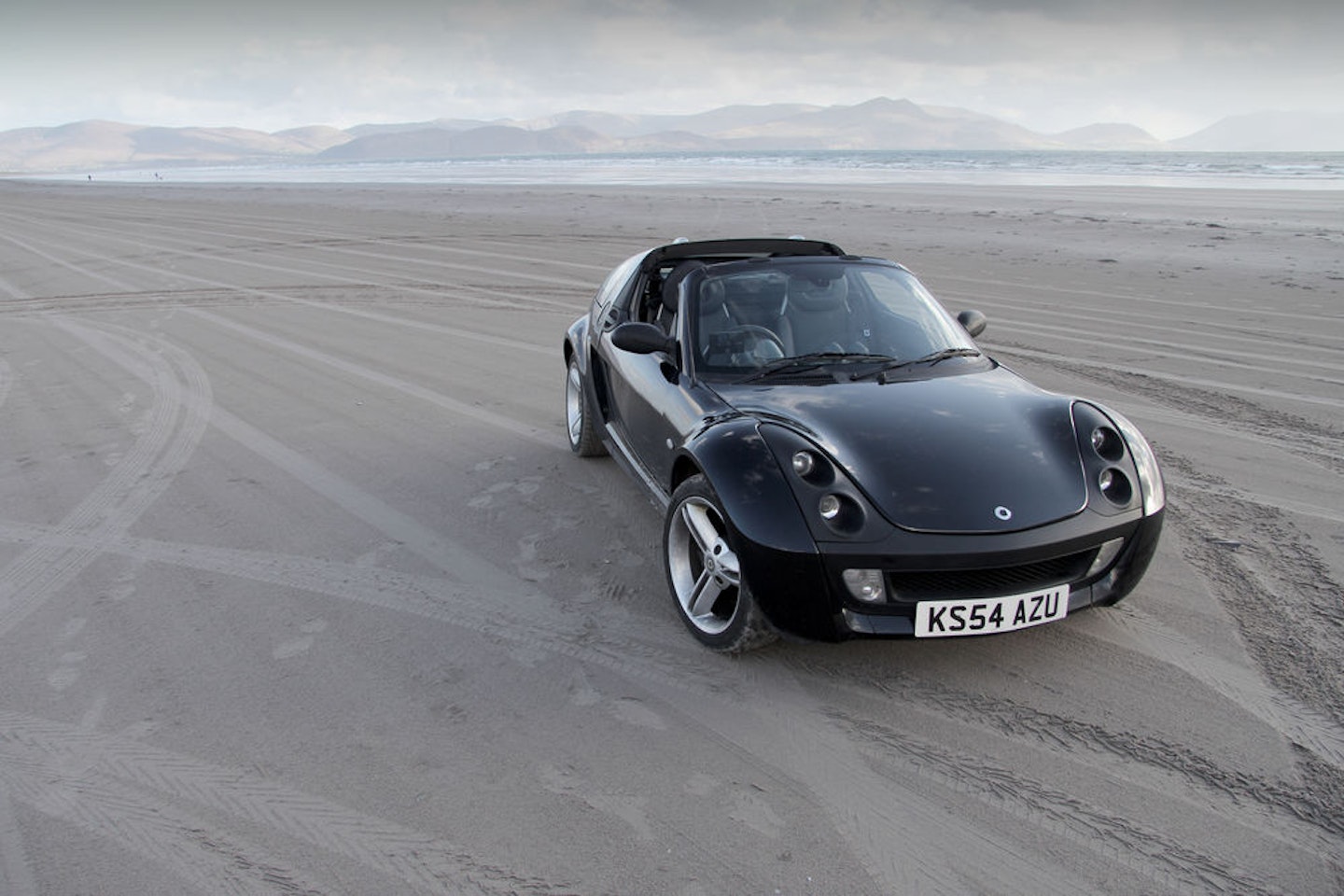 2003 SMART ROADSTER
Engine 700cc/4-cyl/Turbocharged Power 80bhp@5250rpm Torque 81lb ft@3000rpm Gearbox 6-speed semi-auto 0-60mph 11.2sec Top speed 109mph
Here's a car that went from concept to production in record time and it's all too easy to see why. Neat packaging, good weight distribution, stand-out styling and impressive detailing. Its microscopic, turbocharged three-cylinder engine is endlessly eager to please and once you get used to changing gear a second or so before you need to, its paddle-shift semi-automatic gearbox works extremely well – as does its ability to take street corners like it's on rails. Despite being the smallest car here, the Smart has the most luggage space, both front and rear. Smart Roadsters are still really cheap now as well ; about to reach the bottom of their price curve we reckon.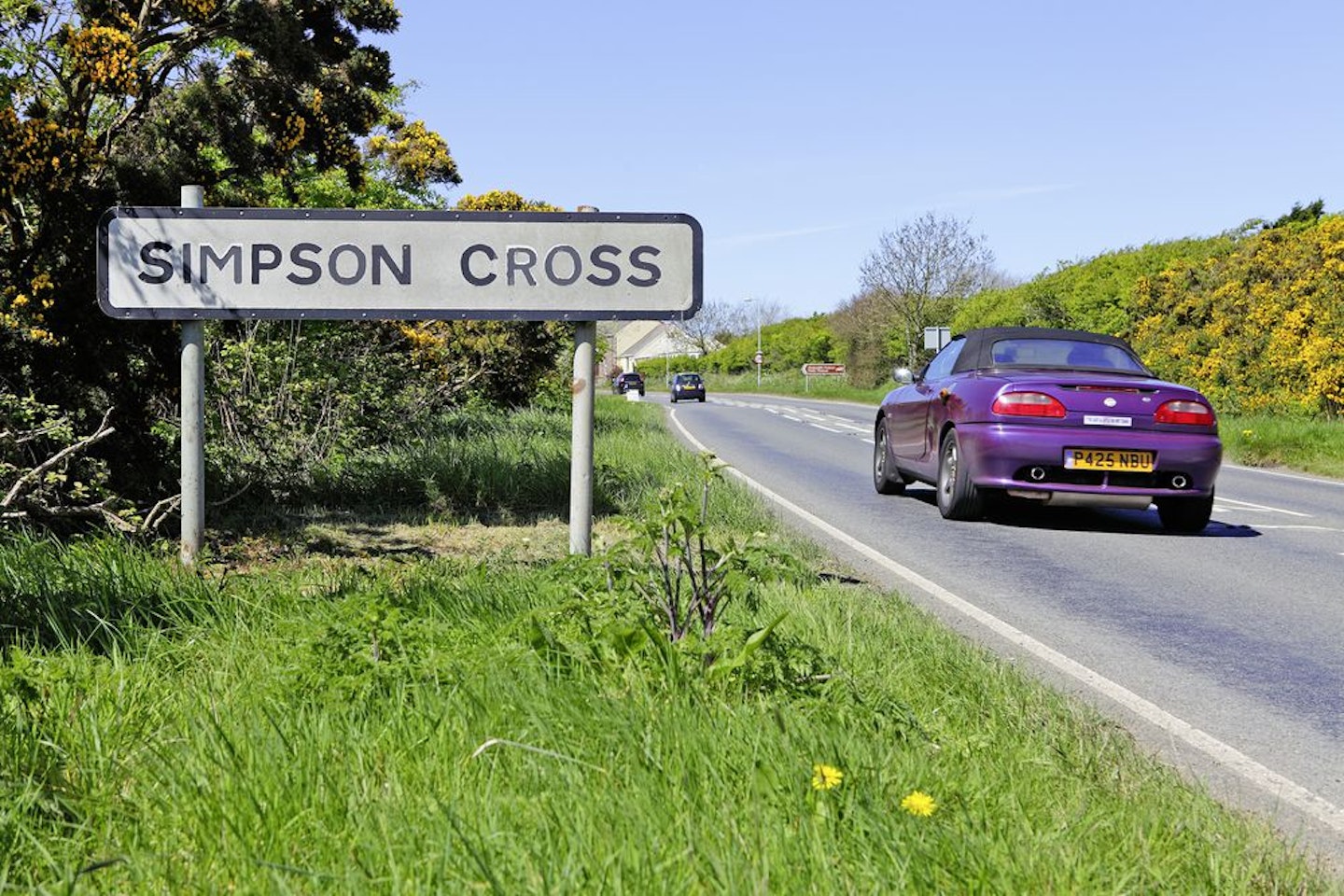 1996 MGF
Engine 1800cc/4-cyl/Naturally-aspirated Power 120bhp@5250rpm Torque 118lb ft@4000rpm Gearbox 5-speed Manual 0-60mph 9sec Top speed 121mph
The MGF's a car for everyone. That's a great compliment, not a slight. It's quite happy just bimbling around. The suspension's not noticeably over-firm, though there is a certain amount of scuttle shake, which is a surprise. Now, drop a gear and see how it feels. Very sharp, very composed, very well-developed. That tremulous windscreen frame's soon forgotten. The 1.8-litre K-series engine is a little miracle. It's smooth and perfectly- balanced all the way from tickover to the red line. And the (custom) exhaust note on John Simpson's car is sublime. It won't upset the neighbours, yet you could drive, roof down, listening to it all day. Currently cheap as chips.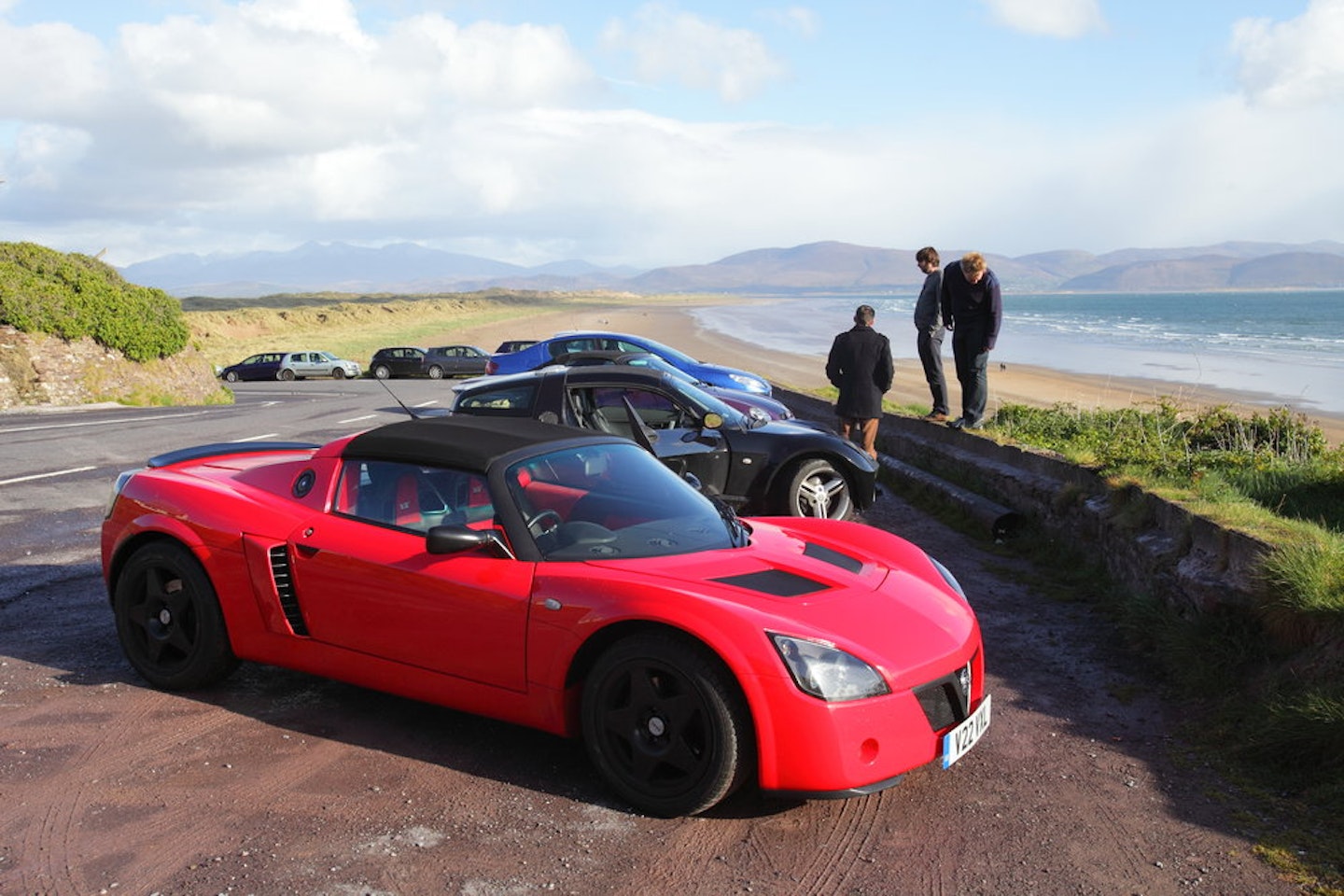 2003 VAUXHALL VXR220 TURBO
Engine 2000cc/4-cyl/Turbocharged Power 220bhp@6300rpm Torque 209lb ft@4800rpm Gearbox 6-speed Manual 0-60mph 4.2sec Top speed 153mph
The VXR shares its platform with the Lotus Elise II – some say it's a better-sorted car. The interior's basic in the extreme: part of its home-made feel is perhaps due to this being car number 00 – the development hack. But with 60mph in 4.2 seconds, there's no time to admire walnut trim. Jab the throttle and the engine instantly spins up to speed; release the sharp clutch and it will, if you ask it to, set off with great haste. Give the turbo its head and you'd better be prepared for the results. It's really uncompromising – but it's in no way unpleasant or tricky. It's surely a car to be seen in – but don't let anyone see you trying to get in or out of it. Prices are rising.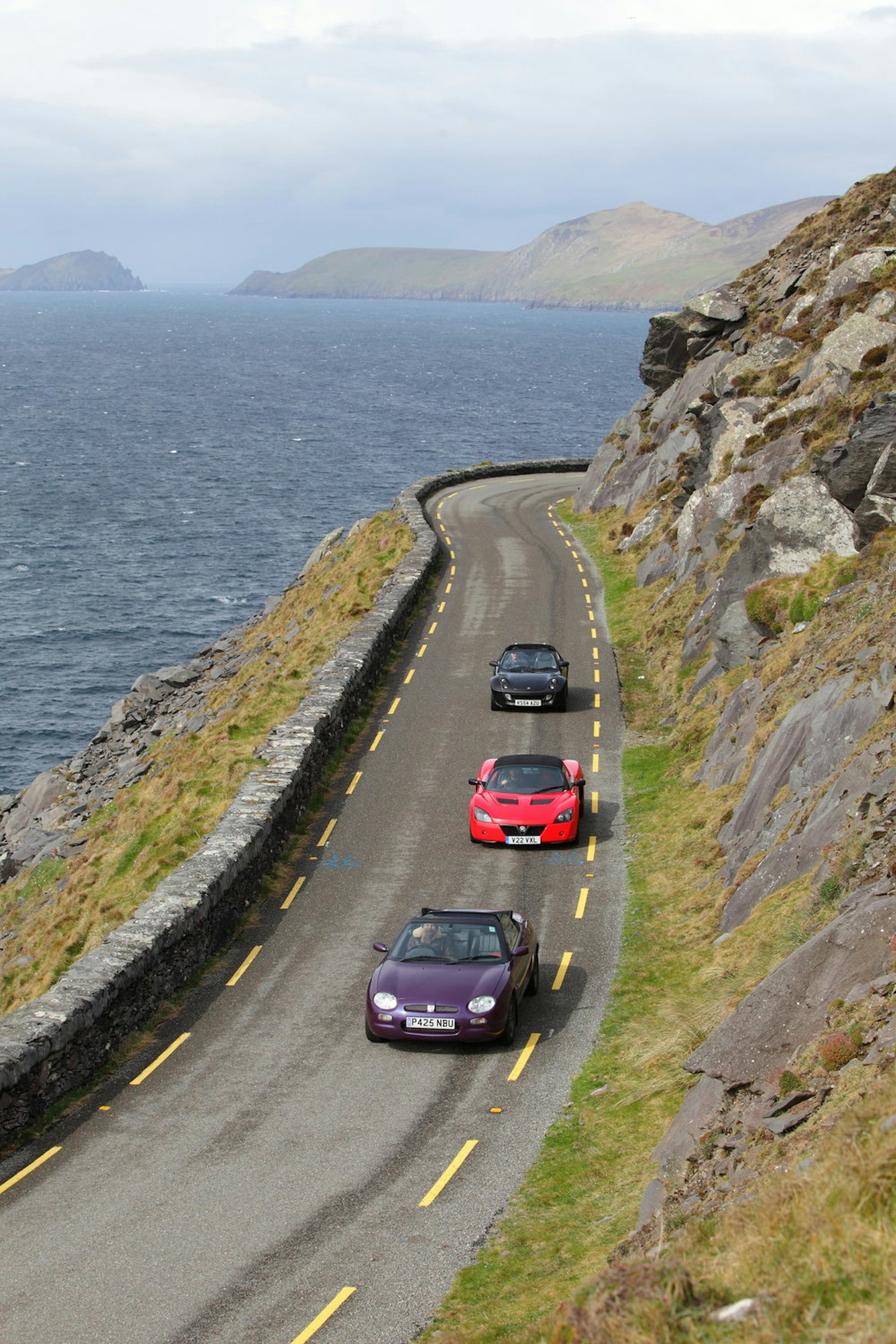 We had a tight schedule to meet the Fishguard-Rosslare ferry and the roads were quiet, so we had our first try at making our mid-engined roadsters do what they do best. The weak, winter sunshine seemed somehow more vivid as we hurried along. The ferry successfully boarded, low-slung bottoms briefly scuffing the ramp, we relaxed before setting off once more for a splendid hotel in Waterford for photos and plenty of head scratching and note taking as we inspected each car.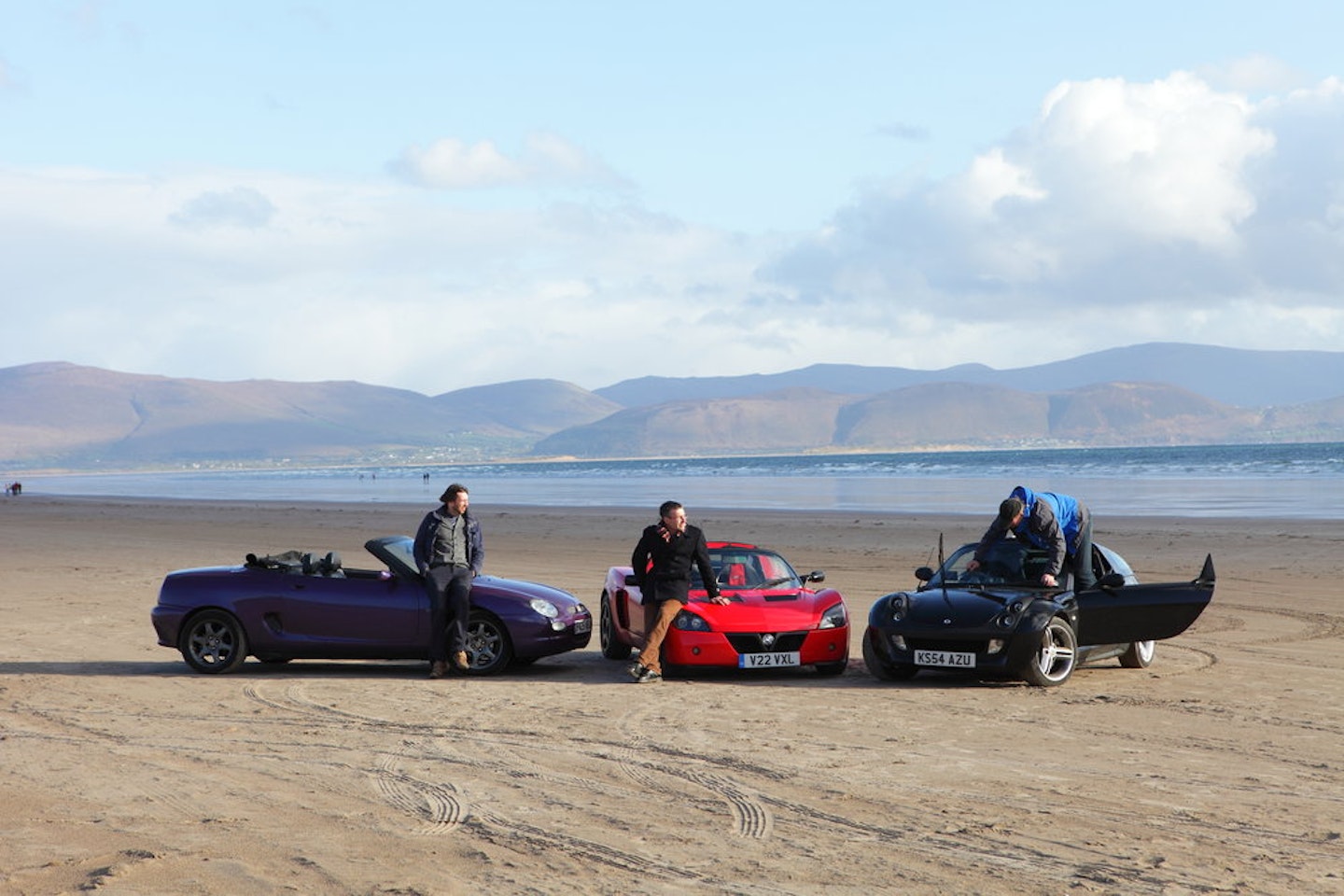 The following morning, checks were made. Extensive checks. Can we see the engine? How do we get the roof down? Do car designers not travel with luggage? A cross-country blast ensued.
We swapped cars to get the measure of them and as the roads got narrower, we – and the cars – were in our element. The MGF is sure-footed and smooth with just the right amount of everything, the Smart snorts and wails as it hunkers down and blasts through the bends like a Micro Machine 911 and the Vauxhall is preposterously fast. You could end up in a lot of trouble in a VXR220…
We made a detour and paused for a while at Cobh. Formerly Queenstown, Cobh was the last calling-point of the Titanic as it set sail on its maiden voyage across the Atlantic Ocean. That sheltered inlet was the last dry land that the fated ship and most of its misadventurous passengers would see. We gazed out on a still, clear afternoon and the calm waters gave no hint of the menace that had awaited over two thousand souls over a century before.
CONCENTRATION GAME
Our final destination was Dingle on the westernmost peninsula in the Republic. The roads became more demanding as we neared the town, requiring more concentration. Tops down, we were being treated to huge blue skies dotted with wispy cloud, on roads that snake along wide open beaches, distant hills emerging from the misty horizon.
Getting the measure of a sports car is a slightly nerve-wracking experience. Of course, they all have tight handling, sharp brakes, an urge to go when the pedal's depressed… but do they bite back? Physics is an unforgiving master; eagerness and complacency its willing servants. It's easy to be carried away by a rorty exhaust note – but at what point do the tyres, shocks and springs (or Hydragas) cry 'enough!'? We had a great deal of responsible fun along the way and at no point did our high-performance steeds fight back. We arrived at the venerable Benners Hotel ready for food and bed, but eager for the next day's itinerary. A great day of driving was ahead of us.
Negotiating the tortuous but spectacular roads of the Dingle Peninsula, the weather threw everything at us, from bright sunshine to driving rain and sleet. We chanced our arms at top-down motoring. The MGF and Smart were designed with this in mind, the MG cosseting its driver with a nuclear heater and rear screen to deflect buffeting, while the Smart driver gets heated seats and an electric canvas roof you can activate at any speed.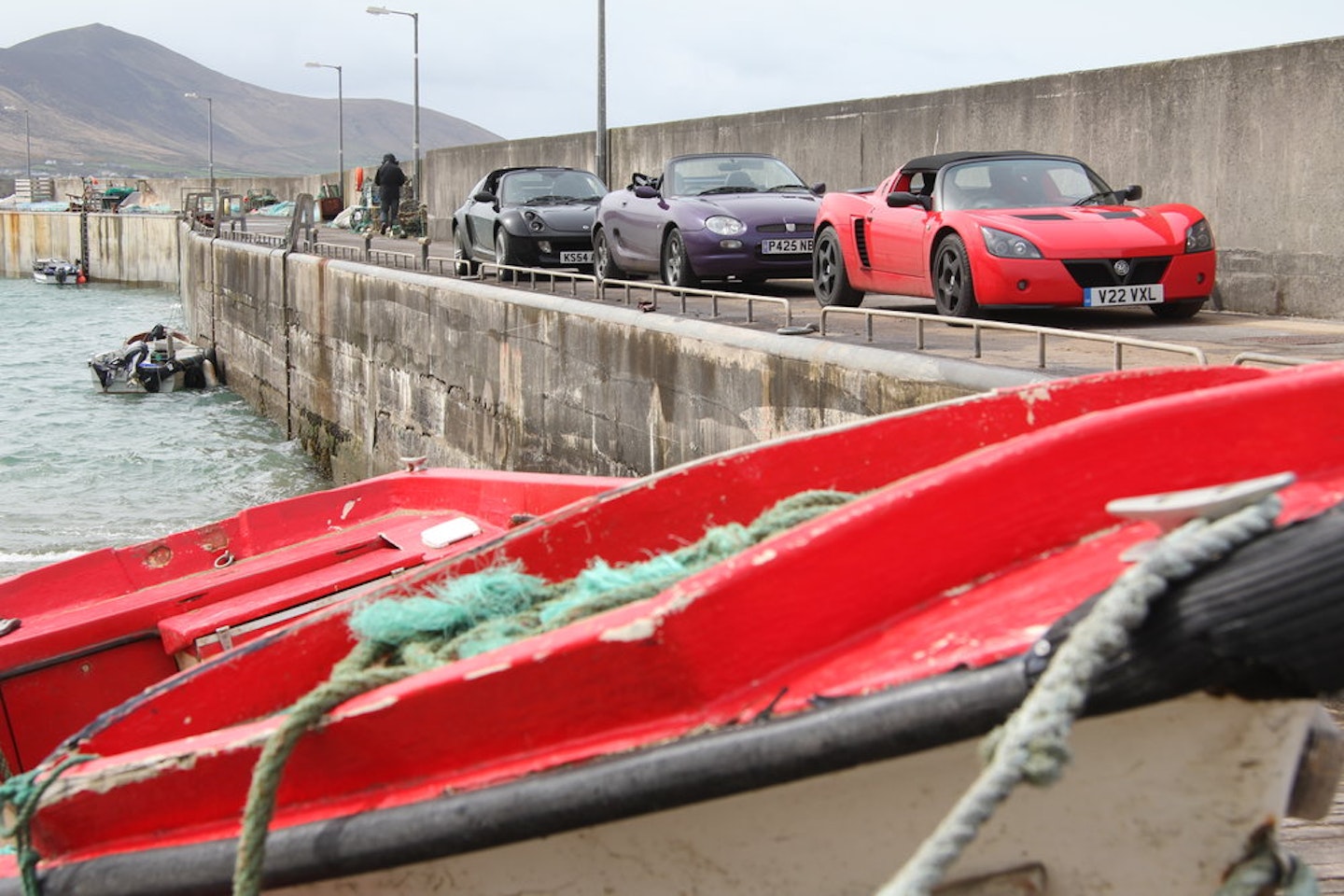 UNLEASHING THE BEAST
The VXR was a different beast, though. The car's performance and handling had been perfected to the 'nth' degree, but creature comforts seemed to have been – pleasingly – left to the end of the to-do list.
It was near Dingle the Vauxhall came into its own;
the coastal road was a challenge and a delight. By turns, it clung to the sides of sheer drops to the sea, then swept languorously toward picturesque bays. After picking our way round the western outcrop of the peninsula, we turned inland at Cloghane and began to ascend the mountainous terrain.
The weather started to fight us as we neared the summit of the Conor Pass. Freezing rain and sleet stung us every inch of the way. The rear engined Smart and mid-engined MGF remained civilised in their road behaviour. Both successfully combine the fun factor of a weekend car with all the considerations that make it possible to drive them on a daily basis.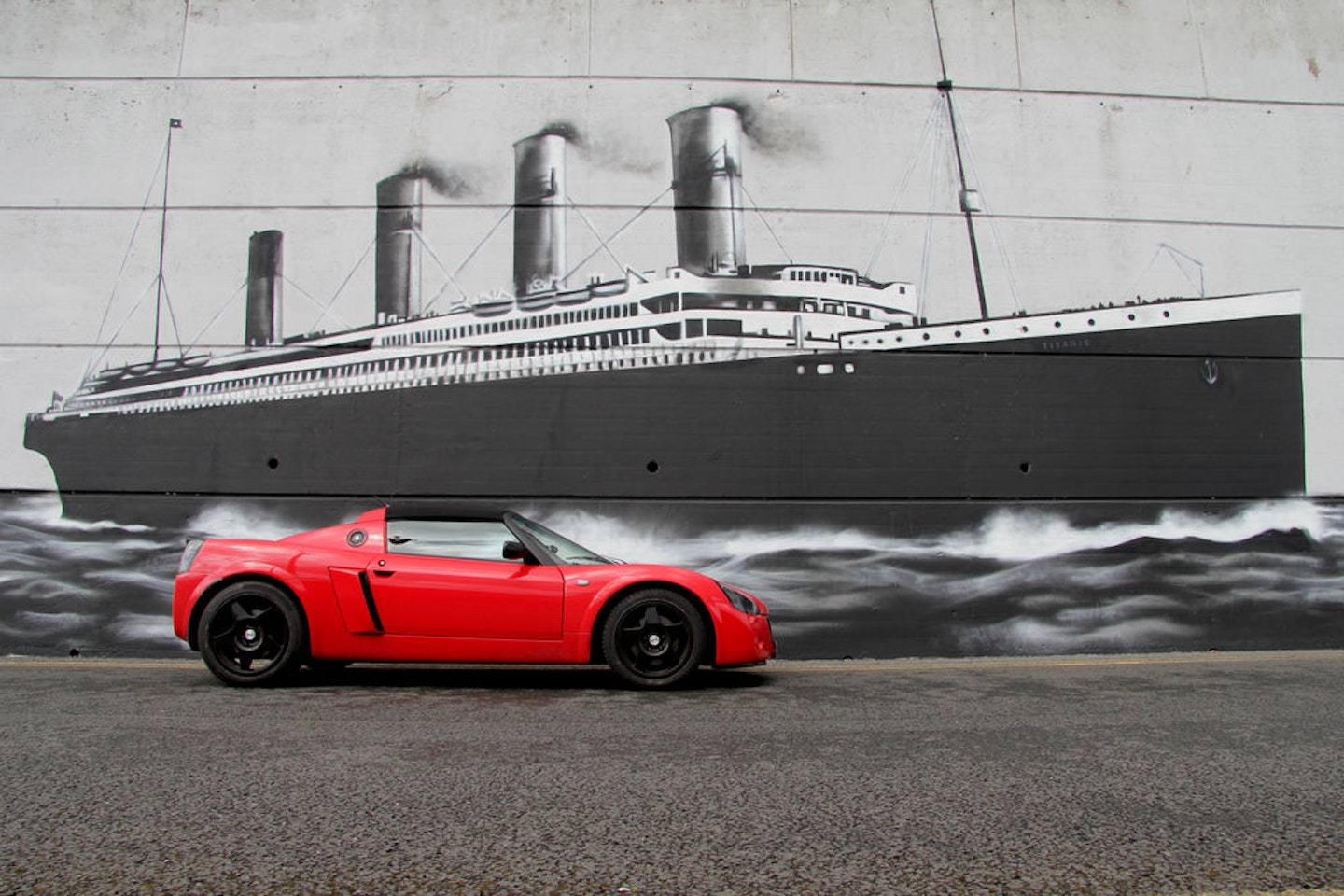 PLENTY OF POWER
Meanwhile, the VXR's turbocharger proved adept at spinning its wheels even at moderate applications of the throttle. Nevertheless its road manners remained entirely predictable throughout
Problems were few and far between – only the German spitting its dummy out. A known fault, Roadsters have a habit of chewing through wiper motors due to water ingress and evidently the heavy rain had affected this one. Using his own wacky brand of repair skills (less logic, more failed crackpot inventor) James rigged up a system of pulleys using string and an old door handle. It worked enough to get him back to base, where he dried out the frazzled wiper motor.
Coastal adventures complete, the next day was all about the blast to Dublin where we would pick up the ferry home. After Limerick, perfectly empty dual carriageways stretched virtually all the way there.
Our agile cars were less taxed from here onwards – the three of us doing our best to avoid the bumpy Vauxhall, which was not designed for this sort of thing. The MGF was second choice with the Smart's cruise control and six gears proving most useful as a motorway wafter, despite it being a little noisier at speed than the Longbridge car.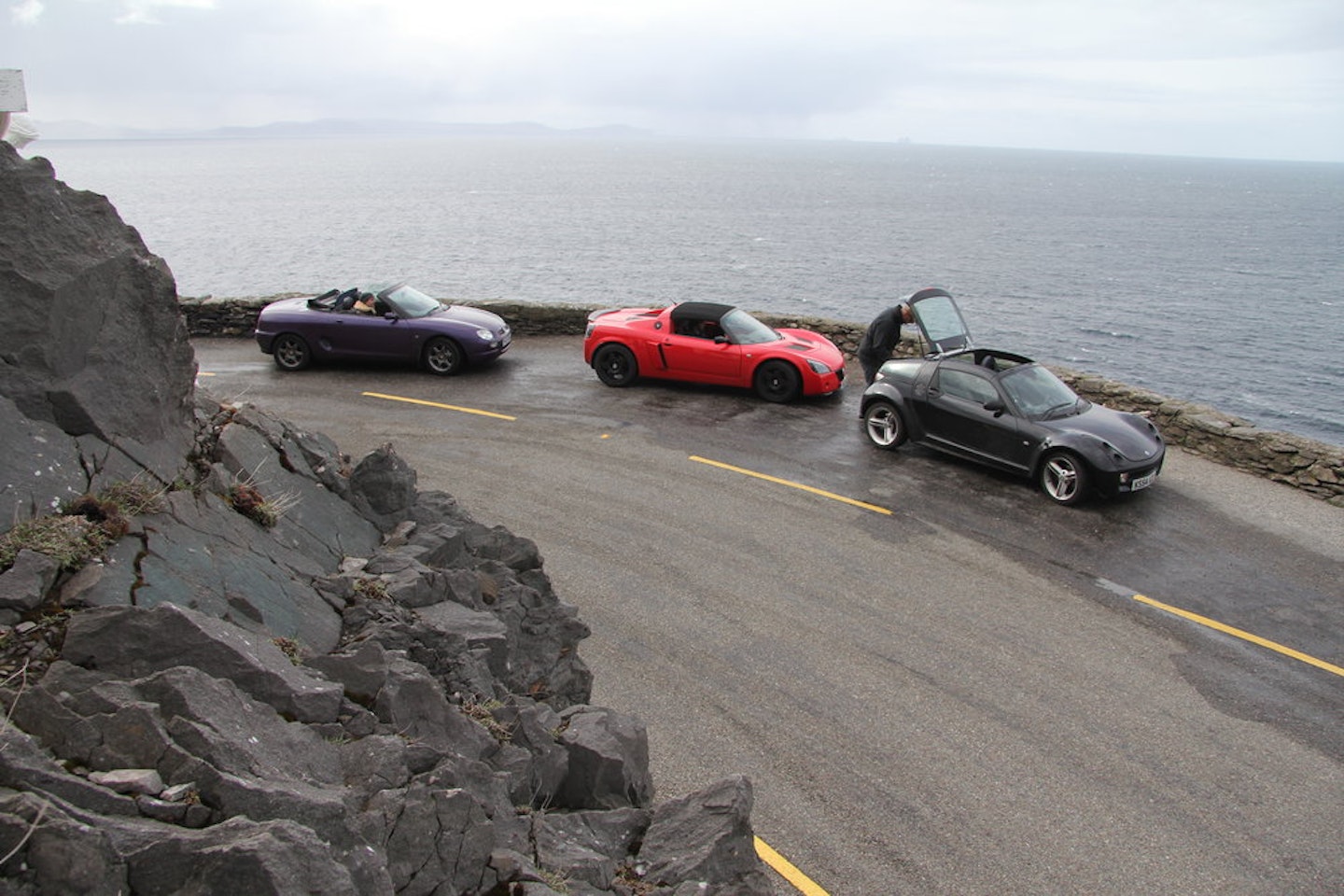 OPEN TOP DECISIONS
Our final stopping-point was a meet with friend of PC Ken Sweeney and his Skoda 1000MB. Ken, his wife Ola and their daughter Lidia share a passion for this beautifully-restored car. He observes that it's a refreshing alternative to the Fords that dominate the classic scene in Ireland : 'Not many people say they'd want one… but they all say they like it!' After a potter around the County Carlow Military Museum, we took a quick spin in the 1000MB. It's a pleasing piece of period design and its little idiosyncrasies add to its character. 'It makes a better driver of you,' Ken notes.
He noses around our Roadsters and we demonstrate the roof mechanism of each car. The VXR220 has a small patch of material held in by a couple of fiddly struts, which you can remove and roll up into the boot. The MGF is a conventional flip up affair while the Smart's canvas panel electrically vanishes into an orifice. You can enhance the topless experience by removing the roof bars and installing each one into the front-mounted boot.
Later, we board the ferry from Dublin to Holyhead. This, technically, should have been the end of our adventure. However, a quick blast through the mountains of Snowdonia made for a very pleasant end – and reminded us all of where we'd just been. The Atlantic Way isn't just the finest road in Ireland.
It must surely be one of the finest roads in the world. The cars we drove there reminded us that the next generation of classic roadster is currently very affordable. And, in fact, very good indeed.