Every year we do it and we still can't quite remember why. Our annual 'winter warmers' challenge has become a real tradition though, a fixture in the annual Practical Classics calendar. The premise is simple. Get a classic (definition: a car that is over 25 years old) on the road for £750 or less and then join with others to partake in a week's worth of pointless challenges. This year the team has once again bought a variety of tin, and they have all, in their own way, failed even before they have left the workshop. So, sit back and enjoy the smell of hopeless defeat as we once again attempt to launch ourselves into the winter traffic – snow chains at the ready.
DAY ONE DANNY HOPKINS
PC workshop to Hull, Wetwang and Solberge Hall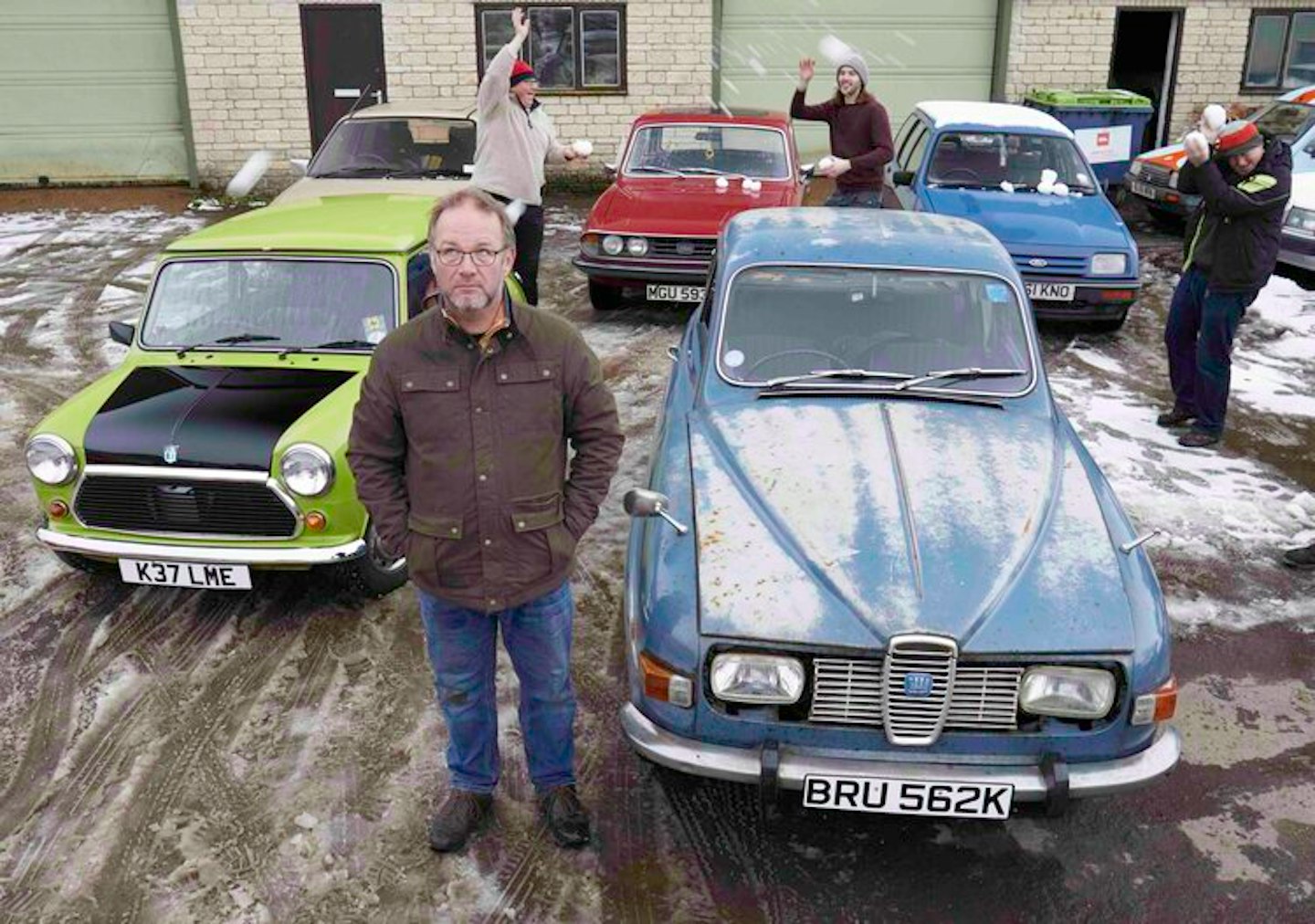 After a brief snowball fight, it's time for the mission to begin! While those of us whose cars are ready are wondering which channel to choose on the radio, James has locked his keys in a running Mercedes-Benz and has lost the Saab's headlamp trims – and it's only half nine. So traumatic and difficult had the Saab's preparation been, James is almost ready to bail before we begin. But he sticks at it and soon we're invading Lincolnshire and within a couple of hours are approaching the Humber Bridge from the south. My Sierra has been proving to be boringly competent and to be honest, after our early Saab panic, every car is thrumming along nicely. The Humber Bridge still tickles my boyish, gargantuan civil engineering fancy and as we cross with the winter sun beating down on us, the Maestro, Saab 96, Triumph 2500, Mini and my Si-erra doffing their collective automotive hats at the masterpiece. Quick pic taken and on we chug north to Wetwang for fish 'n' chips and our first battle.
Over the next few days we would be judged several times by various invited important people… and I am already resigned to the fact that my bog-standard Sierra, despite being the best car here, won't be chosen, simply because it's a bit of a plain Jane. Rustic fare will always lose out to show ponies. So our first judge, Susan Akrill who is the new publicity officer for the Morris Minor Owners' Club, plumps for James' Saab as her favourite of the five (Sam Glover and Ed Hughes would be joining us later in their Wartburg). This was OK, because James has spent six months worrying himself about the car and the trip itself. You could see him visibly relax a litthe… the 96 is not only covering the miles – it is a show winner already.
Darkness falls and the temperature plummets – our first night stay at the Solberge Hall Hotel couldn't come too soon. Somewhere near Malton our convoy becomes stretched as our leader James begins to experiment with the performance of his Saab. The result is, an hour later, hav-ing taken completely different routes across the southern up-lands of the North Yorkshire Moors, we all arrive at the Hotel at the same time… from opposite directions. Classic car ESP.
DAY TWO
Wensleydale Railway Race Day!
I fall out of bed early because I have to. Solberge Hall has very comfortable beds, so this is not a happy thing but I have an appointment with a freezing cold railway yard, a man with a beard and a vehicle that I had always wanted to witness in the flesh. Mark Saville, who works for our sister title Land Rover Owner Internation-al, has spent several thousand pounds giving his be-loved Series 1 Landy (named Plimsoll) on-rail capability. He has had a set of bespoke railway wheels made for it and, so far, has completed many miles on railway tracks in it. Proper off road.
I join Mark just in time for the process of swapping over road rubber for rail wheels in the yard at Leeming Bar, HQ of the entirely marvellous Wensleydale Railway. Just over an hour of frost bite and swearing on our part sees Plimsoll converted to an iron horse. The challenge is on.
What challenge? Well, Wensleydale boss Nigel Park is primed and ready to do another bit of judging. By now Sam and Ed have joined us and Nigel therefore has six cars to choose from for the race… sorry, reliability trial between Mark in Plimsoll and the selected 'Winter Warmer' over the entire length of the Wensleydale Railway from Leeming Bar to Redmire. Both road and rail vehicle will have to stop at each station along the route and both will have to observe rail and road regulations. The first, and therefore most, 'reliable' vehicle to arrive at Redmire will be declared the winner.
By 9am the entire 'Warmers' fleet has been assembled and breakfast consumed. Nigel has picked his favourite from our motley band (Sam and Ed win with the Wartburg) and we get ready… Wartburg v Land Rover Series 1 is go. Before the off, the railway moves its epic Class 37 diesel out of the way so the plucky Plimsoll has a straightforward getaway from its siding.
We have to pause for a moment or two as Theo is having a moment of his own. The Class 37's 12CSVT engine is a V12, turbocharged, 1750hp monster (originally developed in the Thirties and still thrashing today) has caused him to come over all unnecessary… Theo likes diesels a lot.
In the end, the car won - the poor chaps on the Land Rover almost freezing to death.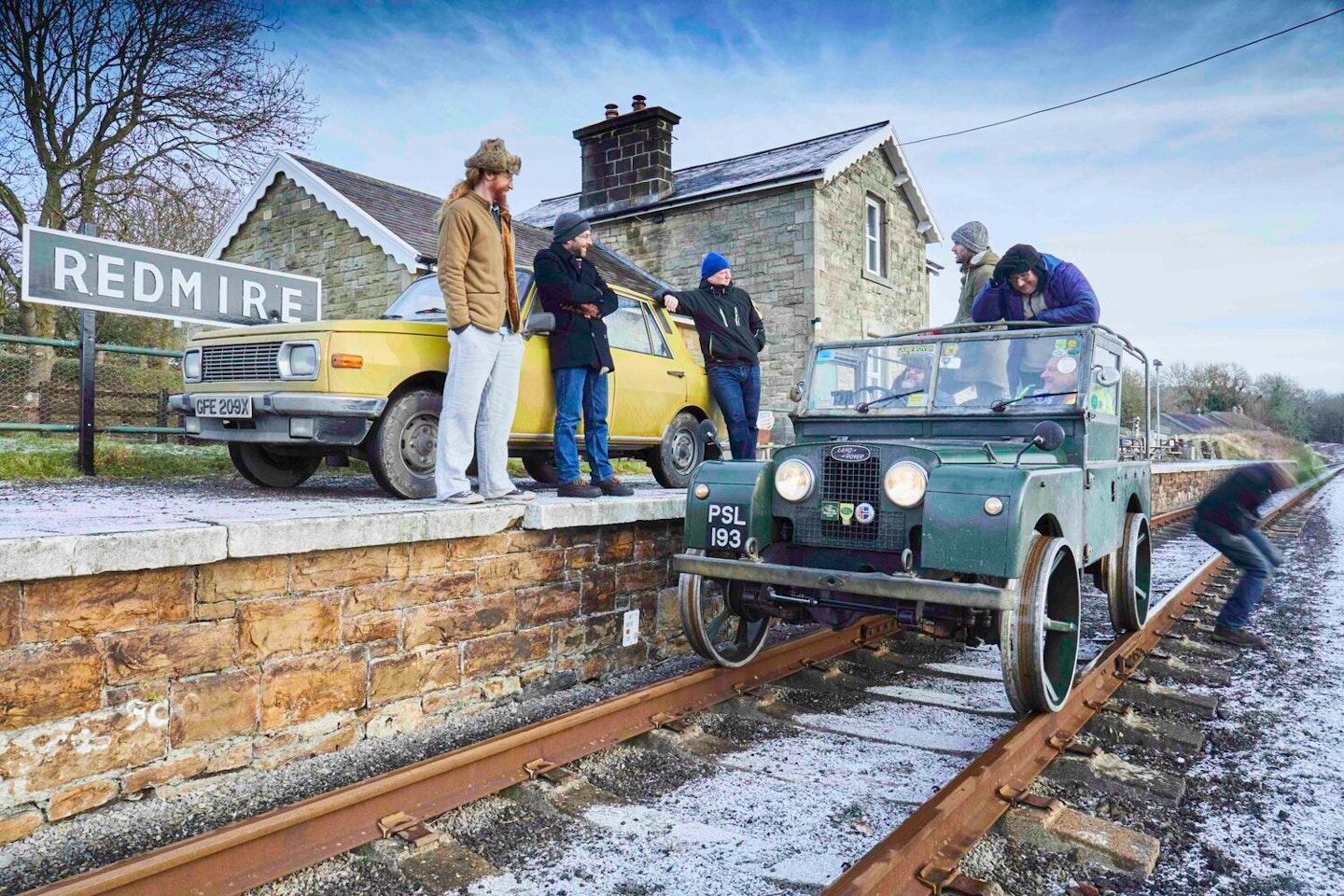 DAY THREE MATT GEORGE
Matthewson's to the Wheeldale Gill
'Yorkshire's little gem,' proclaims the official website. Even while being assailed by persistent drizzle, we have to agree that Thornton-le-Dale is indeed an agreeable little spot complete with 'a wide variety of attractions'. One of which is Mathewson's, a family car firm that dates back to 1970 and one that, since 2011, has been conducting classic car auctions from its delightful premises in this picturesque little village on the edge of the North York Moors National Park.
In fact, the term 'car firm' doesn't in any way do justice to what we find as we venture inside to seek refuge from the inclement Yorkshire weather. With multiple rooms stuffed with scores of vehicles of both the two and four-wheeled variety, plus plentiful items of memorabilia and general motoring paraphernalia, the place is part showroom and part museum, reflecting a passion for vintage and classic cars that has endured for decades.
Boss Derek Mathewson and his team are still working hard clearing the decks after a recent auction but graciously put up with Team PC as we embark on a touching and feeling session with the lots and exhibits. Tomkins is particularly taken with a pre-war Morris Minor and James comes across a Buick Reatta. Once we've all enjoyed a reviving cup of tea (Yorkshire, naturally) Derek proceeds to the important business of judging our motley selection of cars; the Mini comes out on top but there was much approval directed at Sam's custardy Warburg as a vehicle that would do well at auction. Back on the road, we head for Dalby Forest in anticipation of some spirited driving among the winding lanes and wooded tracks. Oddly, access is gained via an electronic barrier, at which point we discover that successfully navigating the forest in twenty minutes or less would mean we didn't have to pay an entrance fee. Challenge accepted… and met! Good sport. Next, we headed past Pickering and up onto the tops as the sun went down.
THEO GILLAM
Wheeldale Gill to Grinkle Park Hotel
The Practical Classics team were casually leaning on a wooden gate, gazing wistfully into the sunset with all the ruggedness of models advertising three-for-two tan slacks, when Matt Howell stopped being all creative and suddenly hissed the word that penetrated our aortic sacs, causing myocardial infarction: ice. In the time it took to make a memory, the wet tarmac had turned into a sure-fire broken-hip inducing sheet.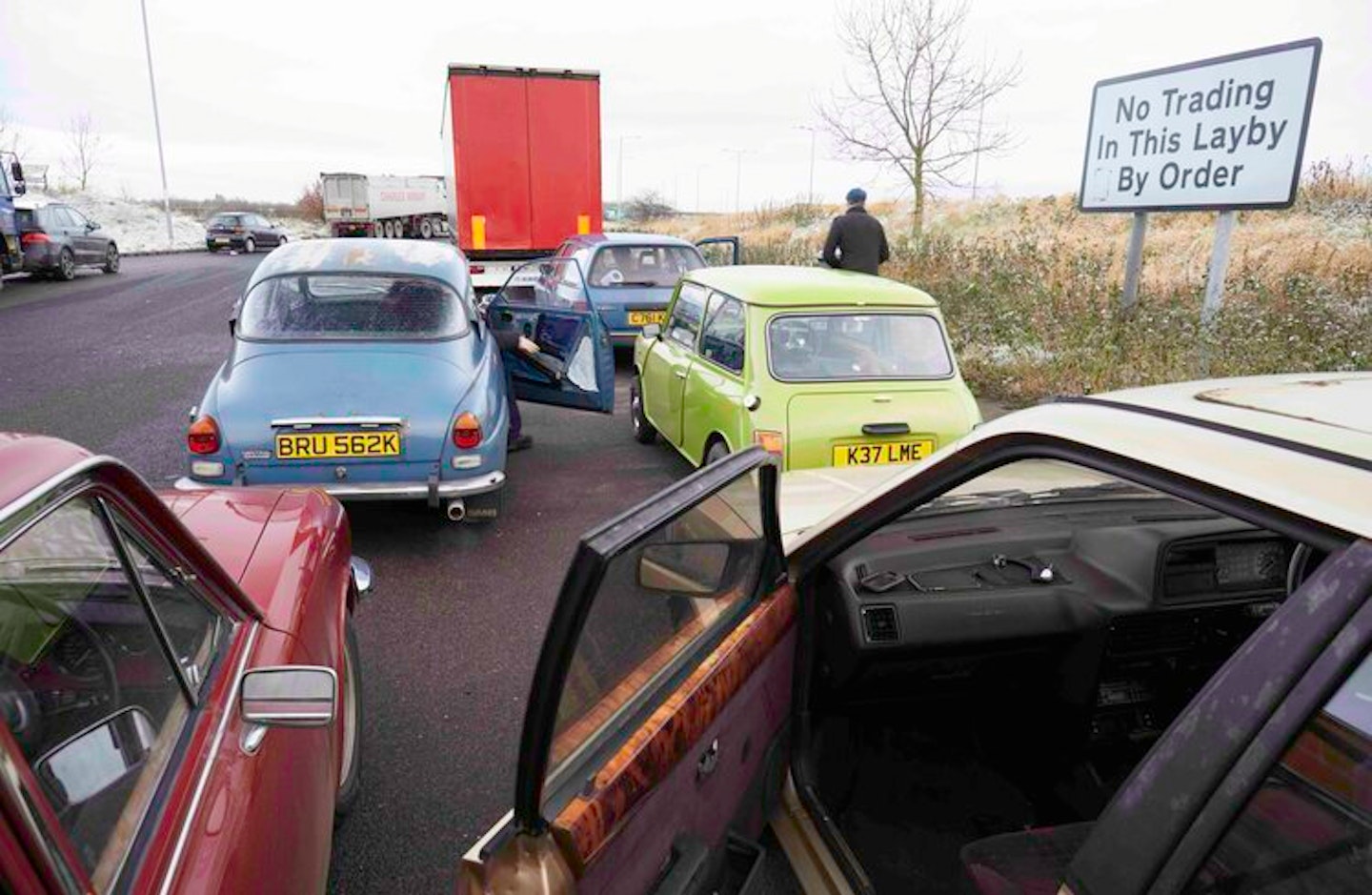 Danny's Sierra led the Maestro but soon came to a slithering halt as the road tilted downwards starting a perilous plunge to Wheeldale Gill. Matt T's Mini heading up the rest of the group stopped behind me in the Maestro. With confi-dence ebbing, Danny announced he was unable to reverse back up. Slowly and deftly he and Matt H, with two Sierra wheels in the scrub and two on the tarmac made their way dead slow downwards. Time wore on and Captain Oates popped out to find some phone signal, thoughts then turning to eating the Huskies.
I found I was similarly stuck – I bid farewell to the rest of the team, who hurried back towards a road with some salt on it. I engaged 'D' and feathering the brake, started my descent, tongue-out, easing the Maestro Stannah-slow into the gaping maw of doom. Seemingly hours later, I splashed my way through the ford at the bottom of the ski-slope and scrabbled up the other side. It was only the Sierra and the Maestro that conquered nature that night and got to the Grinkle Park Hotel on time.
DAY FOUR JAMES WALSHE
Transporter Bridge to Saltburn and Whitby Abbey
We awake to a dusting of snow and reluctantly leave the warmth of a crackling open fire… straight into a car park full of tweedy men with shotguns. One by one, our classics are fired up. The pheasant shooting party boards a fleet of Defenders and throw stern glances back at us as we follow them out of the hotel grounds in convoy, the cacophony of the burbling Saab and shrieking Warburg enough to startle the hardiest of small game. One imagines their relief when we turn onto the road to Middlesborough and they bounce off into the woods for a day of bird-murdering.
The lads at nearby RBW Classic Cars, who joined us at the hotel for beers the previous night, had offered their ramp for an oil change on the Saab – the first since receiving its reconditioned engine. As expected, the expelled fluid contains some tiny bits of swarf, so the fresh lubrication after this 'running in period' is much-needed. We reason another 1000 miles and I'll be able to enjoy that punchy little replacement V4 a little more than I had been able to thus far.
Our number one target for the day is the Tees Transporter Bridge – a gigantic gantry on which traffic has been swung across the river since 1911. As with many historic engineering master-pieces of yesterday – bridges, tunnels, docks and more – the transporter bridge remains not just an enduring icon of British industrial heritage but it's still in daily use. The barriers rise and we steer our classics onto the gondola, which is then propelled gently across the river in a mere 90 seconds.
It's an intriguing experience and we stand beside our cars, transfixed by the scale of the largest transporter bridge in the world, enormous cogs and cables whirring above. Our awe is shat-tered when we're told the tale of comedy actor Terry Scott who, while on his way to a perfor-mance at the Billingham Forum in 1974, mistook the structure for a regular bridge and drove his Jaguar off the end of the roadway. Luckily, he and the Jag were saved from a damp landing by the bridge's safety net. We tuck into a hearty lunch in Saltburn-by-the-Sea – a Victorian seaside resort with an impressive pier overlooked by the oldest water-balanced cliff tramway in Britain. Sadly, it isn't operational due to seasonal maintenance – much to the dis-appoint ment of tram perverts Hopkins, Glover and Hughes. The seafront is peppered with piles of junk and old sleepers, which we swerve around in search of parking spaces. 'I think we've arrived just as they're throwing it all in a skip' grumbles Ed.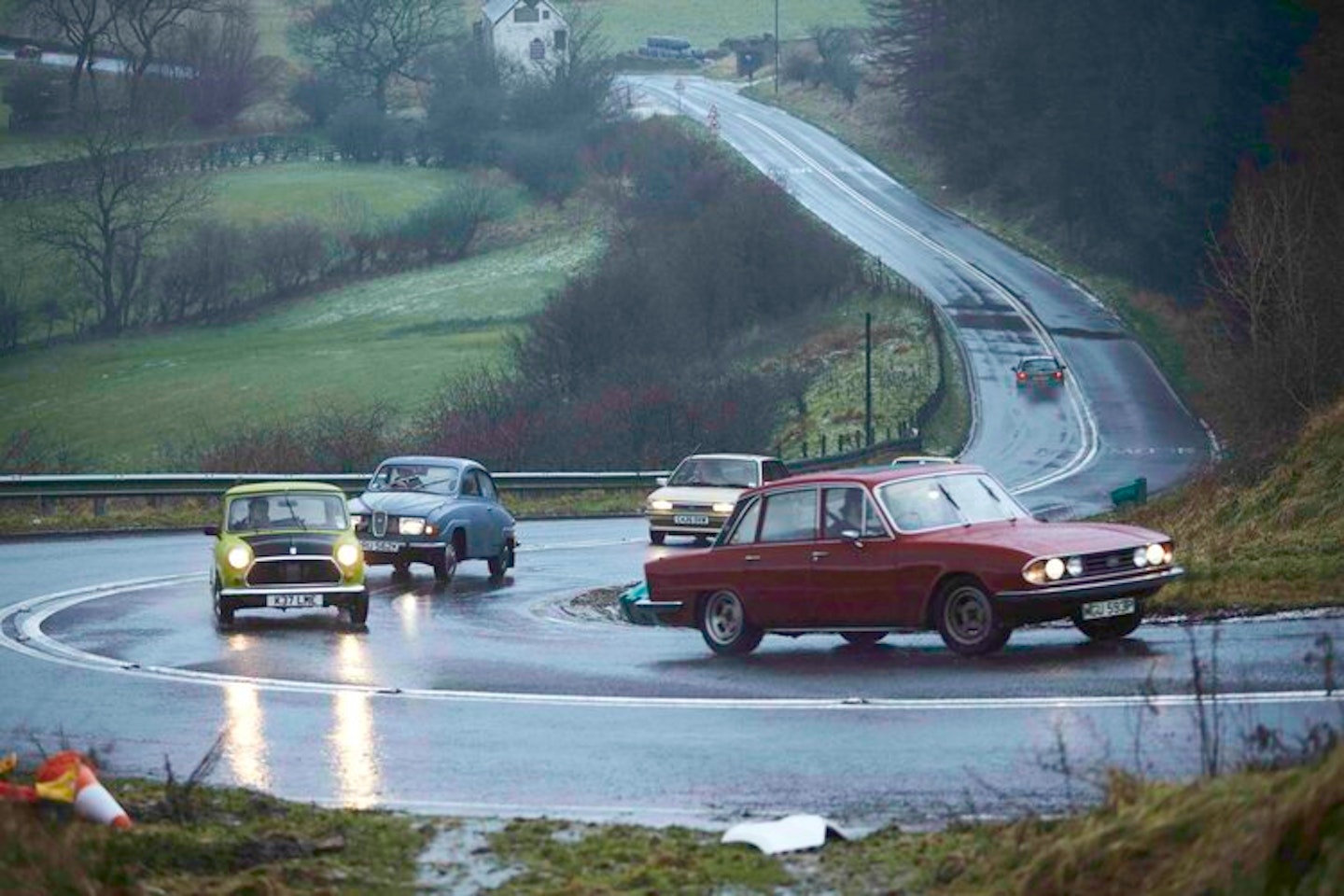 During lunch at the Ship Inn, and to the soundtrack of a foaming North Sea, I crawl underneath the Saab to adjust the new GAZ dampers. The ride has been a bit harsh for my tastes so I twiddle with them for a more cosseting journey east across the cliffs to Whitby. As I surface, there's a police officer peering through the window of Glover's Wartburg. 'I used to love seeing these in Germany' he glowed, before zooming off in his van.
When we pass him a short while later on the main road, he is busily rearranging some traffic cones. The bleat of multiple car horns causing his rain spattered face to break into a wide grin. It's much the same reaction when we arrive at Whitby Abbey – a mix of delighted and be-mused expressions. It's dusk on the clifftops and we take some group photographs, as the cold drizzle turns to persistent rainfall. I scurry back into my car, snug and warm thanks to Saab's Arctic-proof heating. I reckon it to be the warmest Winter Warmer ever. North Yorkshire has not beaten it – or any of the other cars, for that matter.
DAY FIVE MATT TOMKINS
The journey home and summary
If, as a gentleman, you've never contemplated wearing women's underwear, use a trip to Yorkshire in winter to change your mind: the practicality of tights under trousers and judicious layering is something to be embraced. Damn, it was cold, with the limited-edition Mini Refrigerator, featuring its non-functioning heater, not improving matters.
As we tore through the Hole of Horcum towards Pickering, avoiding the back roads that had almost locked us in their frosty grip the day before, ice began to form on the inside of the windscreen. Did I mention it was a trifle chilly? Behind me, James was doing a good impression of Erik Carlsson, his 96 romping up the hills where once it had complained in a tightness of bearing and a skirl of gnashing of gear teeth: it actually started to weedle itself into my heart, despite the grief it had inflicted upon anyone touching the gear-lever-mechanism of unhappiness over the previous few days.
And there we stood in Pickering, having ordered pie, mash, peas and gravy eight times, the cars pointing due South. Allowed a few moments' naval-contemplation and mild flatulence, we reflected on our jaunt: just a few months ago, some of the cars were festering, broken and smelling of mould, and to be honest one or two still suffered from the latter. Most, however, had been disassembled, touched lovingly, carefully reassembled, pulled apart again, sworn at, put together, tapped with ever-increasing size of mallets, fettled, stroked and cajoled into working order.
They may not have conquered the frozen north exactly, but they'd certainly driven through it without bothering the scenery unduly and no-one returned on the back of a lorry. Certainly, we had a few mechanical hiccups and there were some clenched buttocks at times, but that's what it's all about. Why, therefore, does anyone feel the need to buy a modern car?