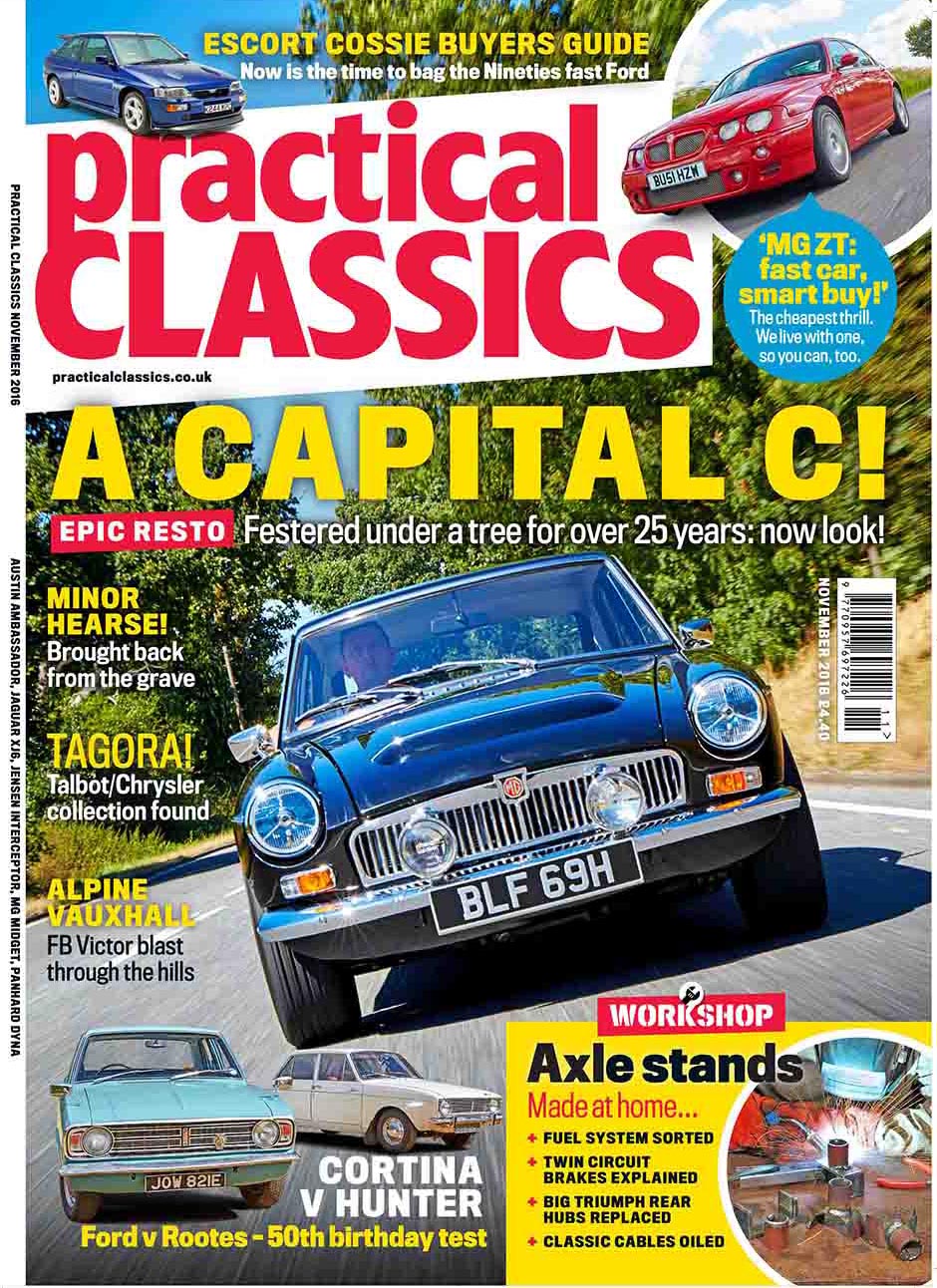 As always, a vast array of classics of all types, nationalities and eras in our fabulous November 2016 issue! From the restoration of an MGC which had been festering under a tree for 25 years, to the celebration of one of the greatest modern classics – the MG ZT. We meet the undertaker who restored and converted his Morris Traveller into a hearse and reveal a remarkable collection of Rootes vehicles – from Chrysler 2-Litre to Talbot Tagora. We show you how to buy an Escort Cosworth and celebrate fifty years of the Cortina and Hunter. Plus loads of tech tips and advice on how to maintain your classic.
Read More →
In the latest issue of Practical Classics... Ever wondered what happened when John Lennon crashed his Austin Maxi in the Scottish Highlands? We have the full and exclusive story! There's the restoration of a beautiful Triumph TR4A and a unique V8 Land Rover – plus how to buy the best MX-5 Mk2. They'll never be cheaper! We celebrate 40 years of the Ford Fiesta and get down and dirty with a Morris Minor and numerous workshop tasks. There's tips and advice galore!
Read More →
Some truly great restorations - including this DKW and Triumph Spitfire. Plus a visit to the Hovercraft Museum near Southampton in some 'springless' British built saloons.
Read More →
Cosworth vs Lotus Carlton, TR3a restoration, Ford Prefect reborn, Cortina MkII buying guide, Rover 800 at 30, Alfa Spider plus loads of tech advice! Click here to see just some of what we've been up to in the August issue of Practical Classics....
Read More →
Here's just some of what you'll find in the July 2016 issue of Practical Classics!
Read More →
The June issue of Practical Classics magazine is packed with heroic restorations, classic car adventures and technical tips. There's a visit to the Ace Café where we look at how police officers in their Daimlers took on the 'Ton Up Boys' back in the 1960s. And elsewhere in the issue, we meet the man who bought the Queen's old Rover 800 and tell you how you can determine Britain's favourite classic.
Read More →